Gran Melia Jakarta unveils a brand new Chillin Pool Bar, a unique poolside bar that offers a relaxing atmosphere where guests can unwind with their favourite drinks while enjoying a dip in the pool.
The term "Chillin" suggests a laid-back and relaxing atmosphere, where guests can chill and escape
the stresses of everyday life. Chillin Pool Bar is the new ultimate place to escape from the city life of
Jakarta.
Located on the Ground Floor of Gran Melia Jakarta, Chillin Pool Bar captures the vibrant and artistic spirit of the surrounding area. The relaxed setting, which overlooks the sparkling waters of the outdoor pool and is surrounded by lush greenery, makes it the perfect place to relax with friends and family. Chillin is the new social hub of Jakarta where guests can cool down on a hot day, socialise with friends, and have a good time.
Guests can also choose to spend the day relaxing in one of the sofas and padded lounge chairs, shaded by oversized umbrellas. The well-stocked bar serves a wide range of refreshing beverages, including cocktails, beers, and non-alcoholic beverages. The dining menu features mouth-watering options such as delicious pizzas freshly baked from the oven and light bites. An amazing shisha experience can also be enjoyed at this pool. Guests can immerse themselves in an exclusive opportunity to relax, enshrouded in the aroma puffs of the shisha pipes, and enjoy the calming effects of luxury, redolence and recreation.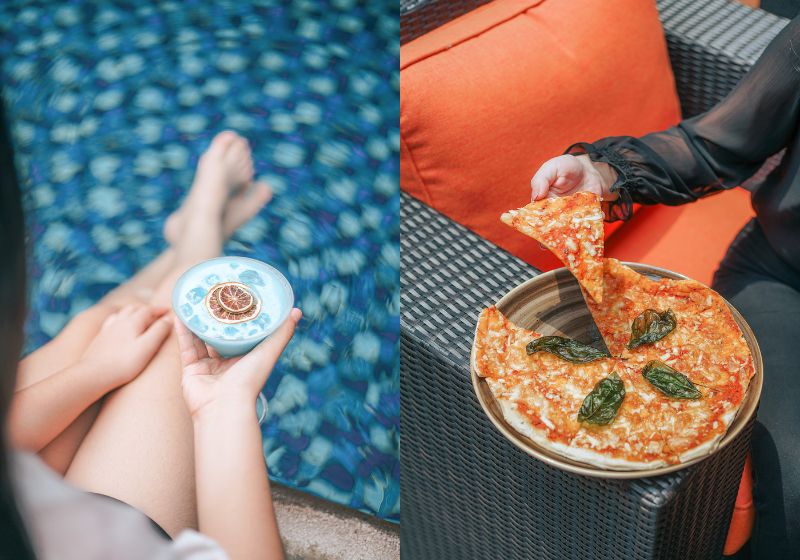 Chilln Pool Bar will be home to events and activities, such as pool parties and live music featuring local and international artists. The venue is open daily from 11 am to 10 pm. Please note that opening hours may vary on public holidays and special events.
To find out more about the Chillin Pool Bar and the latest updates and events: