It's been hard to find a decent casual restaurant that serves food with a bit of finesse. Whether it's a western-style bistro or an Asian-style café, the food always lacks a punch. It's even harder to find one manned by a chef whose philosophy towards the menu is a bit eccentric and unhindered by the idea of cuisine or constrained by the notion of what a dish should be or taste like.
Attarine is an eatery located along the Gunawarman and Senopati dining corridor and a relatively serene newcomer. The dining room is comfortable, warm and inviting. It's as if you walked into a stylish café in small-town USA. The space feels larger than it is, with vaulted ceilings and neutral colours, but ambient sounds were muted so even with a large party seated nearby, my dining partner and I were able to carry on a conversation at a decent decibel.
My eyes were drawn to a long prep counter to one side of the room, where large jars of pickled vegetables, books, potted plants and random ingredients were stacked. The visual appeal is spot-on, with or without the random old car sitting in the middle of the dining room.
However, as the restaurant is part of the acclaimed Potato Head hospitality group, I wouldn't expect any less quirkiness.
Service was friendly but hovering and intrusive. If servers have nothing else better to do than stand at ready, they should understand the importance of timing and look for cues: enter at a break in the diners' conversation or dining, see who has approached the table already and pick up on a client's need for privacy or attention.
In the first ten minutes of being seated, we were approached by four or five different people asking whether we were ready to order drinks or food. People need time to read the menu and decide what to have, so if servers do not have to be at the table, then they really should be leaving guests at least a few minutes' worth of time to peruse the menu.
During our meal, the question of whether we were enjoying ourselves was posited by various members of staff throughout the course of the evening, one server actually stood at our table and expected us to expound further from the usual niceties. How awkward! Perhaps it was a slow night and servers were looking for something to do to keep busy. However well-intentioned it all was, it took our dining experience down a notch.
Nevertheless, the food that came out of Chef Jacob Burrell's kitchen was exciting and made us forget a little about the other shortcomings. The food arrived well-timed, and for the most part, delicious.
I have a warm spot in my belly for chefs who can artistically transform vegetables into anything as tasty as a well-cooked piece of meat.
If anything, the only thing that underwhelmed was the lone meat dish we ordered.
Flavours were distinct and defiant, without being cloying or overwhelming – all that I miss in Jakarta these days. Our deep-fried prawn fritters were succulent and juicy and visually played on Chinese dim sum themes. The exterior sesame coating was like that of a sweet red bean sesame ball but revealed a tender and savoury meatball of ground prawn meat and spices. It was served with a spicy garlic aioli, but I rather enjoyed my prawn balls dish on its own. The 'Selection of Snacks' was also a great combination of tangy Mexican style pickled vegetables, briny marinated olives and more-ishly decadent cashew nuts cooked in duck fat.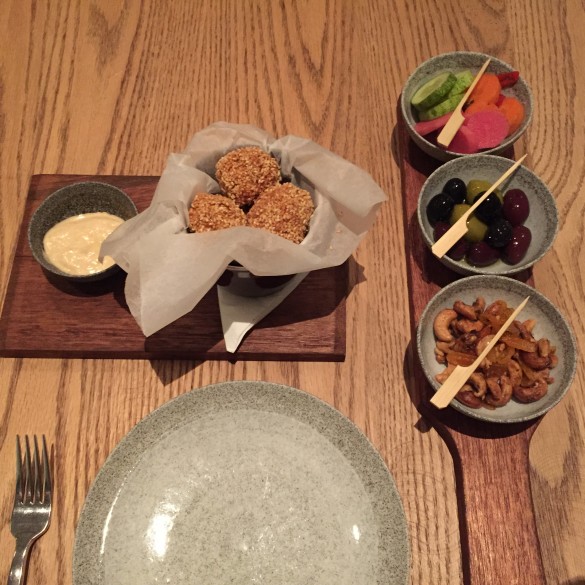 The pan-roasted fillet of fish described to me as 'white snapper' (to be honest, I've never heard of a white snapper, but perhaps the server meant black and white snapper or bream?) was perfectly cooked with a crisp skin and soft white flesh. It was nothing fancy but beautifully executed.
We tasted the whole roasted eggplant, and it would have been an excellent dish except for the unfortunate green chilli. Whoever decided placing the chopped, raw, small, green bird's eye chilli atop a smoky and mellow eggplant stuffed with creamy cashews and briny poached fish needs to reconsider it. One small piece of the chilli completely blows out the beautifully understated umami and creaminess in this dish. I like spicy food, but chillis have their place and this certainly wasn't it.
The star of the table turned out to be cauliflower. The cauliflower had integrity and body but was lifted by an extraordinarily creamy cashew-based lemon and turmeric sauce. Minced raisins added a balanced sweetness to the otherwise tangy and slightly bitter notes. The golden cauliflower was a very well-crafted highlight to our meal. The panna cotta dessert was more beautiful than tasty, but I quite enjoyed the chocolate-chilli biscuit that accompanied the otherwise dulled vanilla cream.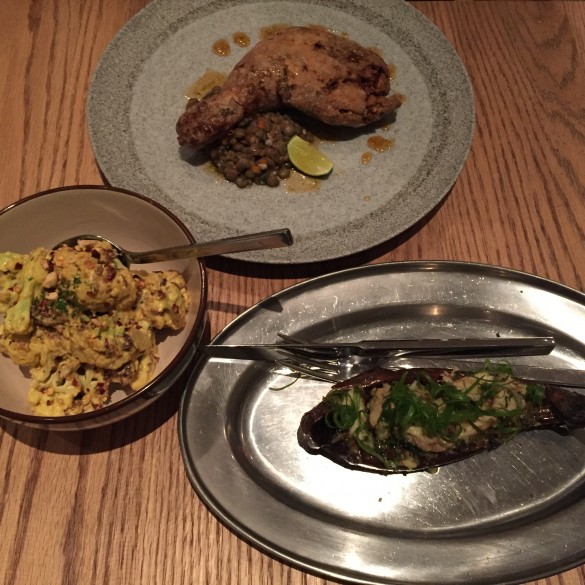 I was pleasantly surprised by Attarine and would easily find my way back for the cauliflower and to browse the menu for more vegetable favourites.
3 Stars
Attarine
Address: Jalan Gunawarman No. 11A, Jakarta
Telephone: 0812 8602 6142 or 021 2277 1256
Website: www.attarine.com