Ma Joly is arguably one of Bali's most famous places for a romantic sunset getaway. The name itself illustrates sweetness, taken from the French phrase ma jolie, which means 'my pretty'.
But it's not only the name that has made Ma Joly such a legendary place for celebrating amour. The place itself exhales love; the setting, the ambience, and, surprisingly, the location. Although this restaurant is found in Kuta, an area synonymous with noise pollution and traffic, the complete opposite is what you'll find at Ma Joly. I've been living in Bali for about a decade and have visited many great places in beautiful locations, but I'm still surprised that this enchanting place can still be found in Kuta. It is like a lush oasis that flows with pure loving energy.
I visited Ma Joly to experience a sweet sunset escape, in the hopes that I could refill the amorous energy that seems to be lacking in me lately. To get there, head towards what people call Pantai German, or German Beach, just a stone's throw away from the international airport of Ngurah Rai. Right before you enter the alley to the beach, take a right turn that will end at The Sandi Phala Hotel and Ma Joly Restaurant.
I stepped inside the Pergola entrance and was immediately greeted by the fresh scent of the sea breeze, with flowing curtains and climbing plants decorating the aisles. I was stunned by this welcome view that left me feeling like I had entered a fairyland.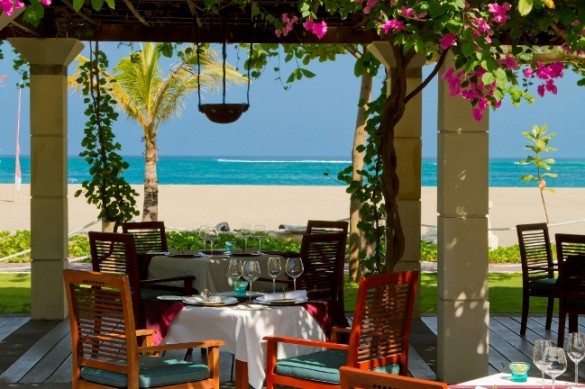 Ma Joly is an open-air restaurant that provides a luxurious yet laidback setting, allowing you to enjoy French fine dining and friendly Balinese weather. The restaurant is separated into three sections: Dining Room, Pergola and the beach area. A good place to start would be at the bar, where one can order classic or inventive concoctions and sit comfortably under lush trees while enjoying the soft afternoon sunshine. Sunset is the climax of the day in Bali, and a place like Ma Joly refines this experience with its subtle atmosphere and happy hour that continues from 2pm until 7pm. On my visit, the soothing sounds of jazz lifted my mood.
With an aperitif in one hand and God's canvas ahead of me, this is how we, the residents of Bali, enjoy our afternoons.

The dining room at Ma Joly, Bali
Taking the authentic Balinese style architecture and semi open-air setting as inspiration, Ma Joly's Dining Room décor is accentuated with Balinese Kamasan-style paintings, chandeliers, a thatched roof and flowing curtains, creating vibes of a Balinese palace.
The second area, Pergola, is everyone's favourite area to have dinner. It isn't private, but once you take a seat and take in the pretty French-Italian setting with a tropical twist, you won't notice the presence of other people sitting next to you.
Not only did they showcase their obsession with romance and a Garden of Eden in their décor, Ma Joly also surprised me with their intricate details on a plate. I was served a Prawn Salad, an appetizer that reminded me of a happy marine garden; five fat fresh prawns beautifully set with potato, green salad and zucchini. It is light to start, but the sweet taste of the yellow egg yolk sauce added a depth to the flavour, perfectly accentuated with a sprinkling of caviar and small chunks of dill leaves.
And it seems the inspiration didn't stop there. 'Seafood garden' continued to be the theme for my main course, and this time the chef sent out a sunset on a plate with the Salmon Roulette, each roll filled with pesto and creamy beetroot sauce at its base. Pink was the main colour, and if I could illustrate the flavour in one word it would be 'sultry'.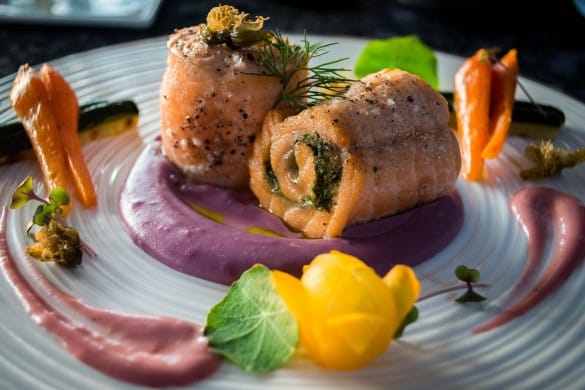 My sojourn finally came to an end when a plate of Lava Cake was served at my table. I am fond of this particular lava cake, and it was surprisingly delightful to learn that this cake isn't made from chocolate, but green tea. Although it is unusual, I was happy to discover, when I tucked into the moist treat, that it hadn't lost its richness, and the flavour was elevated with the addition of coffee ice cream and sour candy on the side. It's a perfect twist and balance, giving just the right amount of sweetness, sourness and bitterness in one spoon. This dessert was my ultimate romance.
As I savoured my supper, I observed a couple having a romantic candlelit dinner in a private tent on the beach. Their faces glowed, and the velvety dusk sky in the background made the perfect setting for their romantic dinner. I'm sure that Ma Joly has witnessed more than a thousand romantic scenes since it first opened 11 years ago; it's hard to not fall in love when you're engulfed in such perfect scenery. With the beach, the sunset, a luxurious and delicious supper, this is romance a la Ma Joly, and love is just another way to share this beauty.