For those of my dear readers who enjoy good food and have limited time to spend watching Netflix, there is a charming series I recommend called Samurai Gourmet. The programme is subtitled so it requires a bit of concentration for those who don't understand Japanese, but each episode is less than an hour long. There is nothing superbly outrageous about its plot or characters, but I am smitten by the protagonist Takeshi, a 60-year-old retiree who enjoys eating alone in restaurants. The programme follows a very basic plotline in each episode where Takeshi finds a new eatery and something happens to antagonise him during his meal, whereafter his alter ego, a rough-and-tumble samurai warrior, comes blazing onto the scene.
Truth be told, I find the samurai warrior gimmick a bit tedious compared to mild-mannered Takeshi. I love the delight captured by the cinematographer whilst my retiree is eating, and enjoy the stark camera work over the meals and slightly drab restaurants in which he dines. It's honest and endearing, much like Takeshi.
The reason I wax poetic about this programme is that a recent episode on yakiniku prompted me to head straight over to one of Jakarta's most popular Japanese barbeque restaurants.
One might wonder what is so special about Japanese barbeque. Compared with more exciting and bold flavours from the United States, South Korea, Vietnam, and much of Southeast Asian grills, this particular style of grilling can seem a bit bland. However, there is a time and place for everything and, as much as I crave certain spice pastes and sauces smeared, drizzled and dabbed onto my meat, I also enjoy the simplicity of some good quality sea salt sprinkled lightly over some thinly sliced, quality meat.
Most food experts would agree that yakiniku is derived from Korean barbeque traditions. The side dishes and sauces that accompany the raw meat and seafood are milder versions of the fiery kimchi, gochujang (red chili paste) and ssamjang (Korean spicy dipping sauce). The meat for the grill is mostly unseasoned, and condiment jars, small ramekins of fine sea salt, fresh ground pepper, shoyu (Japanese soy sauce) and vinegar blends are laid out for each diner.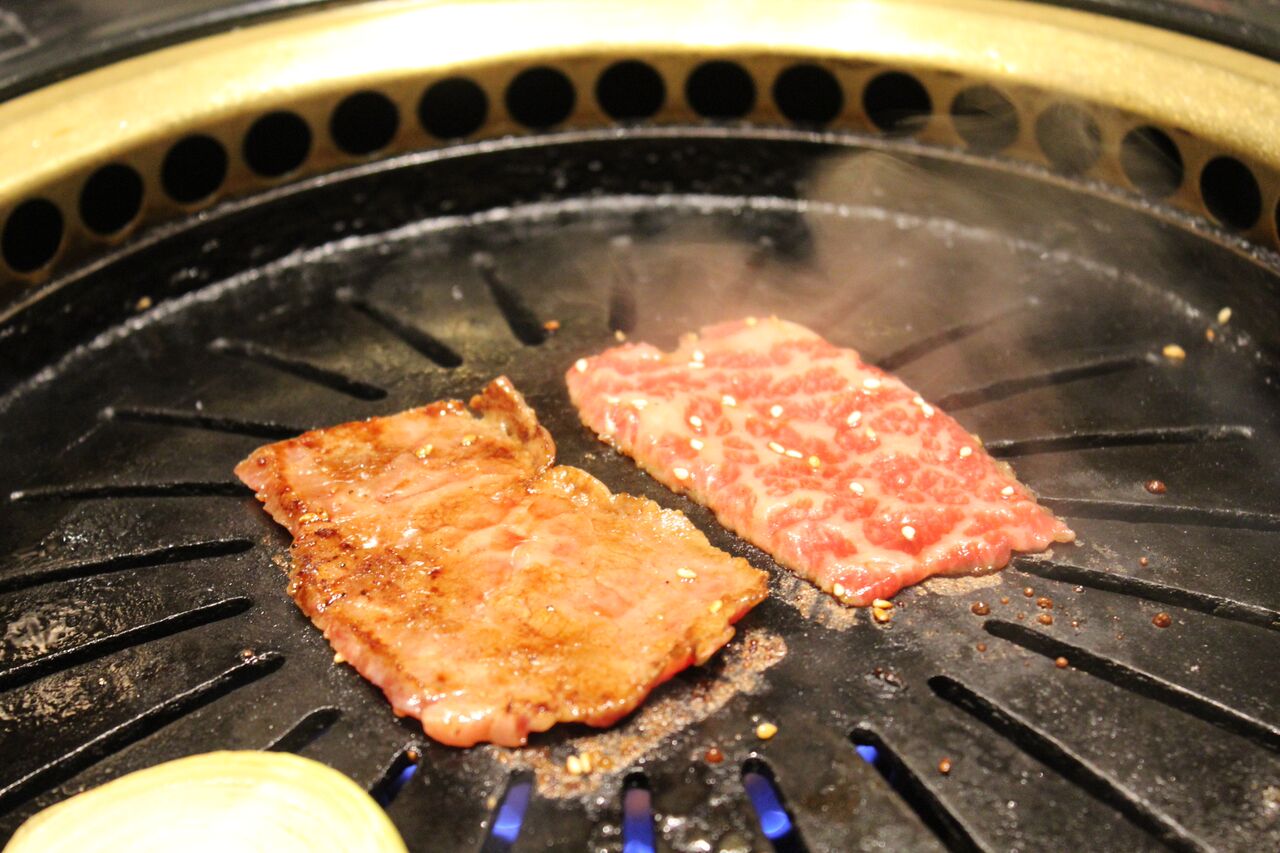 There is a plate of fresh lettuce leaves, carrot-cucumber-radish spears and the much loved aojiso leaf (perilla or green shiso, as it is more commonly known) available for wrapping around the succulent bites of beef. Aojiso has a lovely herbal taste reminiscent of anise and licorice, but also grassy and pungent. People either love it or hate it. I count myself in the former group, especially when paired with high-grade yellowtail sashimi or wagyu beef.
At Esina Yakiniku Garden, you have a choice of some very good cuts of beef. They specialise in two different styles of beef tongue that one must try if adventurous with texture. That said, beef tongue is somewhat underutilised in cuisine. Grouped with offal, its raw state leaves something to be desired and is the stuff of horror movies. However, when slow cooked over low heat in a braise or, sliced thin and flash grilled over high heat as in our case with yakiniku, it can be amazing.
We tried the tan-shio or salty tongue (please insert curse-ridden sailor joke here), and although it was meant to be tender and juicy the attendant helping us grill may have overcooked it slightly, which made the pieces quite tough and chewy. We also asked for the wagyu jo karubi, a nice portion of meat from the short rib area. It was well-grilled this time and so tender that it almost melted in the mouth.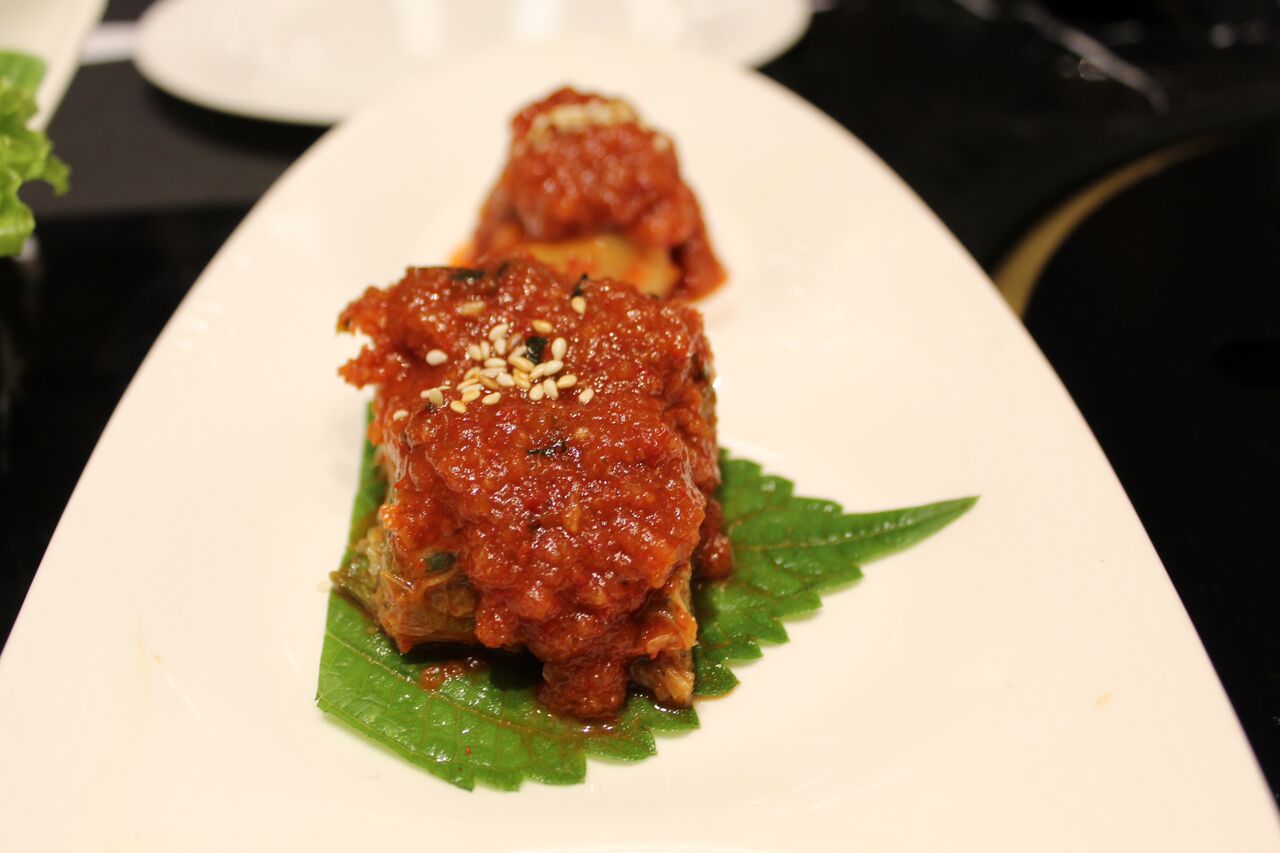 The kaisen jijimi (seafood pancake) was crisp and savoury, but lacked the seafood-fortified depth and taste of its Korean counterpart. The kimchi mori was mildly pleasant even though it is less invigorating than Korean kimchi. We also ordered fresh prawns to grill over the cast iron hotplate and they were plump and tasty; the children at the table couldn't get enough.
What I really enjoyed was the selection of dips and sauces. The crossover from Korean to Japanese is quite interesting; the Japanese palate prefers seasonings that are far saltier, and much less spicy and sweet. The ssamjang had a strong iodine flavour as kelp was used as a base ingredient. The fermented soybean paste was milder and less sweet, with added sesame seeds and oil. All paired well with the meat.
I would suggest going with a group to sample different cuts of meat and seafood. Dining alone here may be disappointing; you either order way too much or not enough. There is a long menu for drinks and spirits, and private rooms for big parties. It is based on Japanese and Korean style hospitality so be prepared for in-your-face service.
2.5 stars
Esina Yakiniku Garden
Plaza Senayan Mall, Lantai 4, Jalan Asia Afrika, Jakarta
Tel: 021 5785 2767 or 021 5785 2768
Reservations recommended
Lunch for Group of 3 Adults and 2 Children
Food: Rp.678,900
Drinks: Rp.112,500
Service 10%: Rp.79,140
Tax 10%: Rp.87,054
Total: Rp.957,594