My unforgettable memory about Christmas was when I woke up to the scent of roasting turkey in my parents-in-law's house; everyone was happy, exchanging presents – what wonderful merriment. Christmas is always beautiful, regardless of what the weather is like.
Although I am in Bali now, I know Christmas shouldn't be missed. So I head to the island's renowned restaurants to make memories of my special moments, which I hope can be your inspiration to celebrate this special day that only comes once a year with your beloved family.
Chez Gado Gado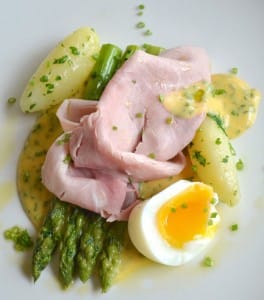 Nothing is more exciting than celebrating Christmas on the beach. Say goodbye to memories of cold winters in higher latitudes; the breeze, the waves of Seminyak Beach and delicious temptations of Chez Gado Gado will grace this special day.
Christmas dining will be presented from 11am to 3pm in three courses on 25th December. Chef Quirijn Rademaker, or Quib, will bring out a tropical seaside Christmas; serving light, fresh and elegant supper onto the tables, and some authentic Christmas cuisines, such as classic prawn cocktails, liver parfaits, green asparagus with ham, and of course roasted turkey. To excite children (and adults too), they will present a centrepiece full of ginger bread.
My favourite option for the starter is chicken liver parfait, which reminds me of the morning after Christmas. I used to sneak into my mother-in-law's fridge to get her homemade chicken liver pate left over from the day before. At Chez Gado Gado, that memory is brought over; light soft chicken liver comes alive with the refreshing orange chutney, which represents the warm weather over delicious memories of Christmas.
For the main dish, the green asparagus with ham arrives beautifully with a half poached egg, boiled potato and hollandaise sauce sprinkled with chives on top. With this ideal proportion, I don't have to feel guilty and worry about my full belly to enjoy this special pleasure.
But special treats await with the authentic Christmas pudding and chocolate brownies. Apparently, Chef Quib wants to surprise me with a unique Christmas treat; beautiful jackfruit tiramisu with chocolate ice cream. What else could be better to end this special day?
Christmas lunch at Chez Gado Gado comes at Rp.85k for starter (green asparagus salad / seafood vol-au-vent / classic prawn cocktail / classic beef carpaccio / chicken liver parfait), Rp.150K for mains (mushroom risotto / grilled Seabass / green asparagus with ham / roasted turkey), and Rp.60k for dessert (Christmas pudding / chocolate brownie)
Chez Gado Gado
Jalan Camplung Tanduk 99, Seminyak
0361-736966
Mozaic Beach Club, Batu Belig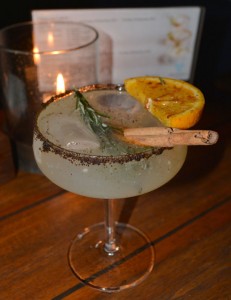 Christmas at Mozaic Beach Club Batu Belig is so perfect. Here you can enjoy the perfect atmosphere – elegant, stylish, relaxing, and of course with a wide range of Christmas inspirations served on your plate. This restaurant, which is located next to Batu Belig beach, presents both a four-course lunch and six-course dinner with choices of Asian or classic ingredients.
The scent of rosemary, cinnamon, and truffle – and the laughter of your beloved family – will cure any homesick feelings you may have this time of year. Chef James Ephraim will spoil you with his exceptional cocktail creation called Dirty Rosemary; a glass of vodka mixed with lime combined with the beautiful scent of rosemary and cinnamon, roasted olive and refreshing orange.
For my feast, I choose an Asian inspiration to experience a different Christmas. The first amazing creation is the creamy rempeyek cone. Next, the genius Chef James presents a myriad of Christmas colours on my plate with tuna carpaccio splashed with kaffir lime gel, fresh cucumber and baby lettuce; a very refreshing dish.
The richness of bumbu basa gede with butter-roasted slipper lobster and Iberico 'Papada' with thin slices of tempe arrives, and Chef James surprises me by adding slices of white truffles, the scent of which blows my mind away. And when I think it stops there, a plate of foie gras terrine combined with local kemangi and mangosteen comes as another treat. My main course continues with exotic bumbu rending, bringing slow confit venison loin along with Sumatran spiced spinach with rosemary jus.
Another amazing treat arrives on my table; this pave dauphinoire serves an excellent dessert along with cheese and black truffles, red wine ice cream and coconut sable. I can smell the beautiful scent and taste the luxurious palate sensations I will never ever forget. This for sure will become my very best Christmas celebration.
Both four-course lunch menu for Asian and classic ingredients are priced at Rp.650K++ with additional Rp.400K++ for wine pairing.
Six-course dinner menu for both Asian and classic ingredients are priced at Rp.1,000,000++ with additional Rp.400K++ for wine pairing.
A special Christmas cocktail is included in the menu. Christmas special menu will be available from 24-26 December.
Mozaic Beach Club
Jalan Batu Belig
0361-4735796
Métis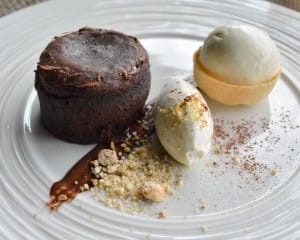 I've always loved the tranquil atmosphere of Métis, and I can imagine celebrating Christmas in this serene situation surrounded with lush greens and beautiful ponds in the back of this restaurant. During this special occasion, a wide range of French and Mediterranean specialties will be offered for lunch on Christmas day. Some examples available are yellowfin tuna carpaccio, French oysters or selections of foie gras cooked with different techniques. For those seeking more authentic Christmas treats, Spanish ham "Jamon Iberico Bellota", grilled rack of lamb, roasted turkey and roasted gammon ham will also be presented.
I try a beautiful starter, steamed crab and royal prawn tartare, combined with parsnip, celery and tarragon mayonnaise sauce. This dish is decorated with the vivid colour of salmon roe, which splashes such balance and complexity to its savoury flavours.
From 24 December to 5 January, Métis prepares special treats to anyone who wants to sample the feast but couldn't make it to come on the special day, so there is no reason to skip the joy of Christmas. Other temptations served are marinated quail, wild rucola salad, grape fruit, orange and honey vinaigrette arriving as a starter, while other dish such as pan-roasted breast pigeon, leg confit, caramelized endive and Pomme Anna can be a perfect main dish.
Sampling this dinner series, I get to try pan-seared scallops with the soft mascarpone leek risoni and black truffle volouté, decorated with a myriad of pea leaves that remind me of the serene garden of Métis. The flavour of chives bursts in my mouth and soon balances the creamy risoni perfectly.
This Christmas feast is closed perfectly with melted caraibe chocolate cake and vanilla ice cream; I recall my first Christmas Eve, where I tasted this special temptation in a classic pub in suburban England. I sat nearby a fireplace to warm myself from the harsh weather while enjoying melted chocolate and a glass of apple cider. At Métis, the cake is combined with vanilla ice cream, crushed roasted nuts, and a hint of cinnamon that enriches the flavour; a masterpiece that completes my unforgettable memory.
Métis
Jalan Petitenget 6, Kerobokan
0361-4737888