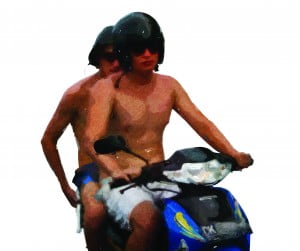 I know, I know, the expatriates in Bali are such an easy target to laugh at, but still… As I've just come back from a too long "3 days" stay there, I have some questions for them.
First, I am wondering if you guys know that Bali is an island which belongs to the Indonesian archipelago and not a new independent country? I have to mention it because when I am in Bali and I meet expatriates, they seem horrified that I can share my life between Jogjakarta and Jakarta. I don't even mention that I often go to Semarang, Jepara, Malang, Blitar or even Kediri..! Guys, try to go out of Bali sometime, to see that we also can buy cheese, wine, butter, bread, salt and pepper! The rice fields in Ubud (you know the one that tourists confuse with the Coliseum in Rome)? In Java you can find the same ones every two kilometres, bigger, nicer and quieter! "Potato head" lounge existed in Jakarta much before the one in Bali (Mr. J will confirm) and Canggu Club is not a new concept – this kind of "military white camps" already existed in South Africa during the 60s! Also, it's kind of useful in a country that welcomes you to know more than two words of bahasa ya. So, let's be clear. Java is not the suburb of Calcutta OK? I know, I start in an aggressive and arrogant way, but as I am French, it wouldn't sound real if I started in a polite one.
I still need a few answers from my expatriate Balinese friends. So, could you explain to me why the western middle age ladies, residents of Bali, all need to drive an old Honda Tiger motorbike, without Helmet, with a gipsy mini skirt, with a sort of very dirty sleeping bag hanging on their shoulders, some dragon and shark tattoos on their entire uncovered legs, no bra (this should ONLY happen if you look like Ursula Andress during the 60s), some terrible and dirty Brazilian branded  flip-flops, two or three kilos of wooden bracelets, a long and curly haircut who make them look as dirty as some old western homeless and on the top of that, they wear some giant sunglasses that only fit the eyes of E.T.. It's maybe why you don't wear a helmet ladies, because it cannot fit ya… Stupid me. So, here is my first question.
All this mess, is it a "style" or does it not bother you to be seen as half crazy people by the locals? OK, I am not the trendiest man on earth, even after Mike Brant and Frank Sinatra, but still, make an effort please! You are not in Disneyland!
Then about you, young surfer guys and girls, this is for my Australian friends. I presume that you worked so so hard to shape your body like this. Can you imagine if you crashed on sunset boulevard with your "extension surfboard holder motorbike" and NO protection at all? I don't ask you to wear ski equipment with gloves and some blond goat fur ski boots, but the minimum guys! In which country would you dare to drive high speed on a highway, half naked? Also, I was in Australia not long ago and I went to many restaurants and strangely, it didn't occur to me to eat or drink clotheless. So my question is…
Could you please wear more than your "too low underwear" when you are in a restaurant, including at Mac D and all those high standard restaurants in Kuta?
Then, an American friend of mine invited me to a fancy "bar/nightclub/Lounge/St-tropezian/Ibizanian/Disneylandian/expensive/noisy/not interesting place" close to Petitenget. We were surrounded by hundreds of middle aged foreign men. I am still totally "not trendy" at all so I started by ordering an Irish coffee while the guys were ordering some crazy and colourful cocktails. Something very big, with some fire works on the top which make them extremely excited as they screamed like young girls each time the bar tender brought another one. Those old guys next to me were drunk and pushing me from the middle to the extreme side of the bar without my agreement. So, as I was pushed and pushed I had no choice but to move to the corner of the room. I fell a bit stupid as I lost my friend Debora (who seemed much more comfortable and famous than me over there as she is a relative of the owner). I have to admit that I was surrounded by fantastic beautiful local women who were certainly selected to contend the next Miss Universe. Not one of them talked to or looked at me, or even say hello! I don't blame them.. I was standing in the black corner of the room next to the toilet and it was so packed that finally I was pushed inside the toilet. The only girl who nicely talked to me was the toilet staff.
She said, "I don't think you should stay here, you hide my small basket where people give me tips!"
It was true, I was almost forced to sit on her small table at the entrance of the restroom. I found out that this charming person came from Magelang (one of the small "soooo" dangerous cities in Java) and we had a nice conversation about her city and some antique dealers that we commonly knew. Suddenly I felt that I had a friend in this place because Debora totally forgot me and was hysterically dancing on the bar (yes Debi, don't denied it ya). During those 30 minutes of loneliness, I had time to see and listen to all those guys who were basically my age.
So I would like to say a word to all those old western males who live in Bali. We are not so young anymore, right? Most of us are not spectacularly handsome or attractive, most of us are overweight, hairless and drink too much. The consequence of this over consumption of alcohol (the stupid 25 US dollar firework cocktail) is that you guys have become totally insane, to the point where you seriously believe that all those young and sexy local ladies are on their way to falling in love with you! You even try to dance with them in a way that when I was 15 years old and totally drunk I would never dare do (I did once with Catherine Dumoulin who never ever talked to me after that glorious demonstration). Seriously guys, remember 25 years ago, who you were falling in love with? A 55 year old overweight Irish lady attacked by the whisky? I bet that NO is your answer, so I just suggest you one thing. Next time that one of these young and pretty ladies flirts with you at the bar, then directly ask her:
"Sweetheart, as you can see, I am old, quite fat and I am drinking too much. My BCA account is empty and immigration is chasing me right now. Do you think you could hide me and feed me for a couple of months at your boarding room?"
If she says "YES" then send me an email to [email protected] and I will offer you a nice weekend in a five star hotel somewhere in Sanur! No risk ya..
That night, I brought Debbie back, completely passed out, to her villa. Finally I landed in Java the next day, I went to my rice field, took a piece of local chocolate, a glass of wine, sat down, looked around at this amazing natural landscape and my energy came back again.
Bali is not for me..