On a recent Saturday night, after elbowing my way across a crowded nightclub, I arrived at the ladies' room to discover that it, too, was absolutely crammed. Packed to the gills with similarly full-bladdered women. So I waited. And waited. After five minutes passed and not one person had emerged from a stall, I began to notice that nobody else was even eyeing the closed doors. Everyone was crowded around the four enormous mirrors, and those who couldn't get up close were trying to eke some extra inches out of their platforms, standing on tippy-toes to catch sight of their reflections. Tentatively, I nudged the nearest stall door, and, sure enough, it was vacant. I didn't test all the other stalls, but unless a stomach bug requiring copious time on the john had swept through this nightclub that night, it's safe to say that they were empty. When I was done, I stepped out and gauged the mirrors, each flanked by a phalanx of grooming ladies five bodies deep, and decided that attempting to check my makeup or adjust my ponytail wasn't worth the effort. I squeezed out some hand sanitizer and left. And this frenzy for reflections has led me to do a little reflecting of my own.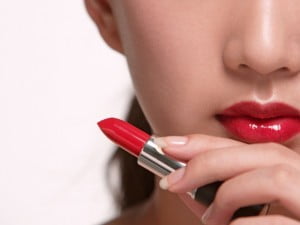 Now, I may be biased, since until recently I lived in San Francisco, an ostentatiously "non-image-conscious" city that, for better or for worse, doesn't acknowledge that appearance-based judgments exist. Many girls there take pride in a sort of extraordinarily vain anti-vanity that forbids any obvious attention paid to one's appearance. Taking up residency in the ladies' room mirror in a San Francisco bar marks you an outsider; in fact, I can think of five bars right now where the bathroom mirrors have been covered by graffiti or don't exist outright. So, yes, I am coming from one extreme. But I still think it's safe to observe that, among the socially active female population of Jakarta, physical appearance is a very big deal.
Of course, this attention to personal aesthetic doesn't just appear at night—I had a similar experience a few weeks ago at brunch, finding myself in the restroom wearing flip-flops and shorts amid a bevvy of espadrilles and kitten heels and tailored cocktail dresses. But at night, it acquires a different tinge, the significant changes.
Nighttime—especially weekend nights, when bars and nightclubs pour money into promoting events that bring crowds of people together, saturating the air with hip-gyrating music and pumping a steady stream of booze into everyone's bloodstreams—is when the human mating ritual begins. Eyelashes curled to perky attention and needle-thin stilettos and flawlessly tumbling glossy ringlets, during the daytime, they imply a pride in one's appearance, a desire to be chic, a respect for the patronized establishment; or, less generously, they reflect a status-consciousness, a need to see affluence manifested in self-decoration, to impress (female) friends and (female) strangers. But this daytime glamour rarely suggests seduction.
At night, though, with lights dimmed and genders commingling across body-crammed dance floors, every swipe of lipstick and shimmer-dusted collarbone and neck-grazing earring becomes sexual. Maybe I'm projecting again—maybe this nocturnal ritual of looking good and going out and hooking up isn't part of the culture here. But given the conversations I've had here, and the patterns I've observed across other countries, and the overpowering evolutionary compulsions of being human, I have to believe that I'm at least partly right.
But what's strange to my not-quite-acclimatized eyes in Jakarta, is that this preparation of beauty seems not to be a means to an end, but an end in itself. I don't see couples pairing off and making out on dance floors or exchanging numbers with cute new prospects, but I do see mass pilgrimages to mirrors and reapplications of lip-gloss and micro-adjustments to necklines and hemlines and lined eyes. Upon reaching the club or lounge for which a girl has spent so long preparing, instead of engaging in the experience, the preparation seems to continue indefinitely. And the guys in the club, outside the bathroom—the guys who, I suppose, are the target audience for this carefully applied beauty—remain largely ignored, BBN pins remain unexchanged, flirtatious conversations remain unspoken.
I haven't been here long enough nor do I know a nearly adequate amount about Indonesian culture to begin to understand the reasons for this tendency, but I can't help but make some inferences. I can't help but think it must be somehow related to the blurred-out celebrity cleavage sandwiched between style advice segments on E! News. I can't help but think there must be some connection to what my Australian friend told me about his experiences with dating in Jakarta: "It's not hard to get a date, but it's like a lot of girls don't want to hook up or stay in touch or do anything during the daytime. It's like they just want to go out to be seen or something."
And yet, when a girl stands in the bathroom, hunched over a sink applying mascara to a face that is already more perfect than one in a magazine, surrounded by a posse of other women whose eyes are fixed on their own faces, she's anything but seen. But maybe that's what the mirror's for.
For my part, I'm just glad I don't have to wait to pee.