Marco's Chop Shop – a barbershop that offers more than just a haircut.
With exceptional customer care and a wide range of services, Marco's is the ultimate one-stop shop for men.
We would like to introduce you to Marco's Chop Shop and the visionary behind it – Amrit Harjani. He'd like to tell us more about the barbershop. In an interview, he shared his journey from working in various industries to starting Marco's Chop Shop.
Hi Amrit, we'd like to know more about you. Please introduce yourself.
My name is Amrit Harjani and I was born and raised in Indonesia. I am 34 years old, Indian by race and Indonesian by nationality with a passion for providing exceptional barber services in the country. I am currently focused on the expansion of Marco's Chop Shop and Black Fox Barbers, my chain of barbershops in Jakarta.
Before running Marco's Chop Shop, what did you do?
I graduated with a degree in Hotel Management from Kuala Lumpur after which I began my career in the hospitality industry. I was fortunate to land jobs in five-star hotels such as the Ritz Carlton, Grand Hyatt and JW Marriott before managing a range of Burger King outlets in Jakarta. I dissolved my gig in the hospitality industry two years later. I then chose to be a part of the family business dealing in wholesale garments before finally discovering my passion.
Why a barbershop? How did you start running Marco's?
I'm going to quickly revert this question back to you – why not a barbershop? The industry was booming in 2015 and that's when I decided to take the plunge and do something extraordinary. I did as much external research and travel trips as I could to make sure I was able to fill the gap I had found in Jakarta. My expectations and the reality of the services provided went beyond what I was able to comprehend. Countries like Turkey really helped bring my vision to reality and when I realised my potential, I became unstoppable. And hence, Marco's Chop Shop was born.
Please share with us about Marco's Chop Shop.
Marco's Chop Shop is your one-stop shop for men of all ages. Through the services we provide, I can proudly affirm that I have been able to fill in the gap between my expectations and reality. With our diverse range of services, standards of procedure, and products used (and sold), with an exclusive ambience across all our outlets, Marco's Chop Shop is the place you'd like to be to get pampered.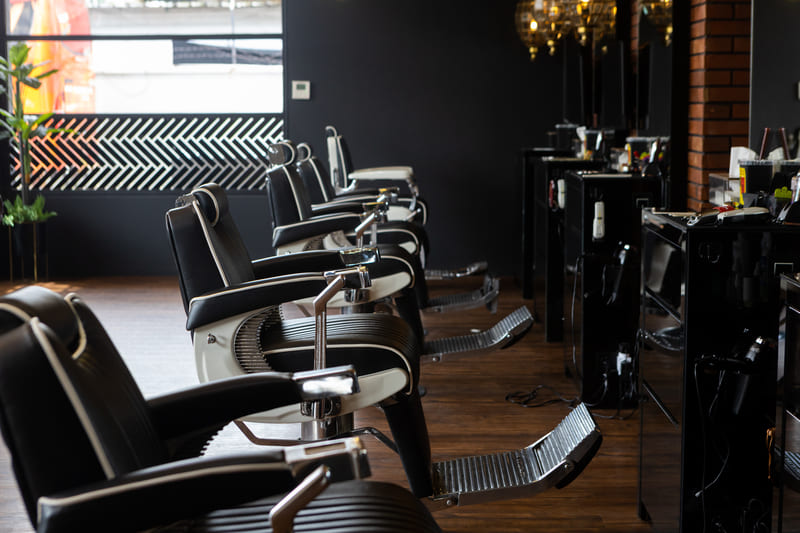 "It's more than a haircut." Please elaborate on the meaning of this tagline.
The tagline means that at Marco's, you don't only get a haircut; it's more than that. It's the relationship between the customer and the barber, the services we provide and the experience provided to our customers. Aside from that, we have what we call WOW factors in place to further elaborate on our tagline "It's more than a haircut".
As customers, people need something special. What are the special services you can offer to your customers?
We've got a range of services. First, we cover the basics such as haircuts, shaves, and hair colouring. We also cater to customers' specific needs like nose waxing, face scrubs, charcoal face masks, manicures, and pedicures.
We've recently launched our new line of services which is body waxing for men. Our customers can choose the types of waxing they'd like to get done depending on their preferences.
Are there any specific requirements to be one of your barbers? Do they need to attend a barber class before applying?
Our barbers need to have a minimum work experience of seven to 10 years of being a barber. Besides, we still do test them for skills before we onboard them to our training programme. We've got high standards through our SOPs that our barbers train for before handling clients.
Today you've got 10 store locations. What is the biggest challenge to managing this barbershop and all the branches?
Consistency across all the stores. I think this is an ongoing process and something that will never end as we increase the number of outlets. However, this challenge keeps me motivated enough to keep going and ensure we're doing everything we can to provide the most incredible services for our customers.
What's next for Marco's Chop Shop?
Our aim is to expand exponentially across the big cities in Indonesia and aim to be a trendsetter for barbershops in the country.
Where can our readers get in touch with you and Marco's Chop Shop, especially to book a haircut?
We are available through many channels; WhatsApp, Telephone, Instagram, Facebook, and even Google.
Here are all the social media handles to get in touch and learn more information about Marco's Chop Shop:
Get in touch and get your mind blown!