My ideal weekend is to immerse in absolute tranquillity, flowing through a slow pace amidst hues of blue and green and art as I attain full contentment from every strand of my hair to my toes.
Undeniably, Bali obliges. With a plethora of activities and accommodations to fulfil this desire, where should one opt for? Sanur.
Sanur has charmed me in the best way possible on my previous visit. I didn't stay in this soothing, seaside town of Bali's southeastern area but in my heart, I asked the universe to someday wholly be in tune with Sanur.
One late Summer weekend, I arrived at an oasis bursting with an authentic cultural experience – Sudamala Resorts, Sanur. Set amidst a great historical setting, at the southern end of Sanur where the coastline sweeps away to the west and Bali's daybreak enchants the eyes each morning.
"Sudamala" is ancient Sanskrit for "purifying water". I humbly confess — that my mind, body and soul are due for purification. One might divert to Ubud instead, however, the soul of Sanur is implanted with the resort's opulently appointed rooms, intuitive service, and musing artistic pieces. The "Sudamala Taksu", or cultural spirit, complies as a space to enjoy fine food and explore Bali's artistry.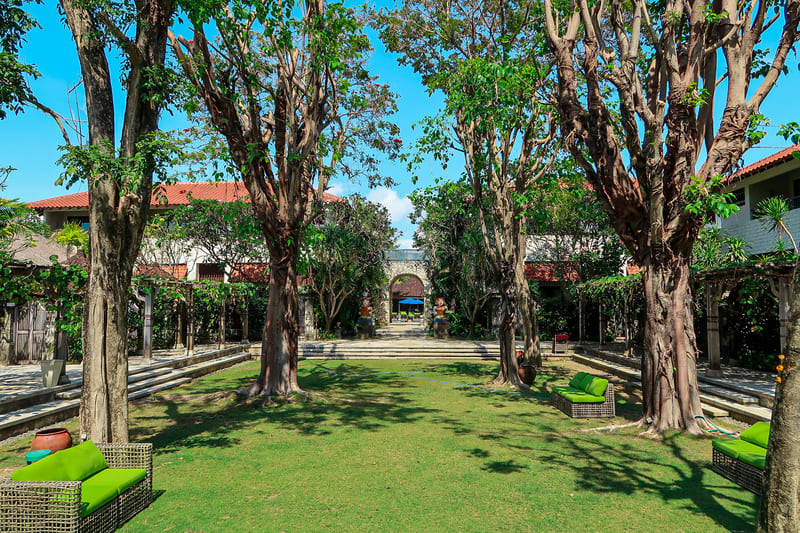 Walking towards the open-air lobby, I pass by creams, wood, and stone statues peeping amongst the sturdy tall trees in the courtyard. A rustic, deep Balinese influence storms the resort. Sudamala Resorts was inspired by the affluent Indonesian art and culture designed by ESA International through a concept featuring an architectural style approach genuine to the local area – traditional building techniques, the use of local materials, authentic art, and decorative details from local natural crafts. This way, guests appreciate the local culture and respect the island's charm, as well as assist environmental conservation efforts by allowing native trees.
My suite on the second floor is one of the 34 expansive suites and villas nestled around spacious inner courtyards. A striking blue and red wooden double door opens to more creams and wooden furniture secured by a high bambooed ceiling resembling a hut while warm and comforting yellow lights shine through the suite. Push the curtains to the sides where a terrace with a cosy couch allows you to integrate into the luscious greens and clear sky that Bali is famed for.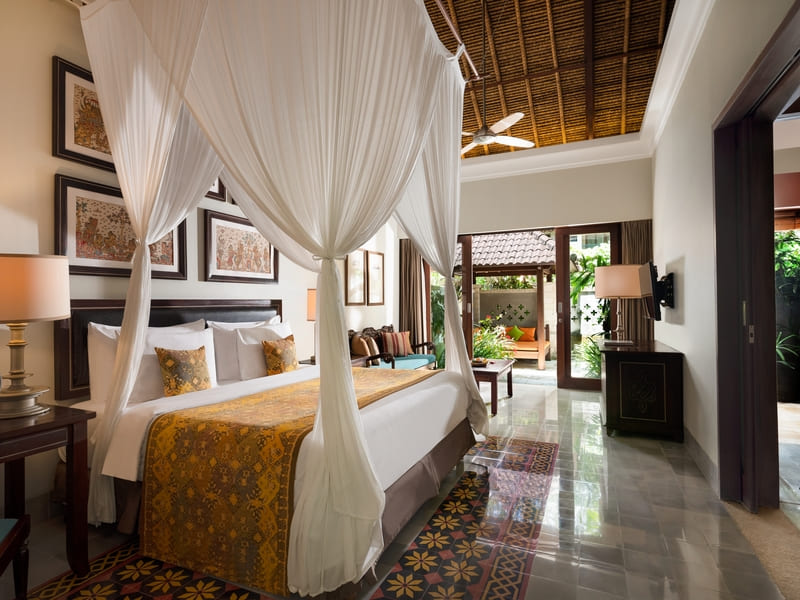 Hastily, I made my way to the pool. Bali's been strikingly hotter than usual. Nonetheless, the amount of shade and the sun's direction here are invigorating. I close my eyes lying on my sun lounge; immense tranquillity disposes with only the sounds of birds chirping and occasional splashes of swims. I see other guests accomplishing their summer reading, softly chatting to one another or simply resting their eyes momentarily. I've missed having a late afternoon like this….
The sun loungers slowly emptied by 5 PM. A knock on my door – concurrently happens every 6 PM – ensues daily mosquito repellent smoke igniting and the distribution of "Night Time Stories" of Indonesian folklore; entailed their lessons to be adapted to everyday life coupled with cookies.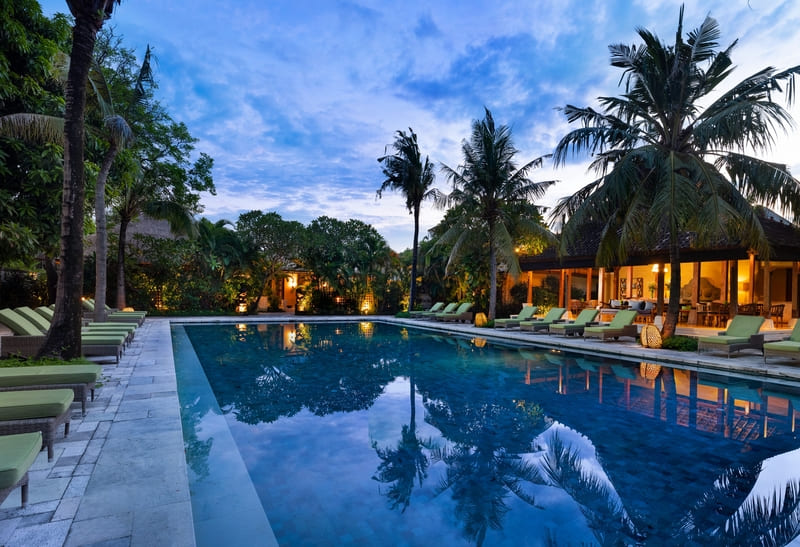 Ares Restaurant is a sensational street-front al fresco restaurant serving Indonesian and Western cuisines from breakfast to dinner as a way to celebrate Indonesia's finest cuisine, culture, craftsmanship, and people through the preservation of Indonesian culinary heritage, specifically in using local ingredients and authentic recipes. Guests are therefore invited to experience Indonesia through their palettes while also inducing a sense of home.
I figured I'd incorporate both local and international dishes in every meal here. For my first dinner, I ordered the cheesy and creamy Carbonara Penne (halal version); Ares' interpretation of the classic Indonesian salad with tofu, traditional bean cake, tempe, tons of vegetables, and peanut sauce called Sudamala Gado-gado – presented lavishly, unlike your typical Jakartan Gado-Gado, although similar to Central Java; and a pot of hot green tea. Every bite I savoured was magical. The diners chanting along to classic Rock and Reggae at the bar across the street was an added bonus.
I could've returned to my room but that entertaining bar inspired me to explore Sudamala's surrounding area. Strolling along the narrow sidewalk embed many bars and restaurants jamming to live Rock, Acoustic, Pop and Reggae tunes. I ended up sitting at a colourful Reggae Bar until midnight. Unknowingly, I passed the stairs to my suite yet hotel staff saw me then escorted me safely.
My easy and slow-paced themes continued on my second day. Sipping a cup of warm water to awaken my senses by the terrace, a fortress feel emitted this resort which was inaugurated in 2011.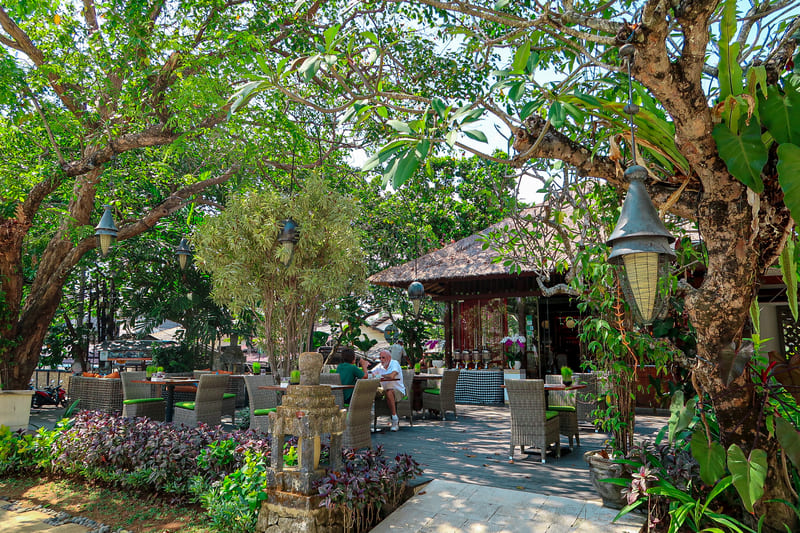 Breakfasts are normally in buffets. Ares Restaurant, nevertheless, realised an a la carte menu allows guests to order each dish individually and even customised orders of different side dishes or ingredient substitutes. My first breakfast was a hearty vegetarian Mie Goreng with tofu skewers cooked to savoury perfection. On the side was a refreshing and fulfilling tropical Smoothie Bowl garnished with coconut flakes, granola, sunflower seeds, and sliced bananas and strawberries that depict the exotic essence of Bali.
Fueled up, I stopped by the reception to secure my sun lounge at the beach. The front office will check with the beach boy stationed at Sanur Beach to ensure there's enough space for guests to enjoy their beach days. Once confirmed, a laminated card portraying an image of Sudamala's blue sun loungers was given to me, along with directions. A bike ride could be an option but it's a five-to-10-minute walk ahead, depending on pace. That wasn't my case. I missed the left turn into the alley, leading me to walk along a further route towards the beach entrance. Puzzled, a friendly Bli directed me through the coastline crowded by holiday-seekers and local residents. "You should come to witness the sunrise tomorrow," he said.
Sudamala has a designated area with a beach boy on standby from 9 AM to 5 PM. Present your beach card to him – then disappear into the beachy breeze with your book, calm waves gently hitting your body within the waters scrambling with seaweed as fishermen are on their daily catches. The midday sun got a bit too overbearing, so I asked for directions back to the resort. I'm not even surprised I got carried away revelling in the laid-back atmosphere again.
My 60-minute Balinese massage at SudaJiva Spa (water of life) awaited, where an array of treatments dictating a fusion of ancient and contemporary healing therapies cleanse one's inner and outer wellness from negative energy, fostering rejuvenation to continue the discovery of the Island of the Gods.
Upon treatment is a selection of four specially blended massage oils enlisting natural elements from the island; frangipani, almond spice, almond fruit, and signature. Frangipani was my choice. Totalling four spa suites (two for couples and two for singles), each suite is designed to restore balance and harmony in an ambience of beauty, grace, and serenity, complete with its own individual garden courtyard and outdoor rain shower.
The heartwarming Antari and Devi catered an alleviating massage. Interestingly, they use steamy hot towels to compress the skin. My loose body enjoyed the sounds of water dripping in the pond while a pot of ginger tea and a plate of cookies were served post-treatment. Merely within the corner is Suda Ening, a dedicated meditation and yoga space adjoining the spa.
"What should I have for lunch today?" I asked my waiter. "Try the Pan-seared Barramundi Fillet, bu," he said. This savoury and light dish truly enhanced people watching from my seat.
Drawn back to the pool, I checked the time which had some to spare at the beach – this time I didn't miss the alley! Kites flying, children playing in the sands, I opted to walk along the trail where an evening walk and cycle were on people's agendas too. Dinner rolled in with a sweet Tomato Soup and the Nasi Campur Sudamala, a miniature rijsttafel of assorted traditional Indonesian dishes served with steamed rice rich in protein varieties, unlike other nasi campurs found on the island.
I took that Bli's advice to watch the sky majestically drift into deep yellow and orange the next morning by the beach. After a short slumber, a flavourful Ayam Betutu in an omelette savoured my morning before my bike ride. Shops are open from the earliest hours and one "mbok" selling "limited edition clothes" gleefully allured me into her shop.
Sudamala prides itself on being a complete resort by providing a plethora of in-house activities and facilities to cater to both the active and the not-so-active: main pool, private dedicated beach, spa, Natah Saji Garden, bike, daily organised adult recreational and social activities, and a cooking class (Rp425,000++ per person).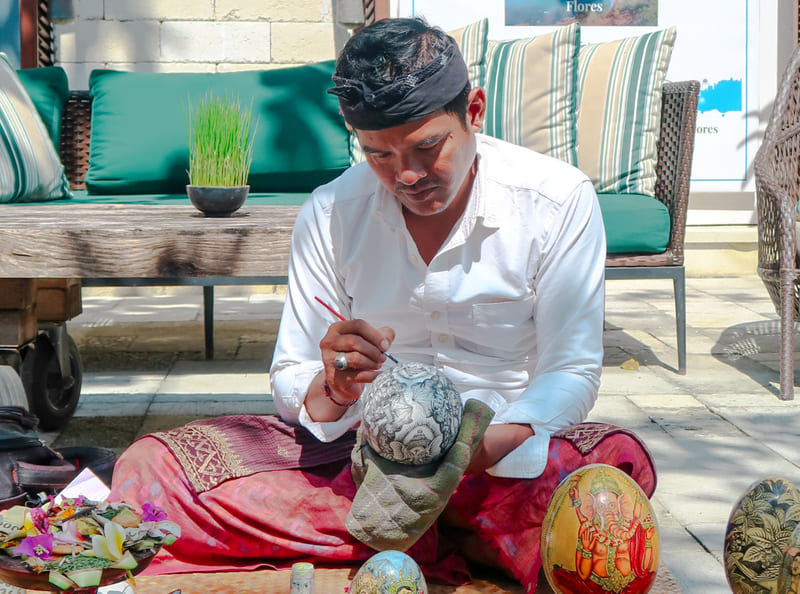 There's one interesting spot at the resort – Sudakara ArtSpace. Sanur is one of Bali's most significant and cutting-edge showcases for contemporary art, as well as a vital incubator for new talent and rising stars. The 250-square-metre gallery sits front and centre of the hotel, which indicates the importance attached to the project and demonstrates how a love of art has become an integral part of the taksu. Inside, regular exhibitions are mainly by local and foreign artists residing in Bali inhibiting works of two strikingly different art styles. Beyond exhibitions is a visionary environment for intercultural dialogue and art exchanges.
The Steak Sandwich of ooey gooey cheese and succulent steak with a sweet and sour homemade dressing salad on the side accompanied another afternoon of people-watching. Some of the menus from Sudamala's resorts in Lombok and Labuan Bajo are available too so that guests can have a taste without travelling. But I was in the mood for more Balinese delicacies for my final night, such as the Sate Lilit and an exotic Seafood Salad, topped off with another waiter's recommendation, the deep chocolatey Lava Cake.
My last morning woefully approached. I requested a bike for another ride along the coastline after a hearty Salmon Avocado Puree. The sun was gruesome this morning. "Bu, why are you back so early?" asked the security who recollected my bike. "Well, I have to get ready to check out," I pouted.
My sweet spot for Sanur spiked, especially with Sudamala Resort, Sanur alluring me to experience the rich cultural and historical scenes of the town while still staying in a laid-back, tranquil space. Individuals pursuing luxury accommodation are in for the unfamiliar yet familiar Balinese spirit here.
Sudamala Resort, Sanur