East Java resident, Graeme Steel, takes us shopping for antiques in Indonesia's second largest city, and reveals where to search for its hidden trinkets.
Indonesia has long been a source of antiques and reproductions. As it becomes harder to find genuine Dutch period furniture, skilled craftsmen are filling the void by producing really quite remarkable copies. Prices in Surabaya tend to be cheaper than in the capital.
With a number of shops about the city, you'll find genuine antiques here and some reproductions masquerading as the real thing. But shops near the centre of Surabaya's CBD, and where expats live, are expensive.
For the adventurous bargain hunter, you'll discover a secret source of antiques and reproductions in Kampung Madura, a densely populated area hemmed in by the main roads. This friendly, relaxed inner-city village can be a fun and rewarding place to buy.
The streets are narrow, but spotlessly clean. Here, several 'shops' sprawl their merchandise over the pavements. There is just sufficient room to park a car.
One shop offers enormous woodcarvings taken from the traditional houses of Kudus on Java's northern coast. These panels are intricately carved and show both oriental and European influence. The owner of the store says that his foreign customers buy these as room dividers or even incorporate them into the entrances of new houses. Further up the street, a shop displays smaller wares – planter's chairs and marble-topped tables. Scattered about the furniture are many colonial period ornaments, beautiful Chinese vases, striking wayang masks and antique Bakelite telephones. I was reassured by several vendors that purchases can be shipped anywhere in the world.
Struggling to get by the jumble of furniture, I make for a shop on the opposite side of the gang, or lane. A shop of the smallest size, I see here a number of tables and desks being renovated. A beautiful roll-top mahogany desk, with a spot or two of old writing ink on its surface suggesting its authenticity, is being rubbed back to remove a coat of cheap varnish which has been added in an error of judgment by some more recent owner. The beautiful grain is once more seeing the light of day. A fine wooden settee with a carved back is having its slightly battered edges smoothed with a primitive tool, which is nothing more than a shard of glass, but in the skilled hand of the carpenter is bringing back fine form to its lines.
Further up the lane is the mother of these little vendors. This shop was the first to open here in the early '70s and has the largest premises and stock. To call it an emporium is not to exaggerate. Like the other shops, it is a residence too, and I tread rather embarrassed through the rooms, which aside from the antiques may also be home to a sleeping member of the owner's extended family.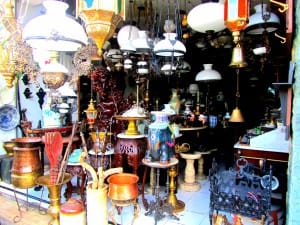 From top to bottom, the shop is groaning under the weight of its contents. Dozens of Dutch lamps hang from the ceiling, intermingled with superb glass lamps of cobalt blue, deep red and green. The floor space is awash with circular pastry cabinets and Madurese inlayed and carved chests. The owner tells me with the genuine antique sources are fast running out; much of his reproduction furniture is made from reworked old hardwoods. This would account for the aged appearance of much of what I see, fooling anything but the trained eye. He claims to still have a supply of the genuine – there are always old family pieces coming on to the market from those hard up and selling off the family heirlooms, or from the younger generations who would prefer something more modern.
On the second floor, a staggering array of smaller pieces are displayed. I discover a horn gramophone complete with a selection of 78s, a trophy of colonial-era deer hunts, and a collection of Javanese dance masks with their stylized faces among the items. A wall displays 20 or so 19th-century plates, most of which are from Maastricht in Holland; a few have an Indies theme.
Another interesting area to explore is along Jalan Padmo Susatro and Jalan Bodri, which it leads into. About 10 roadside stores overflowing onto the sidewalk sell a fabulous array of goods – Dutch era antiques ranging from gramophones, radios, nautical instruments, silver cutlery, brassware and crystal. Vendors seem keen to bargain and seldom let you walk away without trying to clinch a deal.
Surabaya provides an excellent opportunity to find interesting, unique items at prices that are still affordable.
FAST FACTS: SURABAYA
Province: East Java
Population: 2.765 million (2010)
Area: 374.8 km²
How to get there: There are many flights to Surabaya throughout Indonesia and other cities of Southeast Asia. Take a taxi from the Surabaya airport to these destinations (about 60 minutes of travelling time):
Kampung Madura, Jl. Gubeng Jaya II, off Jl. Kertajaya
Jl.Padmo Sustrato, off Jl. Mayjen Sungkono
Jl. Bodri, alongside Gelora Pancasila