Living in a red light area of Jakarta, the streets outside my apartment are lined each night with pushcart vendors selling all manner of aphrodisiacs for men and women, as well as penis enlargement treatments. Yet just how reliable are these medicines?
I am far too young and virile to require any of the blue pills or other potions. Neither do I need the enlargement ointments, though that doesn't stop the occasional vendor from trying to sell the stuff to me.
Indonesia is rife with fake aphrodisiacs, especially pills for increasing male potency, which is euphemistically referred to as obat kuat (strong medicine).
The Health Ministry's Drug and Food Control Agency (BPOM) allows three drugs to be sold, by prescription only, for the treatment of erectile dysfunction: sildenafil (Viagra), tadalafil (Cialis) and vardenafil (Levitra). All three can be purchased without a prescription at just about any pharmacy – or bought from street vendors. Hologram stickers on packaging are no guarantee of authenticity. Doctors warn that fakes sometimes contain toxic ingredients, and if used in combination with chest pain medicine, results can be fatal
A 100 mg Viagra tablet costs Rp.75,000 on the street and Rp.164,000 in a pharmacy. A 20 mg Cialis is Rp.50,000 on the street and Rp.159,000 in the pharmacy.
Men seeking cheaper options can purchase traditional potions, such as Semut Hitam (Black Ant), which comes in liquid and capsule form. It is supposedly made from crushed black ants and ginseng. Vendors claim it increases testosterone and blood circulation, resulting in multiple male orgasms. A pack of six capsules costs Rp.60,000, while a single sachet costs Rp.25,000. As a human guinea pig, I sampled a sachet – it tasted nasty and had no discernible effect.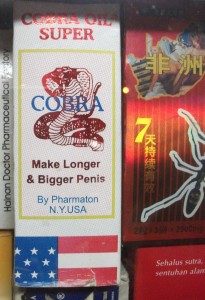 One of the most popular penis enlargement potions is branded "Leech Oil". A 60 ml bottle costs Rp.80,000. It is not for oral consumption but should be applied to the phallus and surrounding areas. When genuine, it is made from dried leeches, which have been pulverized and boiled with castor oil or coconut oil. Some sellers claim live leeches are blended and mixed with oil.
"You have to use it for one month or several months to get results," a vendor told me. "Every day, you rub it on for 10 minutes and the penis will get bigger." Manual stimulation tends to do that – with or without leech oil. There's no medical evidence that this goop causes the penis to grow permanently larger. I had no desire to try it. One acquaintance complained that it causes numbness and doesn't work.
Another enlargement product is called Super Magic. It looks like a packet of condoms. Inside are six sachets of moist antiseptic tissues. Vendors claim these "magic tissues" will prolong stamina, stop premature ejaculation and even prevent sexually transmitted diseases.
Instructions are as follows: wipe the penis with the magic tissue, then wrap the tissue around the penis for 5 to 15 minutes, then have sex. I bought six of these tissues for Rp.30,000, foolishly envisioning that I would describe how utterly useless they were. Big mistake. The initial application began to cause numbness but I ignored the sensation. After 20 minutes, I removed the tissue and was shocked by the painfully elongated and distended result. Not something I'll be trying again. One of the listed ingredients is benzalkonium chloride, a preservative and disinfectant that some pharmaceutical firms have stopped using, as it is a toxic irritant.
A popular female libido booster sold on the streets is called Germany Sex Drops. A small bottle of this colourless liquid costs Rp.90,000. Five drops should be added to water, juice, coffee or tea – but not to carbonated drinks. Vendors claim a woman will become aroused within five minutes of consumption and clitoral sensitivity will be increased to the point where multiple orgasms can be achieved. I gave some to a friend to try alone. She said it had zero effect.
The ingredients of Sex Drops are listed as water, fructose, melatonin and canitis. Melatonin is a hormone that can improve sleep but has no effect on the libido. It should not be consumed by pregnant or breastfeeding women. Canitis is a "secret ingredient" – possibly water. Fake versions of Sex Drops cost Rp.30,000 and list the ingredients as "water, fructose, flavour [sic], etc". An English disclaimer on the box states: "Sold as an adult novelty only."
That's all some of these products are: novelty items; but tapping into sexual insecurity and male fantasies of control over women is big business.