It's that time of the year again, when some people are resorting to crime to raise money to return to their hometowns.
Toward the end of the Muslim fasting month of Ramadan, millions of Indonesians in Jakarta and other major cities will travel to their home villages for the Lebaran holiday period, which this year takes place over June 11 to 20.
Traditionally, urban dwellers are expected to return home with gifts and cash for family members. Likewise, Muslim breadwinners in smaller towns and villages are expected to pay for presents and family gatherings.
What to do if you're lacking cash? Many desperate people resort to theft. Crime rates often spike ahead of Lebaran, which is also known as Idul Fitri.
Mosques are a tempting target for thieves, as they usually have at least one poorly guarded box for charitable donations. Commonly made of wood, these boxes are secured with a padlock over a hasp (hinged metal plate) that can be broken open with a sturdy screwdriver or small crowbar. Donations tend to rise during Ramadan, as devout Muslims believe alms-giving is essential for gaining admittance to paradise.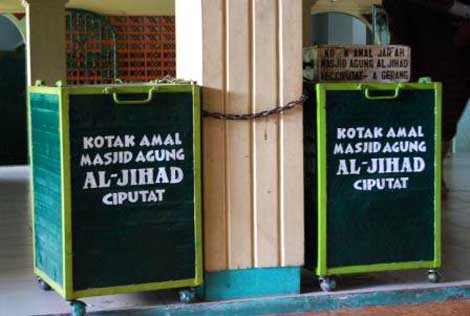 The risk of stealing a mosque's charity box is huge, while the reward is minimal. If a person is caught committing street-level theft in Indonesia, they can be beaten or killed by an angry mob. If arrested and sent to court, they face up to seven years in jail. Yet the charity boxes contain only about Rp 200,000 (US$14) and at most about Rp1 million (US$71). It doesn't seem worth the risk, but in recent weeks, dozens of mosques across the country have had their boxes broken open or stolen outright.
Let's look at a few recent thefts. On Batam Island, Dwi (36) entered Babussalam Mosque in Sagulung district at about 12.20 am on May 26. First, he went through the motions of praying. Not seeing any security guards or other worshippers, he started trying to pry open the donation box. A guard, who was washing in the ablutions block, heard the noise and raised the alarm. Dwi fled but was soon caught and beaten by locals until police took him into custody.
In South Sumatra, the donation box at Al Amir Mosque in Banyuasin has been broken open and pilfered numerous times. Most recently, the entire box was swiped on May 26. Officials said it contained about Rp250,000.
On May 21, Widodo Susanto, a 53-year-old porter at Gresik Port in East Java, broke open a mosque's donation box. He took the contents of Rp265,000 and fled on his motorbike. Locals caught and beat him before police arrived. Widodo said his tiny salary barely covers his daily needs, so he had borrowed Rp6 million from a loan shark and was struggling to meet the interest payments.
Some thieves are brazen. In Riau province, a man entered the busy Ar Rahman Mosque in Pekanbaru during Friday prayers on May 18. He lifted a small donation box down from a larger one and placed it on the floor, as if he wanted to make a donation. He then carefully covered the box with his black jacket and pushed it alongside his black backpack. An accomplice approached him. They glanced around furtively and left together, taking the box. Their actions were recorded by a video surveillance camera.
Many mosques now have such surveillance cameras, but thieves are not deterred. Some are repeat offenders. In East Java, 50-year-old Ridwan robbed a mosque in Pringu village at 1.55am on May 24. He made off with about Rp300,000. The crime was not discovered until 11pm, when Police examined surveillance footage and recognised Ridwan because he had previously been jailed for stealing from another mosque.
Mosques tend to empty their donation boxes just once a month, but amid the Ramadan crime wave, many are now emptying the boxes weekly or even daily. Would-be thieves should consider conducting reconnaissance to avoid disappointment. On May 19, a man entered a mosque at Sidorejo village in Central Java at 12.30am and located the charity box, only to discover it was empty. He drove his motorbike to another mosque, broke open a box and removed Rp345,000, only to then be caught and beaten.
What happens to donations collected by mosques? The money can be used for administrative and maintenance costs, proselytising, and humanitarian actions. Perhaps some of the money could also be used for projects to discourage the needy from resorting to theft.
Dubious Donations
While the amounts being stolen from mosque boxes are paltry, especially in comparison to the millions of dollars embezzled by crooked legislators and officials, the unlicensed charity syndicates – also known as begging mafias – are able to reap big money.
Beggars and spurious charity collectors throng to Jakarta during Ramadan to sell penance to people seeking a sense of religious piety. Many are controlled by gangs. Begging and giving money to beggars are banned in Jakarta and some other major cities.
Central Jakarta's Social Services Department has advised the public to beware of unofficial charities. Collectors are often armed with a green box and solicit donations for projects supporting orphanages, disabled people, mosque construction and Islamic boarding schools. One syndicate had over 90 collectors, who worked on commission and handed over their daily takings to a boss, who did not publicly disclose how the money was used.
Jakarta Deputy Governor Sandiaga Uno is urging the public not to give to beggars, but instead to channel alms through reputable humanitarian institutions, such as Dompet Dhuafa (Wallet of the Poor), Aksi Cepat Tanggap (ACT, Fast Action Response) and Rumah Yatim (Orphan House). He said the Jakarta administration will soon handle the problems of the underprivileged citizens.
The Best Policy
Beggars are experts at looking wretched. They know how to tug at your heartstrings to loosen your purse strings. If you do want to donate, consider giving some money to humble scavengers who work for a pittance to keep Indonesia clean. Beware of those who just wheel a cart and their infant children into the city during Ramadan and stand forlornly by the roadside. Instead, chat to active, seasoned scavengers and discreetly hand over some money.
On May 23, a 65-year-old rubbish collector in Jogjakarta, Jubaidi, saw an orange bag on the side of a street. Something inside it was moving. Opening the bag, he found the movement was caused by a small hand-held fan. The bag also contained Rp20,190,000 (US$1,445) in cash, as well as a power bank, a phone charger and a necklace. There was no sign of the owner's identity. Jubaidi wandered around the area but could not find the owner, so he took the bag to the neighbourhood chief's office and asked if anyone had lost some money. Four people claimed ownership but were unable to describe the bag's contents. Jubaidi then went to police, who managed to locate the bag's owner, Edy Prastya (48). He provided the grandfather with a reward of Rp300,000. Jubaidi says he was ridiculed for not keeping the 20 million, but he feels the toughest and most rewarding thing in life is to be honest.