My daughter just turned one and I spent the past couple of weeks thinking about how to celebrate this important milestone.
Indonesians have a tradition of making a big fuss about kids' birthday parties, especially the first one, and the ones who have the means can make your wedding look like not much at all in comparison. If you have been invited to one of those extravagant events, you might be intimidated to invite them back to a more modest celebration. Here are a few suggestions.
Venues
Indoor Play Parks
Indoor play parks are an easy option; reasonably priced and there is one in pretty much every single mall in Jakarta. It may be good to shop a little, as prices vary a lot. Indoor play parks are great for parents on-the-go. Installations keep the kids busy and there is no need to plan all sorts of activities, however, if you would like some entertainment, most of them offer birthday party packages including food, decorations, face painting, DJs, etc. They have catering services, but the food is not always the healthiest. It is also possible to bring your own cake.
Price: The cheapest places start at Rp.50,000 per child.
Some addresses:
The playground on Kemang Dalam is a very interesting option where you can have a simple kids gathering or a more organized setting with food and other entertainment. However, be aware that the place doesn't close for other customers as there is a membership system in place, which can be a great opportunity to meet new people. The more the merrier, they say!
Price: Starts at Rp.140,000 per child and Rp.75,000 per adult for entrance fee and food.
Email: [email protected]
Event Organizers
Home birthday parties can be a great option. You can opt for a simple event with a few games and a cake or go all in and order bouncy castles, clowns and more. You will find several event organizers out there who can plan your special day from A to Z. They can also provide à la carte options if you are looking for a magician, decorations, face painting or a piñata. They can make your child's dream birthday party come true. It is a pricier option.
Here are a few options. I haven't tried them but know people who have and were happy with their services:
Catering
There are many places in Jakarta which offer affordable catering. Among others, Uppercrust has diversified and complete menus, including appetizers, main courses, cakes and fruit plates. They can adapt to your needs and preferences and provide samples if you want to taste before ordering. They have a BBQ option and they provide dishes and staff, allowing you to focus on entertaining your guests and enjoying this special moment with your little one.
Uppercrust website: http://uppercrustjakarta.com
Cake
You can be blown away by the impressive cake decorations options out there, but I found, too often, turned down by the taste. Here are a few tasty options: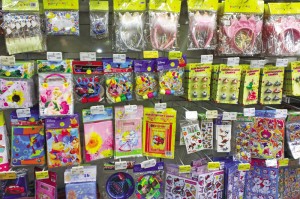 Goodies bags and other birthday supplies
Most supermarkets have wrapping paper, birthday hats, candles and trumpets, if you find yourself in need of last minute supplies. But I found that Grand Lucky has the most choices at reasonable price and also have goodies bags and most of the fillers. You can also try to visit a market to buy fillers. You might be surprised at what you find with a very limited budget.
What I decided to do?
After shopping around quite a lot and talking to other parents, I decided to opt for a house pool party to celebrate my baby girl's first birthday. I figured it would be a great opportunity to meet the neighbours, as we just moved into a new house. I decided not to request the services of a party organizer and to do a lot myself, but I am lazy and I have a limited budget so I sent all the invitations by email and put a few signs up in our compound.
I took care of the decorations and put up some pink and white balloons all over the trees. I wanted the grown-ups to enjoy themselves as well, so I found games that kids could play on their own without needing an entertainer. I put out some paint and brushes and hung a white sheet between two trees for kids to paint something nice for the birthday girl, I also got some chalks out and lots of bubbles. The kids ran around between stations all day and we ended up with a colourful mural and alley. My little one had a blast and collapsed in bed for 12 hours straight after that!