As Indonesia's most important presidential election ever nears its climax, there has been no end of deception aimed at swaying undecided voters. Much of the misinformation has been disseminated by the news media and social media.
Following is a look at the truth behind a few of the many claims being made about the two contenders: Joko 'Jokowi' Widodo and ex-general Prabowo Subianto.
Claim: Jokowi is a Catholic of Chinese descent.
Fact: Jokowi is Javanese and a Muslim. The allegations were made in a fake tabloid, which was published by supporters of Prabowo and sent to Islamic schools.
Claim: Prabowo's father was a traitor because he tried to help America overthrow founding president Sukarno.
Fact: Prabowo's father, economist Sumitro Djojohadikusumo, in the late 1950s supported a regional rebellion, in which parts of Sumatra and Sulawesi tried to break away, backed by the CIA. When the rebellion was crushed, Sumitro left Indonesia. He returned in 1967, after Suharto had ousted Sukarno, and then served as a minister in two cabinets.
Claim: Jokowi can't speak English unless reading from a script.
Fact: Jokowi can speak sufficient English to handle interviews with foreign journalists.
Claim: Prabowo is violent and bad tempered.
Fact: He argues it is better for people to be led by a tiger than a goat. Former state intelligence chief Hendropriyono was reported to police for defamation after describing Prabowo as a psychopath.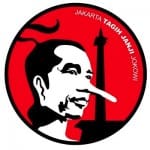 Claim: Jokowi broke his promise to serve out his first term as governor of Jakarta from 2012-2017.
Fact: Jokowi has since May 14 been on temporary leave pending the presidential election campaign. His supporters argue it is for the greater good of Indonesia if he becomes president.
Claim: Former president Abdurrahman 'Gus Dur' Wahid endorsed Prabowo's presidential bid.
Fact: In March 2009, after losing control of his National Awakening Party, the near-blind Wahid advised his supporters to back Prabowo for the presidency. Gus Dur died nine months later.
Counter-Fact: American journalist Allan Nairn last week posted details of a 2001 interview in which Prabowo belittled Wahid, saying: "The military even obeys a blind president! Imagine! Look at him, he's embarrassing… Look at Tony Blair, Bush, Putin. Young, ganteng (handsome) – and we have a blind man!"
Claim: Jokowi is a failure because Jakarta's traffic jams are worse and the city has become more prone to annual flooding.
Fact: Traffic has improved in some areas, including previously gridlocked Tanah Abang, after Jokowi convinced street traders to vacate the roads. Some vendors have returned to the roadside but the situation is still better than it was. As for floods, Jokowi has had little success in reducing their impact, but his empathy for flood victims has won support.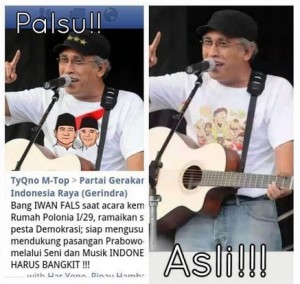 Claim: Veteran singer Iwan Fals supports Prabowo and his running mate Hatta Rajasa.
Fact: Iwan Fals was furious after digitally modified photos, showing him wearing a Prabowo-Hatta t-shirt, were disseminated.
Claim: Jokowi was involved in corruption cases when mayor of the Central Java city of Solo.
Fact: No evidence has been produced to prove that Jokowi accepted bribes or embezzled funds.
Claim: Prabowo suffered an injury while serving in East Timor.
Fact: The rumour should be irrelevant.
Claim: Jokowi is a puppet of ex-president Megawati Sukarnoputri and America.
Fact: Megawati has long had a stranglehold on her Indonesian Democratic Party of Struggle (PDIP). The death of her influential husband Taufik Kiemas last year means that Jokowi is less under Mega's grip. Some Americans support Jokowi but they don't control him.
Claim: Prabowo could be a threat to democracy and free speech.
Fact: Prabowo last year told Tempo magazine: "I have proven my commitment to the Constitution… Physically, I was the strongest in Indonesia. I was accused of planning a coup, so I was fired by the president, but I obeyed him without protest."
In his 2001 interview with Alan Nairn, Prabowo is quoted as saying: "Indonesia is not ready for democracy. We still have cannibals, there are violent mobs… [Indonesia needs] a benign authoritarian regime… Do I have the guts, am I ready to be called a fascist dictator?"
Claim: Jokowi cannot be trusted because PDIP is the most corrupt political party in Indonesia.
Fact: Most of the parties are rotten and PDIP is no exception.
Claim: Prabowo masterminded the deadly anti-Chinese riots of May 1998.
Fact: There was a power struggle in the Indonesian military in 1998 between Prabowo and his commander Wiranto. Initially, Prabowo was blamed for the carnage, but after subsequent analysis, many people insinuated that Wiranto was responsible. Both men deny being the mastermind.
Claim: Jokowi is supported by human rights abusers.
Fact: Among the many retired generals supporting Jokowi are several accused of failing to uphold human rights, including Wiranto, Hendropriyono and Ryamizard Ryacudu.
Claim: Prabowo was responsible for the abduction and torture of pro-democracy activists.
Fact: In an interview with Tempo magazine in October 2013, Prabowo said: "Sometimes, as the government's tool, we carry out missions which at the time were seen to be right. After the government changes, the new governments regard it as wrong. I was just an employee at the time, following orders… But I never went anywhere, I did not hide, I took responsibility for it. So where's the problem?"