While everyone is familiar with the orangutan and the problems that the cuddly, cute orange ape faces, spare a thought for the more humble Malayan Sun Bear, also known as the Honey Bear. It wasn't that long ago they were widespread throughout Indonesia, but today they are only to be found in Kalimantan and Sumatra. The jungles where they once roamed are being cut down as companies seek profit from palm oil and, as well as habitat loss, the bears face the risk of being 'collected' or shot by people to cater for the pet or medicinal trade.
The bear's gallbladder is highly sought after for its perceived medical attributes, while its teeth and claws are apparently in demand as souvenirs. And in some parts of Kalimantan it has been reported that the sun bear is eaten by indigenous people while others are reportedly kept as pets because they are seen as 'cute'.
With the exception of man with its saws, guns and cages, the sun bear has very few natural predators, but there have been instances where a reticulated python swallowed one whole.
The idea of animal conservation appears a long way down the list of things to do for many people in this region. The economic growth of East Kalimantan, with its abundance of natural resources, has yet to filter down to all sectors of society, and for many the glitz and glamour of 'wealth' are but a pipe dream. Rather like those shows on TV where dealers buy cars to strip them down for their parts, a sun bear has an economic value greater perhaps than its whole.
In a bid to raise awareness of the sun bear that was named the mascot of Balikpapan (capital of East Kalimantan province) in 2002, a sun bear centre was developed by private donors, wildlife experts and the local government some 23 kilometres north of the city along the road to Samarinda.
Several sun bears that were being kept as pets were confiscated by local government officials and taken to the centre where they were initially kept in cages while work was undertaken for a better facility. In 2005, a 1.3 hectare enclosure was built to allow the sun bears to live in more natural surroundings.
The enclosure is now home to seven bears, each of which no doubt has its own harrowing tale to tell, having initially been taken from the wild as youngsters and kept as pets before being forcibly taken from their owners and resettled. The area is large enough for the animals to roam around and, crucially for the bear that is considered a solitary animal, there is enough room for them to find their own space and have some valuable down time.
An important part of the centre is the role of education and local schools are encouraged to bring their students to visit and learn more about the sun bears, witnessing them in a more natural environment. One of the exhibits explains the characteristics of the animal and shows students how radio waves track them in the wild; a useful tool in their conservation.
While the text is all well and good, kids just love to see animals and an elevated walkway around the enclosure allows them the opportunity to see the sun bears doing what comes naturally, which is usually walking round doing very little or doing their best to hide in the undergrowth!
However, public feedings in the morning and early afternoon do allow the visitors a better opportunity to see them up close and take those valuable photographs. To make it more fun for the visitors, and more natural for the bears, the food is hidden close to the walkway so they have to dig around for their lunch – they can't have it handed on a plate!
I was heading towards Samarinda, so I decided to break my journey at the centre. The drive north out of Balikpapan was slow going; the road was narrow in many areas and there was a lot of industrial traffic. And for those expecting to see an endless vista of rainforest along the way? Be prepared to be disappointed.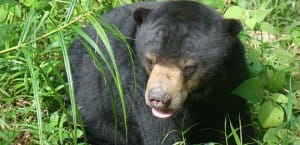 By the time I arrived, they had finished their second meal of the day and were more interested in finding somewhere for an afternoon nap than in posing for pictures for what visitors remained! One or two walked lazily around the enclosure close to the fence but they soon headed for the peace, quiet and security of the undergrowth.
The nicely landscaped centre itself also features a couple of lamins, open-sided long houses, large, airy facilities that act as a centre for exhibits or can be hired for company events. There are also large numbers of cats that roam the centre, that are available for adoption and are not earmarked as a future buffet for the sun bears!
For those generally squeamish or unwilling to visit animal-centred destinations, the Sun Bear Education and Conservation Centre shows how animals can provide useful information to visitors. And it certainly offers a different experience than a crocodile farm that lies to the northeast of Balikpapan, where visitors can sample crocodile on a stick!
—
Getting there
I hired a taxi for the day to get to and from Samarinda, which cost Rp.600,000. It is much cheaper by public transport but takes much longer, involves changing angkot and a walk of one kilometre or more from the main road to the centre.
Facilities
It is free to enter, but they welcome donations, of course. A few basic snacks are available and there is a souvenir stall.
For more information and how to help:
http://www.freethebears.org.au