The West Java Police gather more evidence to strengthen the case against Rizieq Shihab, leader of conservative hardline group Islamic Defenders Front (FPI).
Rizieq Shihab, leader of the FPI refutes allegations that he insulted Indonesia's Pancasila, officials report. Investigators will delve into more fact-finding over the next several days.
Late last year, Sukmawati Sukarnoputri charged Grand Imam Shihab for insulting Indonesia's state ideology (Pancasila) and her father, Indonesia's former president Sukarno.
In a speech in West Java in 2014, Shihab allegedly opined: "In Sukarno's Pancasila, god is located in the butt, whereas in the Jakarta charter of the Pancasila, god is in the head." Because it was such a bizarre thing to say, the speech went viral online shortly thereafter.
In addition, Shihab's official website posted a "money rush" campaign in an effort to destabilize the state's economy. The campaign, known as #rushmoney2511, orders Indonesians Muslims to withdraw all their deposited money from banks.
A number of agencies requested the country's internet service providers to take down the website. Agencies that called for the closing down of the website were the National Counterterrorism Agency, the National Police and the National Intelligence Agency.
Before 2016 ended, Shihab made waves again as he allegedly made statements that were offensive to some Christians.
This year, he continues to make controversy. The FPI's YouTube channel released a video of Shihab criticizing the country's new banknotes.
In the video, Shihab presented a theory that suggests Indonesia is secretly controlled by communists, as the new rupiah banknotes carry the hammer and sickle symbols.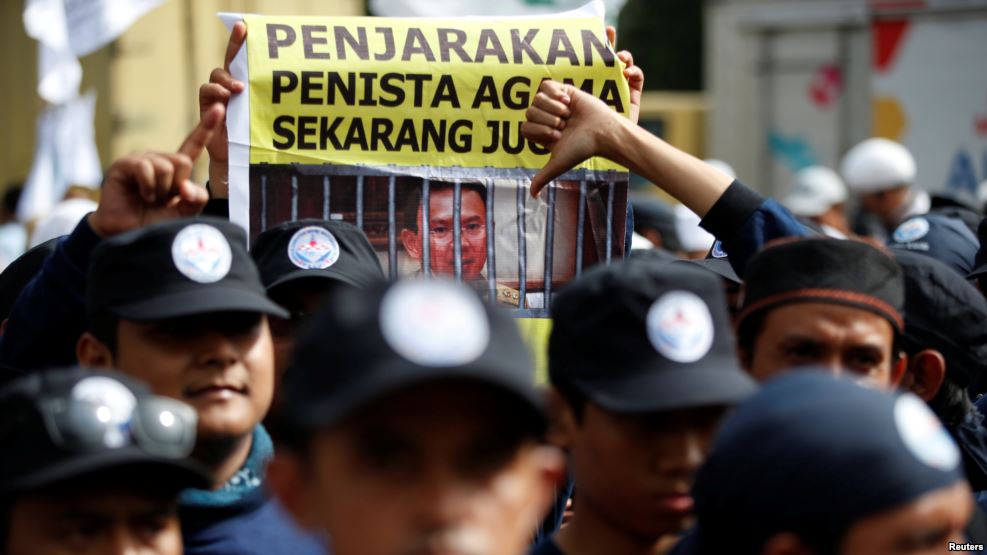 As Jakarta's local government election is nearing, Shihab has also actively staged protests against incumbent gubernatorial candidate Ahok.
Grand Imam Shihab launched a campaign against Ahok for allegedly committing blasphemy using a verse from the Quran. This accusation was supported by the FPI and other conservative Islamic organizations. The incumbent governor is a Christian of Chinese descent.
Shihab currently faces numerous other public complaints. Filed complaints include crimes against Article 154a of the Criminal Code of Indonesia. Critics also say that some content on his website is a violation of the 2016 Information and Electronics Transactions Law. To date, the most recent case against him is one of illegal encroachment on government land, according to the West Java Police.