Bersih Nyok! is educating the masses and changing mindsets
Bersih Nyok! is a familiar name when it comes to environmental responsibilities in Jakarta. In December 2013, the green and inspiring initiative joined forces with another community, Operasi Semut, to launch Operasi Jakarta Bersih (Clean Jakarta Operation). Also supporting them are communities like Osoji Club, Bike To Work, Waste4Change and Clean Up Jakarta Day.
Through Operasi Jakarta Bersih, Bersih Nyok! community launched a Rubbish Bin Competition, in which 90 creative rubbish bin designs were submitted by citizens of Jakarta and ultimately ranked by their functionality and design by a team of environmental experts. This open competition was orchestrated in the hopes that Jakarta will be filled with more of these creative and educational bins and its citizens will be more encouraged to dispose of their rubbish properly in the bins. The winners of the competition were given cash prizes and the rare opportunity of having lunch with then governor Joko Widodo, Acting Governor Basuki 'Ahok' Purnama and various environment experts such as the former Minister of State for Population and the Environment, Prof. DR. Emil Salim. Bersih Nyok! works diligently in changing mindsets of citizens with a dream that one day littering wouldn't be a problem.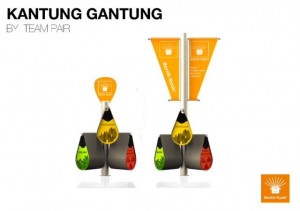 Rubbish Bin Competition 1st Winner
What's your Dua Tangan Cukup action?
Please send in what you're doing to clean up and protect the environment and we'll publish it here to inspire others to do the same! Email: [email protected]