Ever wonder where your organic food products are grown or made, distributed or sold? Stephanie Brookes looks into the local farming practices and organic trade in Bali.
There is a growing trend in Bali and elsewhere in Indonesia to seek locally sourced sustainable products. Organic farmers markets are already well established in Bali operating out of Ubud, Canggu and Seminyak each week. Many consumers are now switching to chemical-free fruit and vegetables plus meats, herbs and spices and other products like organic household cleaners, coffee, bug sprays, jams and beauty products.
In addition to farmers markets, consumers can now source organic products with the click of a mouse. New online organic suppliers such as Bali Jiwa have been meeting consumer demand through a door-to-door service since January 2017. At the same time, there is an increase in the number of farmers making the decision to switch to organic farming practices, which can yield a good return. Bali Jiwa is helping these new farmers with education, tools, resources and lots of encouragement.
One of the Bali Jiwa team members explained, "A rice farmer earns around Rp.25,000 a day for conventional rice production. However, a farmer who harvests certified organic heritage rice from ancient heirloom grains can earn up to Rp.100,000 per day.  Customers want a higher grade, higher nutritional value rice and organic heritage rice delivers."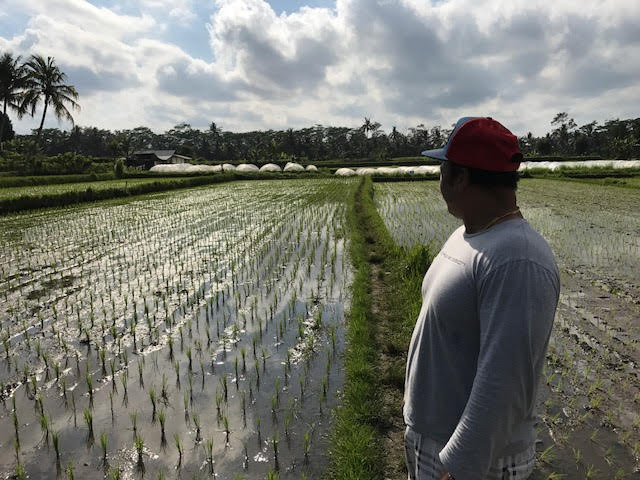 So, how do we know if produce or other goods are really organic? To hold an organic certificate, which entitles the producer to display the specified logo, you need to engage in a lengthy and costly process. If you are a small-scale farmer how do you afford this? Several local farmers complained that there are currently no government subsidies to help the farmer with this cost.
There are three organic certification bodies that test soil, water, air, produce and farming practices at the source. These agencies are based in Bogor and Central Java. One of these agencies, Lembaga Sertifikasi Organik Seloliman (Seloliman Organic Certification Institute) otherwise known as LeSOS, administers a rigorous testing procedure followed by regular site inspections. A Bali Jiwa team member explained, "Multiple farmers growing organic heritage rice in Jatiluwih recently had their organic certificates cancelled because the subak water (communal irrigation system) from upstream waters had infiltrated their fields with pesticide and chemical runoff."  Bali Jiwa also states when it comes to rice farming, the safest and most reliable way to farm organically is to use local spring water.
I met with Kadek Suastika on a recent visit to an organic farm in Pejeng, about three kilometres outside of Ubud. A Balinese tour guide up until a year ago, Kadek is now an organic farmer. His mentor is Mr Ong, a permaculture farmer from Singapore who inspired him to take the gamble, lease some land and get a hand in the business.  Kadek is now making plans to expand his farm from one hectare to five hectares to meet demand. He has just been awarded the contract to supply the local Delta and Bintang supermarkets in Ubud and has interest from a supplier from Surabaya, East Java who wants large quantities of organic produce daily.  
At the same time, Kadek is teaching neighbouring farmers that pesticides and chemical fertilisers are harmful and do not necessarily increase yields.  His neighbours are starting to listen because they can see for themselves how productive his fields are.
Kadek is a very passionate organic farmer and took great care to explain all the benefits of returning to the natural way of farming. He stressed that this approach maintains soil integrity via polycrop versus monocrop production; which then results in better yields, attracts a higher sales price and is healthier for both the environment and consumers.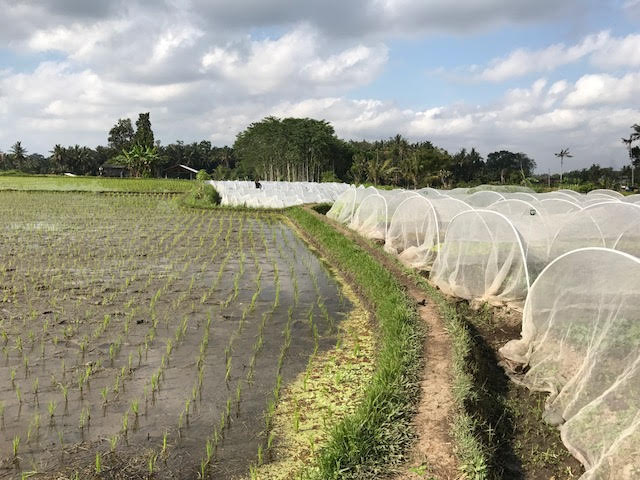 Growing demand has also created a shift in restaurant culture. Savvy restaurateurs have identified the fast expanding niche for organic plant-based vegan and vegetarian options.  They partly cut out the middleman by having their own vegetable plots. One restaurant I visited in Ubud, which actively promoted its on-premises organic plot, even had its own cow and chickens to create fertilizer.  However, it takes a large farm to provide all the of raw produce a sizable restaurant needs, so most restaurants compensate by ordering some of their products online from suppliers like Bali Jiwa. It is vital to them to be able to trust the source and Bali Jiwa are in close contact with their suppliers, carrying out regular inspections of their farms. They are transparent about their sources and products, and often post photos and videos of the plots they inspect.
Bali Jiwa has qualified permaculturists in their group, and have been involved from the ground up by educating the farmers and helping those who are keen to make the transition to organic farming. Their products are labeled at various levels: Organic Certified by LeSOS or Organik Indonesia; Organic Non Certified (farmers practicing organic farming but not holding a certificate); Chemical Free Farmers and Producers (no synthetic chemicals); Conventional Products (non-organic products) and Conventional Agriculture and Heritage Produce (from native ancient or heirloom crops). For those who want to learn more about permaculture and organic farming methods, there are free workshops offered by Emas Hitam Indonesia in Ubud every Saturday.
Bali Jiwa Online Bali (organic suppliers)
Pak Kadek Suastika aka Kadek Alongalong of Pejeng Fresh Vegetables
www.facebook.com/PejengFreshVegetables
Kadek is an organic farmer and owner of Pejeng Fresh Organics. Kadek welcomes volunteers and keen students to join him and learn about sustainable farming. He is also looking for a farming partner.
I Made Chakra
Made Chakra is a very knowledgeable organic farmer. He has developed a system of farming Balinese heritage rice at Jataluwih and Subak Malung, near Sayan. He is also a beekeeper. Volunteers welcome.
Emas Hitam Indonesia
www.facebook.com/EmasHitamIndonesia
Founded by Pak Kadek, this well-developed local Bali NGO offers Saturday Permaculture and Organic education workshops in Ubud for consumers and farmers. This is a very grassroots foundation also operating in Lombok and Timor. Volunteers welcome.
Bayue Denny
Pak Kadek Suariadika (Bayue Denny) is the owner of Ancut Garden Agroecology. He is a subak leader and founding member of Emas Hitam Indonesia. He is also an organic rice farmer, encourages woofers (workers on organic farms) and offers certified permaculture courses and promotes natural farming.
Tri Wanaprasta
Pak Tri Wanaprasta operates a Bali Sustainable Organic Food and Drinks Company.