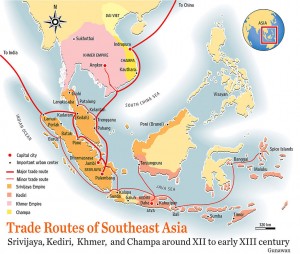 Little is known of the Sriwijaya Empire, a polity that in its prime spread its tentacles across much of Southeast Asia from Central Java to the narrow Thai peninsula. From its centre in Palembang, Sriwijaya controlled the strategically vital Melaka Straits, levying tolls on the vessels that traded between China and India.
Long before business schools 'discovered' globalization, Asia's powers and territories were very quietly trading among themselves while the West was still in the dark ages. For the best part of a millennium traders from India, China, Java and beyond had been developing their own economic community that relied on monsoons and stars, not ratings agencies and consultants.
We are left with mere hints of Sriwijaya's might. For example Borobudur, that mighty temple complex in Central Java that lay hidden by jungle for many centuries when power had waned, and now Java's most visited historic site. While Sriwijaya may be synonymous with Indonesia, with a football team and an airline using its name, some of the few remaining relics from their era lie dotted around the small Thai town of Chaiya, some 640 kilometres south of Bangkok.
With its narrow streets and tumbledown wooden shop houses, Chaiya seems an unlikely outpost of a mighty trading empire. Yet it is in the fields outside of the town that we can find scanty, teasing evidence of Sriwijaya's glory. The town's name is itself not without interest. Chaiya is not immediately Thai; opinion is divided on the origins with one camp suggesting a link to the Indonesian word cahaya, meaning light, while others believe it is just a shortened form of Sriwijaya itself. Nothing like an etymological mystery to whet the appetite in a new town!
Chaiya is thought to have been a major port even before the rise of Sriwijaya. Vessels from across the South China Sea would call in at the port, even then a cosmopolitan entrepôt with a sizeable Indochinese population, unload their precious cargo, take on board a new load before returning home. In the meantime their cargo would be trans-shipped over land to Takkola on the west coast of the peninsula, before continuing its journey across the Bay of Bengal. Presumably the costs and perhaps dangers of travelling all the way down the peninsula by ship, rounding the southernmost tip of the Asian mainland near Singapore and the Riau Archipelago, before heading north through the Melaka Straits, were too much for those pioneer international business folk.
Many people visit Chaiya as a day trip from nearby Surat Thani, the provincial capital that is about a 45 minute drive south. The songthaews, public  minivans, drop passengers in the centre of town outside the railway station where I was soon approached by a smiling, toothless motorcycle taxi guy offering to be my guide for the day. He certainly looked old enough to have been around when tribute was paid to Palembang, but I turned down his kind offer; though I did relent to have him take me to the famous Wat Phra Borom That.
Chaiya, despite its historic importance, doesn't get a whole lot of foreign visitors and I had no luck tracking down a usable map of the area. My motorcycle guy dropped me a few minutes outside of town at the temple and, using my pidgin Thai, I was able to ascertain that the other sites of historic interest I had come to see were dotted along the road we had just come down, so I told him I would make my own way back. He seemed most disappointed.
The Wat itself (Wat is a Thai word meaning temple), believed to be 1,200 years old, brings to mind the stupas of Central Java, Sriwijaya's spiritual heartland. Three large Buddhist statues sit cross-legged just outside the entrance to the courtyard, looking magnificently beatific in their saffron robes, and strangely appreciative of the bottles of soda that had been left as offerings for them.
I head back towards town, relying on little more than intuition and my rusty knowledge of Thai script to find the other relics of an Indonesian ancestor. I get lucky and follow a signpost telling me the way to Wat Long. If Wat Phra Borom That is everything a Thai temple should be, ornate, colourful, cheery, Wat Long is nothing but a pile of bricks now isolated on a roundabout in front of a busy school.
I continue my journey down the lane that grows ever more picturesque as we leave the concrete and shouts behind and get swallowed up by green. The school children's joyous screeches are replaced by the growls of mangy, flea bitten dogs, upset their own reverie is being disturbed by a new, and probably unpleasant smell.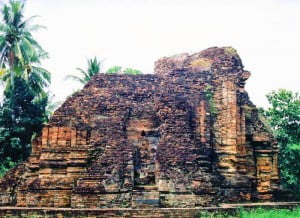 Finally I reach Wat Kaew. A more substantial ruin, Wat Kaew, translates as Old Temple, is thought to have been built around the same time as Wat Phra Borom That. This brick pagoda, again, similar in style to Wat Long and Batujaya, stands on a square base with porticos on each side; three of the niches house images of Bhudda subduing Mara while the eastern wall has an entrance to a chamber. A local legend suggests a riddle is carved inside the stupa, giving the location of a treasure trove.
There is another famous temple just outside Chaiya. Wat Suan Mok is a popular place for westerners looking for some spiritual enlightenment through the Buddha's teachings, but that holds no interest to me. The thought of Chaiya, tiny Chaiya, as a pivotal player in a regional economy connecting the Asian heavyweights China and India and its links to a seat of power in modern day Indonesia, draws me like a moth to a flame and makes it well worth going off the beaten track for.