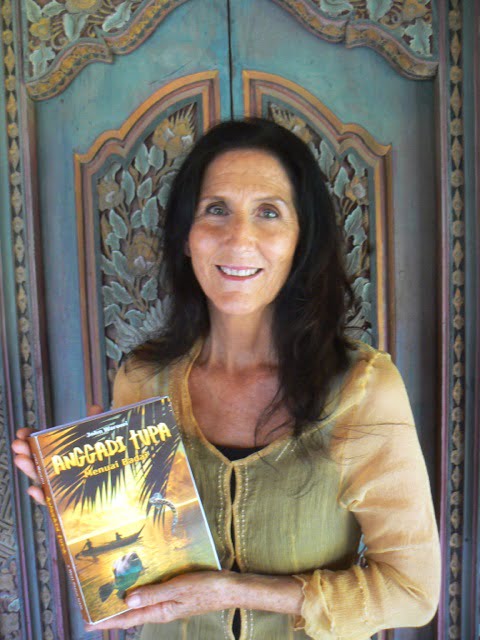 "I saw a marlin jump out there once." We were sitting in an open balé in Sarita Newson's home office complex near the seashore in Padanggalak on a windy afternoon, looking out over rice fields and surf to the sea, just north of Sanur. In the far distance a yacht had set sail towards Nusa Penida, and a small outboard emerged from the gap in the reef speeding in the same direction.
Sarita's seaside home, which she built when her husband joined the Indonesian Navy as a newly graduated doctor, has been the family home since 1981. It struck me what a peaceful and creative retreat this home-office must be. The 'taksu' in Saritaksu means "creative inspiration" in Balinese, fitting description of its lure to writers, artists, designers and other like-minded people who seek to publish their books.
Sarita explained that they had nine books on the go, all at different stages of sourcing funding, editing, translation, design and production. In spite of this, the pace of life has taken on a more relaxed flow. Having fully matured as a boutique-publishing house, Saritaksu Editions brings out around six books a year at Sarita's own pace on subjects as wide-ranging as traditional Balinese folk tales ("Rajapala and Ken Sulasih"), photography books ("Bali Sacred & Secret"), history ("Bali's Early Days"), a guide to diving Papua's Raja Ampat Islands and environmentally themed illustrated children's books.
How did you get your passion for books?
My childhood in the 1950s was on an isolated farm in the central hills of New Zealand's North Island, and my siblings all went away to boarding school. I learned to read at four years of age, and have never stopped since.
Is your family involved in the company?
My two sons, civil engineer Kadek Krishna, who now manages his late father's family business, Lakeview hotel and restaurants overlooking the Batur caldera, and landscape-designer Komang Dhananjaya, both often help me with translations and editing. My daughter Trishna is a professional architect and a meticulous line-editor.
When was the first time you visited Bali?
I first travelled to Bali in 1973, fascinated by the art and culture of the island, and stayed. I had always dreamed of working as a journalist but my parents wanted me to become a doctor. Fate would have it that I would marry one instead! My husband Wayan Armawa was still a medical student when we married and started a family in 1975.
What was your first job on Bali?
I had to take on a number of jobs to help make ends meet. I was Marketing Manager for Bali Handara Golf & Country Club during their transition from Pertamina's private playground to public golf course. By mid-1978 a second child was on the way, so I left that job to manage Cathay Pacific airlines office in Sanur.
When did you start writing for a living?
I also worked part-time as co-editor for the English edition Sunday Bali Post. At that time few journalists wrote in English so the job involved both translating and editing.
When did you start working just for yourself?
I eventually decided to leave Cathay Pacific and start my own business in Sanur, a one-stop shop for graphic design, communications and advertising. It was Bali's second graphics design studio. Those were the days of working till the small hours of the morning to meet deadlines, then waking up early to get the children off to school. But it suited me much better as I could take time off to fit in with the rhythm of my life in Bali full of religious holidays and ceremonies to attend.
When did you start focusing just on publishing?
In 1995 I set up a new graphic design company, Taksu Inc., with a friend, to produce BALI PLUS, a travel guidebook. After two years I moved on again to start Saritaksu as sole owner-manager. I continued to offer graphic design services to my favourite clients so I could focus on publishing.
What was the first book you put out?
Our first major hardcover was Vessels of Life – Lombok Earthenware by Jean McKinnon. Laid out on a brand new Macintosh computer, this book was the first in-depth illustrated ethnographic study of Sasak women potters.
How did you ever get into publishing dive guides?
We were approached directly by author-photographers, Burt Jones & Maurine Shimlock, to design and publish the first dive guides to West Papua, Diving Raja Ampat (2008), and its sequel, Diving Indonesia's Birdshead Seascape (2010) in cooperation with Conservation International.
What inspired you to get into art and history books?
Our art books often support and compliment an exhibition such as "Reflections, Painting Porcelain Across Asia" by Arlinda Frota, a talented ceramic artist. For Saritaksu's Balinese history series, we worked with the Puri Karangasem Historical Society on a book by A.A.A. Dewi Girindrawardani, called The Last Raja of Karangasem, which includes the research of eminent historian and Indonesia cultural expert, Adrian Vickers.
What project are you working on now?
A contemporary fable, written by Papuan poet John Waromi, which captures the life of sea-creatures and the horrific effect of dynamite bomb-fishing upon the underwater environment. We hope to launch the book at the Borobudur Writers and Cultural Festival in Java at the end of October, a new festival focuses on Indonesian writers and history. It will be very special if we can release John's work, as he is one of those rare gems, a poet who is giving his region of Papua its own voice in Indonesia.
Tell us about your books on preserving the environment?
The Clean Bali Series (www.cleanbaliseries.org) by Maggie Dunkle, first released in 2008, is a line of hardcover trilingual illustrated educational books that promote an environmental theme for children aged five to 12. I believe we can't start too young in inspiring our readers!