Tarra, thank you for taking the time to answer our questions. Firstly, we'd like to know a bit more about your background. Where in America are you originally from and what brought you to Jakarta in the first place?
Thank you for having me! I am originally from Wichita, Kansas. My husband's job in aviation brought us here to Jakarta. We've been living here for over two years.
As this is the wedding issue, could you share with us a bit about your wedding to your Indonesian husband, Harry? Did you have a traditional Indonesian wedding?
Yes, we did have a traditional Indonesian wedding.  My husband's family is Batak Toba, so our wedding took place in a kampung a couple of hours from Lake Toba.
Where did the idea to open Tarra's Salon come from?
The idea to open Tarra's Salon came from both my husband and me. It had been difficult for me to find a salon that could meet my high standards and expectations. My husband, who is an entrepreneur, thought this would be a good business opportunity.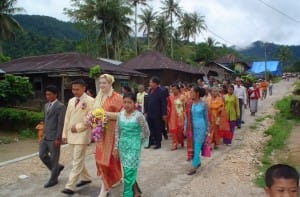 What did you do or where did you work prior to opening Tarra's Salon?
Prior to opening Tarra's Salon, I worked as a nurse in Kansas. Once I moved to Asia, I became a housewife and stay-at-home mum.
The slogan of your salon is 'expat quality'. Could you explain to us what this means? What can customers expect when they step through your doors?
"Expat Quality" to me, means our services and the products we use meet the needs and standards of an expatriate. Customers can expect to get a warm welcome from our friendly staff when they step through our doors. We always treat our customers like they're family. Making the customer happy is our first priority.
What about the price range for your services — could you share a bit about this?
Tarra's Salon price ranges in-between Rp.200,000 to Rp.1,500,000.
What would you recommend for a bride (and her bridesmaids) to have done prior to the big day? What could Tarra's Salon offer them?
I would recommend the bride to have a series of monthly facials starting as early as six months prior to the wedding, which will ensure her skin looks flawless on her wedding day. Tarra's Salon could offer her an aromatic facial by Guinot. It's a soothing treatment that combines essential oils, a plant concentrate mask and a massage to balance and energize her skin.
Is there anything that people don't really know about what it takes to be a beautiful bride until they actually experience it themselves? Any tips for avoiding styling disasters?
What it takes to be a beautiful bride is a well-thought-out schedule. Planning ahead of time, months before the big day will save you a lot of headache and stress. To avoid a styling disaster, it would probably be a good idea to have a 'dress rehearsal' for hair and makeup several weeks before your wedding day.
I notice you provide make-up services at your salon as well. Do your make-up artists understand expat complexions, thus ensuring they provide make-up that suits different skin tones?
Tarra's Salon's makeup artists understand expat complexions rather well. For special events, our salon is always fully booked with expat clients wanting their make-up done. We carry many make-up palettes that would suit any skin tones.
Where did you source your staff from at your salon and what was the training process like for them?
We have several staff that have been working as stylists in the Kemang area for over 20 years. For our newer staff, our Director puts them through a proper training program. After their training, we ensure their skill and quality meets our standards prior to releasing them to handle customers.
How do you or your salon's manager oversee quality control?
Our Creative Director oversees quality control by leading our staff in exceptional customer service. She also recommends which product is best for the salon to use and what our customers prefer. We all really work together in making sure the quality of Tarra's Salon is the best.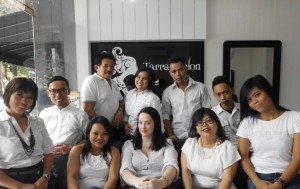 What is it about co-owning a salon that you absolutely love?
I absolutely love being a co-owner of a salon because I feel like I'm helping people. We helped our staff by giving them a new, great place to work at and we help our customers by keeping them beautiful and happy.
I actually grew up in a salon environment, as my mother used to own an expat salon in Bandung!  It was so much fun for me as a child. Do you have children or have any plans to have children? 
Yes, I have one son. His name is James and he is four years old. I think he enjoys going to the salon. Sometimes he even helps me clean!
Could you share what life is like for you in this sprawling capital city? Where do you go to escape from the traffic and its chaos?
Life in Jakarta is very busy. Every day I have somewhere I need to go, either to help my business or son's school. When I do have time to relax, my family and I really enjoy going to Lake Toba. It's a wonderful place that I think many people overlook. Beautiful scenery, friendly people, and good food; you can't beat it.
Please sum up Jakarta in one sentence.
Jakarta: A busy city full of opportunities.