Andrew Trigg is the president of community theatre organisation, The Jakarta Players, and a University lecturer in Jakarta. Andrew first came to Indonesia in 1987, making it his permanent home not long after. He talks to us about his passion for storytelling, the digital arts and theatre.  
What sparked your interest in the digital arts?
I have always loved storytelling. When I was at junior high school, I loved writing short stories – horror was a favourite – and I also hand drew my own magazines and penned crazy stories in them. I also used to write radio plays and record them with my brother and friends from my street on an old cassette recorder. When I saw my first 3D computer animation on TV I was completely blown away. I realised I simply had to do computer animation, so I badgered my dad into buying a Video Genie computer and then a BBC Micro, and tried to teach myself.
I did manage to write a few simple graphical video games before going on to study Computer Science at University. Unfortunately, when I got there I discovered that the leading science and technology college in the UK at the time didn't have the computer graphics capability that my BBC Micro had – so that put my filmmaking on hold for a while! However, I did get a Master of Arts at Warwick University before studying at Sydney Film School and The Actor's Studio Sydney.
I now have a theory that finding happiness can be as simple as reconnecting in some way with what you loved doing when you were a child – which in my case was storytelling.
Tell us about the Jakarta Players Community theatre. How long has this organisation been around and what is at the heart of each show you put on?
The Jakarta Players has been around for 50 years or so – obviously, long before I became president! We're a diverse group of expatriate and Indonesian theatre enthusiasts who work together as volunteers to put on two or three theatre shows in English every year. We donate any profits we make from our shows to charities that benefit Indonesian families in need. Over the years we've done a huge variety of productions, from serious drama and dinner theatre to short play nights, farces, thrillers, whodunnits and musical theatre shows. We're delighted when audiences enjoy our shows – I think that's what unites our diverse membership and is heart of everything we do.
You're currently directing a show called 'Naked Molerats in the World of Darkness'. What is this show about and why should people come and watch it?
It's a smart, funny adult comedy about men and women – definitely not suitable for children, and anyone who's easily offended probably shouldn't come to see it! It's made up of a snappy series of hilarious sketches that explore how men and women sometimes seem to be from different planets, how this can make it a real effort to stay together, and how that effort is ultimately worth it. There's so much comedy in all this; it's probably the funniest play we've done recently, but is also incredibly touching and true to life in places.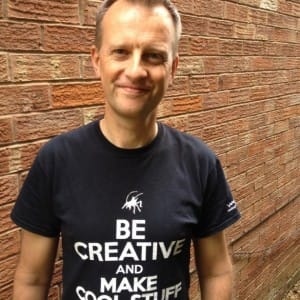 What would you say is your directing style?
I do a lot of preparation – analyzing, interpreting and understanding the script as well as I can. I put a lot of thought into how to communicate what I want clearly with actors so they can understand and play the direction I give them. I try to build the world of the play in the minds of the actors so they can live the scenes rather than pretend their way through them. I never get angry with actors, as it kills performance, and I encourage them as much as I can. Above all, I've learnt to trust the process. I've realised that it really doesn't matter if the actors aren't doing well at the start of the rehearsal period, because they will get there in the end.
You're a lecturer at a private university in Jakarta. Tell us about your class.
I teach Theatre Directing to performing arts students and TV, Film and Video production to mass communication students. In the TV, film and video classes I teach students how to make TV programs and short dramatic films. And in the Theatre Directing classes I coach the students through one major theatre production each year. I find it wonderfully energizing to engage creatively with all these young people to help them tell their stories as well as they can.
What approach do you take to teaching and which do you find your students are most receptive to?
I try to relate to them somewhat as peers and collaborators, rather than as students. I encourage them to call me by my first name, because I think too much of a focus on hierarchy can kill interaction and creativity. I put a lot of pressure on them to make the best possible film or drama production, but I also make it clear I'm there to help them in any way I can, and they can ask me anything, any time. And of course, they also respond well when I make the classes as practical as possible. I see myself as more of a coach and trainer than a lecturer. I want them to not just understand the theory, but also to be able to apply new skills in interesting ways.
What hurdles do you see students of the creative arts facing in this day and age?
The copy paste culture springs to mind. It's so easy nowadays for students to Google an answer to just about anything, tweak it slightly and then present it as their own idea. I think this makes some of them intellectually lazy; unwilling to put in the thought and hard work that creativity demands. And, of course, students who do have genuinely creative ideas are so readily copied, too. Universities need to emphasize that creativity is not just about being brilliant or gifted – though that can help – but also about focus, experimentation, hard work and persistence.
Have you noticed an improvement in Indonesian cinema, and where do you think the country will be on the world's stage in five to 10 year's time?
Indonesia has a lot of talented filmmakers like Lucky Kuswandi, Joko Anwar, Teddy Soeriaatmadja, Riri Riza and Nia Dinata. There are some great producers too, like Sheila Timothy. Lucky Kuswandi's short film The Fox Exploits the Tiger's Might was in competition in Cannes this year – that's the first time that's happened in 25 years! Unfortunately it's really hard for great filmmakers like these to make a living from filmmaking in Indonesia. Their films aren't seen by enough people, partly because there aren't enough cinema screens in Indonesia and because of overwhelming competition from much more commercial, but lower quality films. With more screens and greater support from the Government, in the next 5 to 10 years, filmmakers – even the more artistic ones – could find it much easier to make money from their films, which will ultimately have a huge impact on the quality and global reputation of Indonesian films.
You're married to actress and TV anchor, Marissa Anita. What's it like having such a high-profile wife?
It's wonderful and a bit surreal at times. Wonderful, because Marissa is an intelligent, funny, talented, kind and caring person who I'm very happy to be sharing my life with. But the surreal bit is this: I knew Marissa before she was on television, and I've been with her throughout as she has become quite well known. When people come up to her nervously to ask for a selfie with her, it makes me reflect a lot on the nature of celebrity culture. To me she's the same Marissa that she has always been – and really to her credit it hasn't all gone to her head at all. It reminds me that no one knows what a famous person is really like from their public persona; we inflate them in our minds. And the funniest thing is that even knowing all this, I'm just the same. When I met Bill Nighy and Carrey Mulligan recently, I was a nervous wreck!
Thank you, Andrew! To get in touch, email: [email protected]
Naked Mole Rats in the World of Darkness will be staged on 13-15 November in Jakarta. Please visit www.jakartaplayers.org for tickets and more information.