About 17 years ago Brian Kenny Aldinger and Nuri Suryatmi opened a small warung on a lonely street on the North side of Ubud.
Back in those days, there weren't many tourists on Bali and very few made it to that side of town. I remember Brian recalling those days when they'd sell two bottles of Sprite and wondered what in the world they were doing there.
Slowly locals and expats began to find Naughty Nuri's Warung and tell their friends until eventually, Brian and Nuri built that little warung into one of the most popular restaurants on Bali and a cultural institution of Ubud. Their martinis and ribs became the stuff of legends, more than a few of them messy, and as the word spread, people from all over Indonesia and all over the globe, not necessarily in that order, began to come.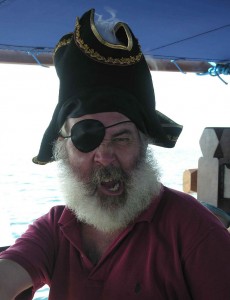 Brian had many lives prior to this one on Bali. He bought and sold Ferraris and Porches, was a volunteer in the Peace Corps, was a passionate photographer and an ardent traveller. On a trip to Indonesia, he went to Jogjakarta and there he met Nuri when she was still working as a guide and the rest, as they say, is history.
Brain loved his family, he loved Bali and he loved the life of a publican. Some might say, and I'd tend to agree, that he was possibly one of the best publicans on the planet. He brought countless people together, many of us met for the first time over the Square Table, and brought so many laughs and smiles to the people around him. If you ever heard him utter that infamous line, "Hey buddy, there ain't nothin' down there…" to passing tourists, you'd also know that it very likely changed that person's life and often signalled the end of their vacation as they slipped into a seat at the Square Table.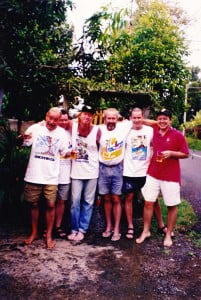 As friends and family, brothers and sisters, we'll all miss you Brian. We've had such great times and shared so many laughs that I'm absolutely sure that's how you'd want us to remember you.
Nuri, Maggie and Tanti, your lives have been blessed and forever altered as have many of ours. This is a sad time for all of us and our hearts go out especially to you and the rest of Brian's family here and in the States.
We've all been lucky to know you Brian Kenny Aldinger. You've been a friend, a brother, and an instigator more times than any of us can count. Thank you for all the good times. Oh what fun we've had! We'll miss you Brian but rest assured that you'll live on in all of our hearts, and most of our beer glasses, forever.
Thank you for all you've given us. Safe travels to the great beyond.
—————————————————————————————————————————————————-
In Indonesia Brian is survived by Isnuri Suryatmi Aldinger, Maggie Dewi Aldinger, Dhani "Tanti" Rahmatanti, Sekartaji "Arum" Arumingtias, Sawitri "Witri" Budi Artati, Mba Putri and their extended family in Bali and Java. In the US, Brian is survived by his father John F. Aldinger II, his brother John F. Aldinger III, and his sisters Catherine M. Aldinger and Margaret M. Iannelli.  
Brian's mother, Catherine T. Aldinger, passed away eight hours before he was cremated. We hope they're happy and at peace together.
This eulogy is contributed by Ubud Resident Joe Yaggi, a friend of Brian Aldinger and Nuri Suryatmi since 1995.