Throughout Indonesia and the wider diving world, Burt Jones and Maurine Shimlock are known as the people who put Raja Ampat's dive sites on top of most travelling divers' bucket lists, with the publication of two dive guides.
The ground-breaking Diving Indonesia's Raja Ampat by Burt Jones and Maurine Shimlock, published in 2009 under the auspices of Conservation International, is a compilation of over 130 dive site descriptions, as well as travel information, background essays on biodiversity, conservation and the people who inhabit this unique region.
Diving Indonesia's Bird's Head Seascape, published in 2011, describes more than 200 sites to dive and explore in the world's most bio-diverse tropical reefs system. This guide is a must for divers and other adventurers planning a trip to West Papua's Bird's Head Seascape, the 'Holy Grail' of marine diversity.
Why did you expand your original work to include Cenderawasih Bay and Triton Bay?
It had been nearly a decade since Conservation International conducted its initial marine survey of Raja Ampat. Our first guide, Diving Indonesia's Raja Ampat was sold out, and we wanted to introduce divers and anyone interested in the marine environment to the wealth of sites that existed in Raja Ampat's neighbouring regions of Cenderawasih and Triton Bays.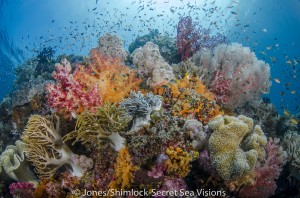 Your guide is titled Diving Indonesia's Bird's Head Seascape. What's a seascape?
The marine area of West Papua that we surveyed is very large, more than 183,000 square kilometres. NGOs working in the region have defined it as a seascape since 2004 because of its extremely high biological diversity, ecological and economic connectivity and aesthetic and cultural value. Scientists have recorded unprecedented numbers of fish species: we're up to 1,757 distinct fish species in the BHS – a new world record.
We know that Raja Ampat is one of the world's premier dive destinations. Give me a quick summary of what divers and snorkelers might see in Cenderawasih?
Cenderawasih Bay is Indonesia's largest marine area with over 1.5 million hectares officially protected since 2002. Because of its unique geological development, many fish species have evolved in isolation and exhibit different traits from similar species that thrive outside of the bay. But what draws most tourists to Cenderawasih is the opportunity to swim with whale sharks, the largest fish in the sea. There is an area in southwest Cenderawasih where whale sharks feed on baitfish attracted by local lift-net fishing vessels known as bagan. Unlike most other places where luck has everything to do with whale shark sightings, in Cenderawasih seeing whale sharks is almost a guaranteed experience.
Why is Triton Bay also included in the book? What's so special about it?
Triton Bay is totally different. The abundance of rainfall and multiple large rivers emptying into the sea in this region means a lot of fresh water makes its way over the reefs. Hard coral doesn't thrive as well, but soft corals love the mix! Triton Bay's soft coral gardens are simply mind-blowing! But we have also found many interesting smaller animals, 'critters' if you will, that make diving around Triton Bay fascinating and extremely varied.
What else attracts tourists to this region?
The list is endless! Besides diving and snorkelling, there are fabulous kayaking and bird-watching opportunities. People can look at millennia-old rock art, tube through gigantic limestone caves and experience village life whilst staying at a myriad of homestays.
The important thing is for people from Indonesia and elsewhere to get out to the Bird's Head and immerse themselves in a region that's still wild
Nature-based tourism supports a sustainable local economy and defends this unique place against extractive industries like mining and commercial fishing.
What's the best time to visit?
The best time is October–April when the south-east monsoon winds are not blowing, although it's hard to predict the weather these days. But in southern Raja, for instance, Misool Eco resort closes in June and opens in October. Northern Raja is OK year-round, maybe a bit windy and rainy at times, but still fine. Cenderawasih Bay is also good year-round once you are down deep in the bay. Getting from Sorong to Manokwari is problematic in the north-west monsoon. Most boats that ply Cenderawasih do it in the off-season, June to September. Triton Bay (Kaimana) is the same as Raja; it's best to avoid the area during the south-east monsoon season.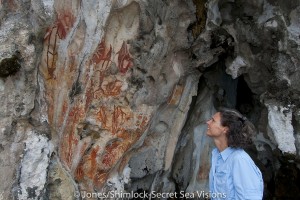 How are you getting the word out internationally? What has been done besides your diving guide to publicise tourism opportunities in the Bird's Head?
After Conservation International published the dive guide in 2011, we all realised that we needed an internet presence. Together with Dr. Mark Erdmann, who has led CI's Bird's Head Program since its inception and is now VP for CI's Asia Pacific Marine Programmes, we developed a website (www.birdsheadseascape.com) to build local and international coverage of the BHS to benefit conservation, scientific research, regional events and sustainable tourism development.
How are these efforts doing?
Within a year of launch we've reached more than 15,000 unique users, triple the print run of the dive guide! The site also houses an important library of the scientific work about the region as well as most of the media coverage. We've archived Shawn Heinrichs's wonderful 'Guardians of Raja Ampat' movie, and posted portfolios from internationally renowned photographers including Dr. Alex Mustard and Roger Steene. Our BHS Facebook page has over 1,000 'likes'. We encourage everyone to visit the website and engage with BHS on Facebook.
Give us an idea of some recent, pertinent posts.
We try to keep up with tourism developments like the new entry fee structure and any new infrastructure developments. For instance, a new resort has opened recently in Triton Bay so divers and snorkelers who don't like boats can enjoy this region (www.tritonbaydivers.com). We have a whale shark video up now that goes along with Dr. Mark Erdmann's blog about new methods of tagging and tracking whale sharks. In the Bahasa Indonesia news section we have a post about the new fairy wrasse species, Cirrhilabrus marinda, named for the Bupati and Vice Bupati of Raja Ampat. Additionally, the website has all of the dive site maps with images from each site and information for travellers, including when to go and where to stay.
Diving Indonesia's Bird's Head Seascape may be purchased at Periplus and Ganesha bookstores.