From the very first voyages, pictures were fashioned for Europeans of the far lands that the sailors visited. Sometimes an artist would sail to the Indies at his own risk to make a living by painting. There was a need for accurate charting, exact representations of coastlines and of course, pictures of locally obtainable wares. We are now a far cry from that time in history, but we still desire to know what was then and learn from what is now. Davina's current works include marine charts of our modern world. Her knowledge of cartography and biology is evident.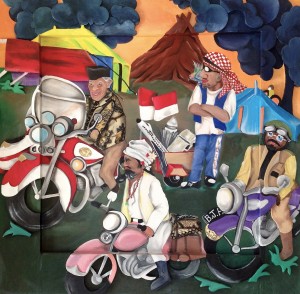 Davina, you are a second generation traveller and expat born in New Zealand. After one year you moved to Australia. Your mother was a keen traveller and your father was travelling around the world as a recognized International Rugby Union player, representing the All Blacks and Wallabies. You came to stay in Bali at an early age and then left to pursue your desire to be an artist. Tell us about your experiences and insights on your return to a 'new Bali' a decade later.
I came to Bali when I was seven years old. I couldn't imagine any other childhood at that stage and I was very comfortable in the midst of the Balinese people and their way of being; the aspect of extended families, and community was comforting, warm and familiar for me. Surrounded by the classic elements of tropics and sandy beaches it was a child's fantasy island.
Here I am, still. But everything is not as we see on the surface. The images we conjure up of a place are an illusion. Searching for the dream; that's an illusion. It's the substance behind the paradise that's so mesmerizing, shocking and provoking.
At age 15, I was going to a school in the
Himalayas. This school represented children from all over the world and was in one of the most remote places I had ever experienced at that time. It wasn't till later in life that I realized how profound a place it was and that it was an extremely exciting political time. The school still exists today. That experience set my heart on India forever.
I knew I had to continue my studies, as that was the protocol amongst my peers. I decided that I wanted to do something related to art and attend the Fashion Institute of Technology in NYC. I knew that I could come out of there able to follow some type of career related to art.
In the late eighties I passed through Italy and got a job on the island of Sardinia, selling Balinese things at a friend's boutique. I quickly learned Italian and made enough money to pursue my plan of studying in New York City. I finally got my head out of paradise and onto a bigger world.
In your earlier artworks under the series titled '3D Carved Frame paintings', you set a precedent with the painting overflowing onto relief carved frames using bright colours. Now you have moved on to more subtle washes combined with woodblock printing. What brought about that shift?
As an artist I'm always striving to make my work interesting; not just for my audience but also for the sense of discovery involved in the creative process. I like to think that my art has a purpose and is not just a souvenir. The purpose is to make you think beyond what you see; to discover the metaphor within the work.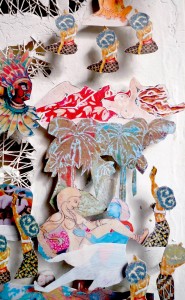 When I was painting the 3D carved paintings there was always a story involved. It was evident through the humour, the caricatures and the nature of the collages. All these would accumulate into a narrative of the time and place in which it was painted; always with a hidden implication of a 'tongue in cheek' or 'twist of a knife' meaning. I guess that explains why I am seen as a mimic whose work may at times offend, but just take one good look at me and you'll realize it is just a part of the fun. Let's not take this life too seriously!
It can be seen throughout the themes in your paintings that you have not only an intimacy with nature, with Bali and the local people, but also an endless energy that comes from your surfing, kite surfing and your love of diving. Can you explain how you synchronize your interests and deal with the challenges present in your diverse lifestyle?
The biggest frustration for me is how to juggle time because I travel so much, mostly between Indonesia, India and now Idaho USA. I find it demanding to divide my time and I have come to neglect what used to balance with the tides; painting, surfing, reflecting. I look at the waves now and the surf traffic and I think to myself, I'd rather put my energy into studio time. I now take blocks of time for particular activities. One activity used to feed the other. I now have to choose my time to surf. My work flowed much better then. Now I feel some pressure, with the fast paced world we live in and a lifestyle that requires me to be in so many places. I am most happy when I can 'tune in and drop out', so to speak. Always wanting to be somewhere you're not is such a waste of time!
What are you working on now and what makes it important?
I think everyone is fascinated with the Balinese offerings. Like a sculpture these offerings are constructed from throngs of palm leaves. I am using images and characters from my old paintings, and setting them onto springs, and attaching them to the offering. These boxed sculptures are visual and tangible representations of a changing time. They are also an extension of the idea of the carved frame painting; the subjects and characters are exploding out of the artwork. It is a bit like a nativity scene of 'Bali today'. You can see the affinity I have with Bali in these works and it brings out the desire to know more deeply the essence of the scenes, in all its traditions.
I think that these works represent a search I am on to define where I am from. Sometimes I feel confronted with a crisis of identity but I realize that is part of what inspires me to create.
Davina is currently working towards an exhibit in the USA and commissions. To view works in Bali go to Warisan Living, Jl. Raya Kerobokan or Biasa Art Space, Raya Seminyak.
To get in touch, email [email protected] and visit www.davinaO.com