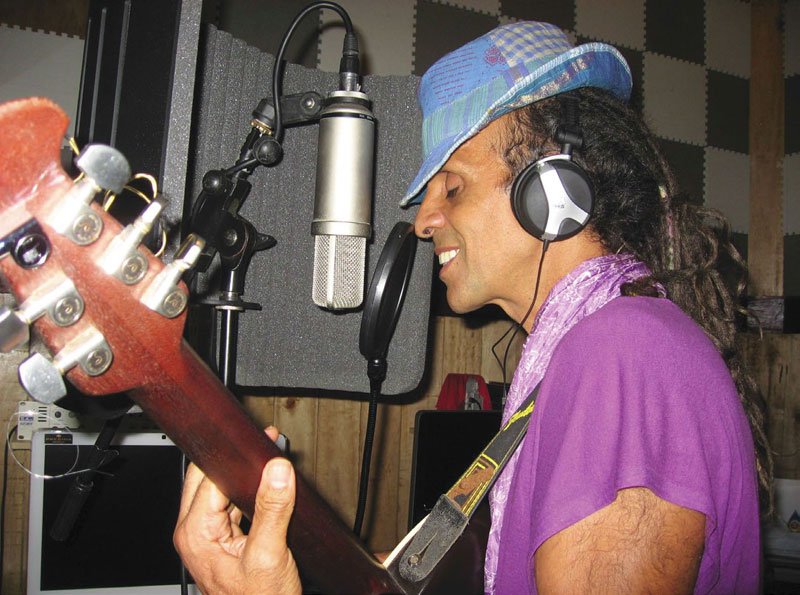 Meet Fantuzzi, the man who believes in changing the world through music.
How long have you been bringing your talent to Bali?
Since 1974 I have been coming here. After over forty years of travelling and visiting over two hundred countries, Bali remains to be one of the greatest places on Earth! It is a cosmic vortex which brings people together from all walks of life, especially people of intense creativity. The Bali Spirit Festival has been my impetuous for coming the last few years. I love performing for that event!
I just saw you at Made's Warung. You had everyone up dancing. Where else have you played here?
Earth Day I played at Zula, Ryioshi, among many other places. I played the Earth Day event in Ubud as my bon voyage concert. There are so many people I see who have been coming to my events for decades. Also there are a lot of young people who are travelling or live here now. The audience is part of a global community. My music attracts people who believe in positive change and positive expression.
Tell me a little about your background and your influences.
I was born in NYC in a low income area where life was hard. I was one of four kids. My mother had me when she was very young, just a teenager, so we were always very close. My early influences were crime, drugs, and violence which were the prevailing elements on the streets where I grew up. I survived all that because I also grew up with love around me. My early life led me to be more compassionate. I know and understand suffering and what it does to us. Being Puerto Rican I was obviously influenced by great music. Music was the positive side of the streets. It helped me survive all that and make a life of travelling to do service. I seek out opportunities to play at prisons, schools and benefits; pro bono.
You have been a troubadour since the early seventies. What were some of your earliest tours?
I was one of the founders of the Rainbow Gatherings. Now these gatherings are happening throughout the world on an ongoing basis. In the early seventies I led the Band of Rainbow Gypsies through Central Asia, dancing and performing for the people of each area. In 1972 the first official Rainbow Gathering took place in Boulder, Colorado. People came from all over the world and went back to their respective countries and put them on. I started being an MC as well as a musician, mostly in California and Oregon, but it's not unusual for me to end up MCing at gigs I play when it is requested. I MCed the Mystic Garden Earth Dance at the Woodstock 25th and 30th anniversaries. Having been at the first one I had a good formal education! I can share my wisdom of the 'earliers' (as opposed to the term 'elders'). A huge influence for me at Woodstock was Jimi Hendrix, of course. He made music that took the audience to another dimension. His music had a life of its own. Beethoven said, "Music is the electricity of life". Jimi proved that.
I remember seeing your picture on the cover of Time magazine when it covered the original Woodstock. Great photo!
Great times! Hard times, too. People forget that at eighteen, boys were drafted into a terrible war. We fought back with love. It is still all about that love and peace consciousness, environmental awareness and unifying the global community. It is about our collective consciousness. When we are unified we think of great things to do and we empower each other to stay focused on positive change such as helping the poor and saving the environment. Music is one of our greatest mediums. It is the universal language that brings people together and creates change. It is a vehicle for communicating our ideals.
Where did you tour this year?
I just came back from my seventh Kumbamela in India. It was amazing! In one month there were 85 million people at this gathering of devout souls. About thirty million people a day. My heart is pulled to be at these spiritual gatherings. It is now scientifically proven that groups meditating have incredible positive impact. In Washington DC, each year a small group of spiritual leaders gather to lower the crime rate and have lowered it 25% to 30% each year they do this practice. That is a higher improvement rate on lowering crime than any other program has been able to do. I have held 'meditation mobs' at Occupy movements to good effect. I am on a constant World Peace Pilgrimage. It would take a year or two to go around the world back in the day. Now I go to Europe three to four times in the summer. Everything is so much faster! I go to the Philippines next after Bali.
Do you have a permanent residence? Where is it?
I do. It is on the Big Island, or the island of Hawaii. I have some land near Hilo where I have started a house using Ohia wood which is very much like Teak wood. The big Island is big nature. Some parts look like the moon and other parts are lush and tropical. It is the newest land on Earth. It is beautiful, such strong nature. Unfortunately, right now I am not there very much. I am continuously travelling. The Hawaii-Bali connection is very strong. I just left Ubud where I saw so many friends from Hawaii. But Bali "esta en mi Corazon" (Bali is in my heart).
What draws you to Bali?
The beauty, the smiles of the people with their arts and talents, the wonderful ocean, amazing foods, traditional and contemporary cultures, the nature… all combine to making Bali a paradise. My next album was mostly recorded here in Bali with predominantly Balinese musicians, which was interesting to do as my roots are a mix of reggae, latin and funk with a mystical twist. Bali for me is like coming home. The culture here has touched my soul for decades. I used to teach African dancing on the beach at Double Six when it first opened in the 80's. After bonding with locals and travellers for decades; this is the only place I can reconnect with all these people. It is always a total joy… Bali I love you! Bali nomor satu di dunia!
Fantuzzi, the wandering global troubadour, is now dancing.
Visit Fantuzzimusic.com for info on upcoming events.