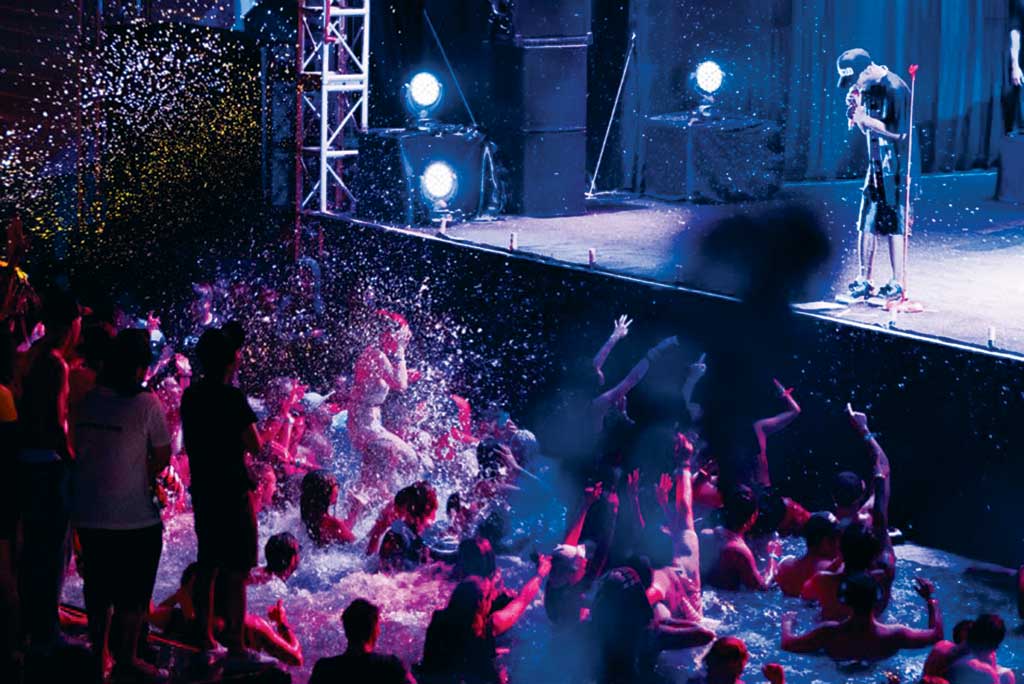 Everyone loves a costume party, and when I mean everyone… I mean me. Usually I have to wait until Halloween every year to get dressed-up and I always try to impress. For Summer Syndrome at Potato Head Beach Club I chose to go as a 20s gangster; think Al Capone but much better looking. White hat, pinstripe shirt, dress trousers, tuxedo shoes, finished with a 20s tache – fit for a night of epic proportions.
After a lot of giggling and finger pointing from pedestrians on Raya Seminyak, I finally flagged down a taxi. Entering the venue, staff dressed as what I can only describe as Narnian Icemen raised white flags in perfect timing to our gradual approach and the scene was somewhat of a spectacle; the arrangement, the costumes, the makeup and the choreography were surreal. It was a fantastic start to the evening coupled with an earth trembling bass line.
Make-up stations and costume props were provided with many Rude Boys and Gals attired in Apache Indian headdresses, kissing lips head bangles with feathers and glitter galore. Costumes on the night ranged from your standard cliché to the more creative and the downright kinky. Some notable alter-egos were a party of superheroes, Peter Pan, Romans in togas, a few controversial terrorists, a very questionable Japanese school girl and my personal favourite – the 80s metal hair rocker.
Much to the delight of the crowd, lesser-known Lyrical, Grime and other Urban rhythms were played on the run up to "The Kid". Then the moment everyone had been waiting for: Kid Cudi stormed the stage with his entourage in true rap superstar fashion. Fans went ab-so-lute-ly crazy; the pool was mobbed, the front deck heaving and the roar of the coliseum beckoning – absolute madness. Mr. Cudi's crowd-hyping and praise was impressive with little-to-no breaks in verses or tracks and the crowd remained as excited an hour in as when the rapper first took stage. Chart toppers such as 'Pursuit of happiness' 'Day N Night' and 'Memories', his debut breakthrough with David Guetta, were crowd favourites.
Costume – $150
Ticket – $80
Drinks – $30
Kid Cudi destroying Bali's Summer 2012 Finale – priceless.
There are some things money can't buy… for everything else there's Potato Head Beach Club.