Now 14 years ago, the 30th anniversary of the Vintage & Classic Cars Association of Indonesia (PPMKI) was celebrated in Bali with a striking display of models at Kuta's Discovery Mall.
Among them were many classics owned by Jos Dharmawan, the then head of the association, including the outstanding Soviet Zil Yanka, a gift from Kroutchev to Soekarno. Dharmawan has since opened Kebon Vintage Cars in East Denpasar, where hundreds of vehicles are permanently exhibited in a three-hall museum. Let's pay a visit to this unexpected tourist site in Bali…
First, let me introduce you to this big boy who likes big toys. Jos Dharmawan is an entrepreneur from Jakarta who made his fortune in the entertainment business and has never given up on his lifelong obsession: collecting classic cars. The whole story started in the '70s with his first purchase as a young petrolhead, a very common and inexpensive 1948 Fiat. He has a particular fondness for cars with a "bug shape", he recalls. He also appreciates cars with history. In addition to the Soviet Zil mentioned earlier, he also owns Fatmawati's 1948 Plymouth, who was Soekarno's wife. As a lover of US classic cars, he has acquired every model of Chevrolet Bel Air over time, sorted by production year.
Before opening Kebon Vintage Cars, Dharmawan ran a well-remembered garage on Jalan I.B. Mantra for many years. This was a place where car enthusiasts could stop at any time to view his collection of cars and bikes, and chat with the mechanics over a cup of coffee. I came to know him when I passed by one day and was taken aback to see a Citroen SM on a car lift being worked on. Even then, he had the idea of opening a museum, a dream that came true in 2019, unfortunately just before the COVID-19 pandemic. Now, like all other tourism-related activities in Bali, Kebon Vintage Cars is back in business, with about 250 vehicles on display.

Scores of US classic cars
My guide, Gek Mirah, a charming and very professional young lady, leads me to the first hall where Australian Holdens are lined up in the middle of the hallway. She explains that the majority of Kebon Vintage Cars' visitors are foreigners, mostly Australians. They must be very pleased to see their home marque being properly collected and exhibited here in Indonesia. On each side, scores of US classics such as Pontiac, Dodge, Chrysler, Ford, Buick, Nash, Chevrolet, Cadillac, and more are displayed. Further away, we change continents. On the right side, I spot a couple of British cars, mostly Austins, while on the left a row of Italian Fiats reminds me of the owner's first-ever purchase. These too are collected through different production years.
Once we exit the first hall and reach the vast open-air yard, we see some old fire trucks parked on the left. My young guide informs me that there's a playground available for kids, and a prayer room. Behind me, a large stage capable of accommodating various musical shows serves as a reminder that Jos Dharmawan is indeed in the show business. A long line of Bemos from the '60s to the '80s forms a sort of separation between the outdoor café and restaurant terrace and the main courtyard. For those unfamiliar with these small public vehicles, Bemos are a type of tricycle introduced to Indonesia by Japan in the '60s as part of an economic aid package.
Now, in the second hall, various models from Europe and the USA are on display. Having guessed my French origins, my guide directs my attention towards a cute red Citroen 2CV, also known as 'The Snail' in the English-speaking world. I remember a story I heard about a French priest who resided in Bali a long time ago. He was said to be very passionate about charcuterie, the art of preparing and selling cured or smoked meats, such as ham, bacon, salami, and pâté. To raise funds for his parish, the priest would go around in his 2CV selling his products to members of the French community who missed their native gastronomy. Could this have been his car?
A Nissan Fairlady and a Red Morgan
The conversation now shifts to this beautiful blue Chevrolet Impala with a perfect, shiny paint job. Some of the cars here can be rented for various events, including weddings, film shoots, or promotional gatherings. On the other side of the alley, I visit the workshop where some "magic" is worked on a couple of wrecks waiting to regain their former beauty. Crossing the courtyard again, I notice a row of Kancils, tiny 400cc city cars produced in Indonesia in the 2000s, positioned next to a badly rusted Opel Kadett from the '60s awaiting better days.
Gek Mirah and I now move into the third hall, where my attention is caught by a plethora of European cars. However, it's a yellow Japanese Nissan Fairlady from the '70s that captivates me the most. I had never seen one in Indonesia before! Right next to it, an immaculate red Morgan is equally desirable! We're getting into serious territory as we pass a series of classic Mercedes, some in pristine condition, leading to the merchandise boutique. There, my host tells me, you can purchase a variety of souvenirs, including Kebon Vintage Cars t-shirts, clocks, and miniature cars. As we exit the shop, we come across the oldest car in the collection: a 1917 Ford T in working order! There are also some two-wheelers on display, including a beautiful green scooter with its trailer.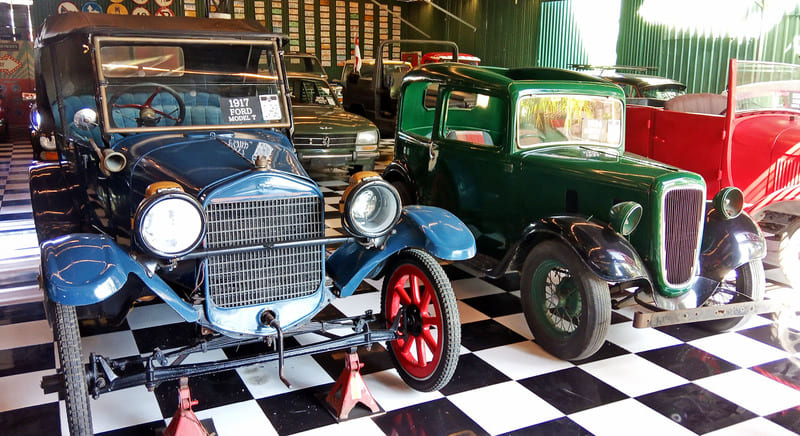 Whether you're a car enthusiast or not, this museum is sure to enchant you. Walking through its various exhibition halls is akin to stepping into a time machine that transports you back to bygone eras when vehicles bore a very different look. Now, as the world transitions towards cleaner energy sources for our mobility, these cars, trucks, and motorbikes, all powered by internal combustion engines, stand as witnesses to an era that is drawing to a close. The age of petroleum will likely end within a few decades, and museums like this will serve to remind future generations that a cheap and easy-to-use energy source once propelled the world into the fast lane of development. Enjoy your visit!
Kebon Vintage Cars
Address: Jl. Tegal Harum No.13, Biaung, East Denpasar District, Denpasar, Bali
WhatsApp: 0818-0864-1111.
Instagram: kebonvintage
Entrance fee: Rp100,000 for adults, Rp50,000 for children. Free for kids below 5 years old, playground on the spot.