Meet Nathalie Hocquart, the woman who turned her patisserie into the hot new venue for international and Indonesian artists. Wide Open Space Gallery is currently promoting four of Indonesia's best emerging young artists who are about to change the way art is presented to the public.
Where did you spend your early life?
I was born and spent my early years in the region of Nancy, France. When I had completed my education, I went to NYC where I developed a love for art through the many galleries and museums I visited. I was especially moved by the art at the Guggenheim and the MOMA (Museum of Modern Art). Art was everywhere; in the established venues as well as the 'street art' in the streets and on the subways. I returned to France and had a daughter, Margaux, with a friend of youthness. Together, we produced events in venues in Nancy. We did everything from the food to the music, creating total environments for the occasions. When my daughter was three years old I travelled with her to the Caribbean. We spent six months in Martinique and Guadeloupe before returning to France to start her education. Upon my return to France, I managed restaurants and learned many aspects of that industry, as well as developing a love of fine foods. That is when I started the business I would be successful in for many years.
What business was that?
I created and produced macaroons under the name Margotine for fine establishments. I named it after my daughter Margaux who later joined the business. It was great work. I would create many varieties and designs of this sweet in my laboratory and it sold well all throughout France. We took part in fine food exhibitions, which was great fun as I was able to put my design skills to work creating beautiful environments to display our products. It encompassed my loves of decorating and creating as well as maintaining the best food quality. It was hard work but it paid off with international success. We did the SIAL International Expo and soon were selling all over the world, from Hong Kong to NYC. My daughter worked with me and as the business became global and grew, it also became more difficult and consumed all of our time. We were making lots of money but had no time to spend it! It became too big. It was too much.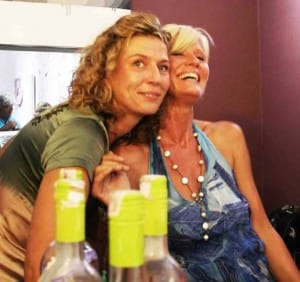 When did you start visiting Bali?
I first came to Bali in 2006 on holiday for three weeks and I kept coming back. Several years ago I bought land in Canggu, but because of the high cost of building I sold it after two years and got this shop here on Jl. Kunti Dua. The original idea was a grocery. It was built to make pastry so there was a pastry kitchen in the back and the front was for a small café. My daughter's friend came to work with me as the pastry chef and as my partner. This grocery never opened due to a series of problems I won't go into! I kept the premises while I went on with my life. Then along came Sophie!
Is this when Wide Open Space began?
Absolutely! Sophie is the driving force of our venture. She is a beautiful and talented woman. At the beginning, she wanted to use the space for her job around beauty and anti-aging processes, which she does in other venues and also as an atelier for her works and works of artist friends.
But she is also an artist. Sophie does amazing collages and we share a love of the arts. We decided to start the metamorphosis of the space to create an artistic centre. We tore down walls and painted everything. We changed the façade. We continue to constantly change the environment here along with the art and the artists. The space is open to change, like art. Artists began approaching us wanting to be a part of our venue. We do not want to be just another gallery. We want to create a community of artists working together and exchanging ideas. Our first opening took place on December 12, 2013 with six artists of different techniques and backgrounds from all corners of the world. We have had three large exhibits with highly successful openings. Sophie is an integral force here. She has an energy that is contagious and a passion for creativity in supporting the arts.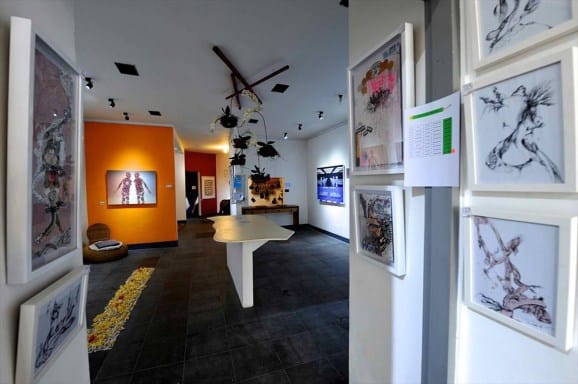 What changed your direction to Indonesian artists?
The art and the artists! I love their energy and the way they interpret the world we live in. Their work is of a global perspective. The last couple of months, Oddy and Widi have been here at Wide Open Space every day. Their friends join them to plan new perspectives on how to present art to the public and how to have the public become more involved in the arts. But we are not focused on creating events with just Indonesian artists.
What is the next event you are planning?
Four Indonesian artists will have street art and street food! These artists are prominent on the art scene and have shown at the best galleries, some internationally. You may have seen their works around Bali in public spaces. They want to create an open atmosphere that all may take part in. The event will have 'live' painting for the whole family to enjoy. Because many of the materials they use are commonly found, people will realize how accessible art may be for them to create. We want the public to see and meet the artists when they view the works; inspire the people and create community around art and food. The name of this event is Massive and Random Cute Vandalism. The artists' names for this show are Quint, O.D., Grazz, and Olla. We invite everybody to come enjoy this event and get to know our community!
Thanks Nathalie! We will be there!
Massive and Random, Cute Vandalism
Wide Open Space Gallery
May 8, 8pm – late
Jl. Kunti 2 no. 20, Seminyak, Bali
www.facebook.com/WideOpenGalllery