Malcolm Hines has been working in the hospitality industry since graduating from University in the UK. After working for the Sheraton and Hyatt hotels, he's been with serviced apartment specialist Oakwood Asia Pacific for nine years. He talks to us about his job as the General Manager of Oakwood Premier Cozmo in Mega Kuningan, Jakarta.
How did you find your way into the hospitality management industry?
I began as a part-timer waiter and barman – occasionally helping in the banquet department – of a beautiful hotel built in 1727. I immediately sensed this was a field I could enjoy and grow a career in. I was fortunate to secure a highly prized place in Surrey University's Hotel and Catering Administration degree programme, where I learnt not only Hotel Law, Sales and Marketing, Human Resource Management, but also culinary and beverage skills along with Food Science and other related topics. After University I joined Sheraton, followed by Hyatt and for the last nine years with Oakwood Asia Pacific.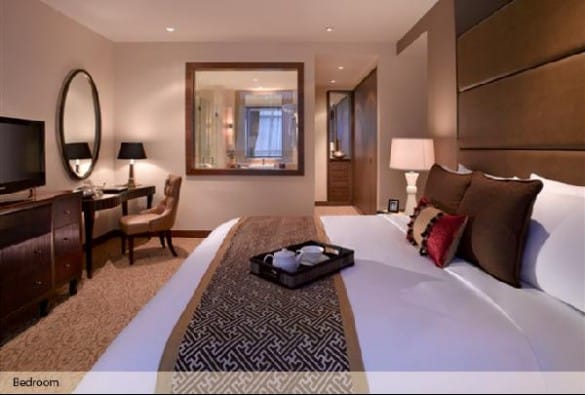 Oakwood is a luxury serviced apartment building, not a 5-star hotel, is this correct? How do you distinguish between the two?
The difference is that serviced apartments are designed to cater for the needs of travellers requiring longer stays, which may range from months to years, while hotels generally are geared to accommodate short stays.
In Oakwood, we offer fully furnished apartments with comprehensively equipped kitchens in each apartment. A long stay guest can quickly stock their pantry and, if preferred, cater for themselves. They also have the option to take room service which is one of the many 'hotel style' services which a luxury serviced apartment brand should offer. In addition we offer housekeeping; 24-hour reception, maintenance and security; parking; and a guest activity programme to help residents who are new to the country adapt or familiarize with their new environment.
We offer considerably more space and privacy in comparison to an equivalent hotel room product. This additional space is not only ideal for long stay guests or those travelling with family, but also valued by discerning short stay guests who appreciate these differentiating benefits and understand the convenience of our niche product.
Who makes up the majority of your clientele?
Our clients come from many walks of life, different nationalities and a wide variety of industry segments. While individual consultants and SMEs are well represented; a large proportion are from major international companies undertaking business in activities such as oil and gas, banking, fast-moving consumer goods, telecommunication, transportation, shipping, etc.
What do your day-to-day activities as the property's manager consist of?
As General Manager at the property, my responsibilities are to lead and manage the overall operation of our associates and the property. I ensure a high level of accommodation; that food and beverage products are maintained; communicate with our guests out of courtesy; or to respond to any challenge a guest may be experiencing whether within the property or due to health, transport, language, etc. As a team we are constantly re-evaluating our products and services, looking for opportunities to improve, adapt, modernize and react to guest feedback.
Where else are Oakwood properties located?
Oakwood Worldwide® has presence in all 50 United States and more than 85 countries.
Oakwood Asia Pacific Ltd. operates an award-winning portfolio of 29 Oakwood-branded properties in 16 cities across nine countries and territories in Asia, with ongoing developments in strategic locations across the region. In Asia Pacific, besides Indonesia, Oakwood properties are located in Australia, China, India, Japan, Korea, Philippines and Thailand.
You have plans of opening Oakwood Apartments 10 minutes from Brisbane's CBD (Central Business District). Can you tell us more about this venture?
Oakwood Apartments Brisbane is the first Oakwood-branded building in Australia which is scheduled to open in April. Oakwood Apartments Brisbane is ideally located near the waterfront, with amazing views of the Brisbane River and its famous Story Bridge and city skyline. Adjacent to the Brisbane central business district (CBD), it is within walking distance to Brisbane's top attractions.
Oakwood Premier Cozmo is situated in Mega Kuningan, a great central location where expats enjoy convening. How has the location played to your advantage?
Our property is located strategically in the central business district of Mega Kuningan, which is an exclusive neighbourhood boasting both high-class commercial and residential buildings which is also a prime location for many multinational corporations, embassies, shopping and entertainment facilities.
With business and entertainment area within our building vicinity, Oakwood Premier Cozmo Jakarta is suitable for business or leisure travellers looking for luxury and prestige.
The number one challenge with business owners and managers in Indonesia is finding the right staff. How do you tackle this difficulty?
In Oakwood, we are looking for individuals who are highly motivated and thrive in a team environment. We also provide a dynamic work environment and offer valuable experience to our associates while they work with our team of experts in their respective fields. To ensure professional development, Oakwood provides a series of international level training and up-skill programmes during their stint in the company.
What does your business do to give back?
Oakwood Premier Cozmo Jakarta is strengthening its commitment to support Habitat For Humanity Indonesia to provide and develop a better life for low-income families by providing housing solutions. We also provide educational opportunities for children from unfortunate families, in collaboration with GN-OTA.
In addition to these two foundations, every year during the festive seasons, we make orphanage visits and provide donations to share joy and provide for their needs.
What do you love about living in Indonesia, and how does it compare to life in China?
Indonesia and Jakarta in particular, is an easy place to settle down and enjoy a productive, fulfilling work environment, whilst taking advantage of its many leisure and culinary diversions. China has a different feel and takes a little longer to acclimatize, but it does have (in most cities) much better public transportation systems including roads, bicycle lanes, trains and buses. I am glad to see Jakarta's MRT project making progress as well as many more over-passes being built.
If you could do one thing differently in your professional career, what would it be?
In retrospect (and perhaps, as a bit of sage-like advice to any younger readers), I think I would have listened more intently to all my lecturers at University, rather than just the ones who were teaching 'interesting' subjects; because I believe my base of knowledge could have been strengthened at a much younger age.
Have you any funny stories you could share with us from your time managing Oakwood Premier Cozmo?
Being a hospitality manager is much like being a doctor; we must honour our guest's privacy with discretion and ensure those 'funny' moments do not become an embarrassment! Buy my book of hospitality funny moments when I publish it during my retirement!
What values do you believe are important to have in order to be successful as an expat manager/leader in Indonesia?
I believe to be a successful Hospitality Manager in any country you need a great team of people working for you who can understand your interpretation of the company vision and communicate that enthusiasm and commitment to all new associates.
You also need to have the patience, persistence and desire to provide not only a positive guest experience but also ensure your team members are daily growing and prospering. In Indonesia, as in most of the Asian countries in which I have worked, a real and tangible sense of family and belonging is also a key value to which all organizations should aspire.
Thank you, Malcolm. To get in touch, email: [email protected]