Ken is a Canadian artist specializing in stone lithography, producing iconic prints of scenes from Indonesia. Ken first arrived in Indonesia in 1989 and has strong environmental ideals, producing works that oftentimes have hidden meanings.
You seem to have a fascination with, or love of Indonesia. When did this affair begin? 
We moved to Jakarta for one year, 25 years ago, because my wife was offered a job here, working in the educational sector. My wife has a Dutch background, so this was one place she couldn't say no to. I had never been to Indonesia before, although I had travelled much of the world. After one year here, we felt it wasn't long enough, so we stayed one more year, and one more year, and after a while we just stopped counting! 
Have you always known you wanted to be an artist?
Pretty much, yes. I was fascinated with the world, so I spent four years in the sixties travelling everywhere and in 1967, I thought I had better make something of myself and went to university with the idea of getting a degree in sociology. During my time at university, I began questioning what a Bachelor of Art in Sociology was going to get me. It was a very interesting time to be in the world; things were changing and it allowed me to get involved with theatre, and do my art again after not having done anything for six years.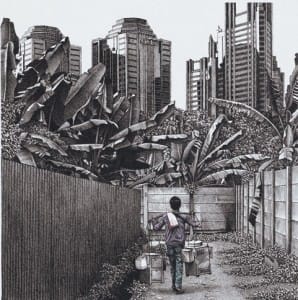 Tell us about how you first got involved with environmental movements.
The environmental movement was just starting in the 60s and a grassroots organization in Vancouver asked me to join them on a voluntary basis as their graphic artist. This was around the time that Greenpeace was born. In fact, when Greenpeace started, the group I belonged to gave them a cubicle in our office. 
There was a lot of student unrest at the time, and the government started giving grants to produce educational materials, which was an opportunity for me to learn and hone my technical skills.
How did your very first exhibition come about?
I got a job as a graphic artist for the Canadian government and saved my earnings. After three years, I quit and went to the public library in Vancouver to book a space for my first exhibition, scheduled for two years' time. I took off and travelled around Europe for eight months. When I came back, I sat in a basement and produced my exhibition, which opened at the library in 1978. By this time, the money had nearly run out, but I made enough from the first exhibition to make the next one at a commercial gallery in 1979. It just kind of grew from there.
You're known for your stone lithograph prints. How did this technique become your niche?
When I was drawing, once the piece was sold, that was it. I became familiar with works by the artist M. C. Escher, who produced what looked like pencil drawings but in multiples, which were in fact lithographs. I went to art school to learn the process of lithography, after which I joined a print-making cooperative and I started making my own. I was able to make multiples, which meant that I wasn't dependent on one gallery and could have my work at a string of galleries all over the place, which I still do now.
Print is called 'the democratic form of art' because you can buy an original piece of art at a much cheaper price. This became the backbone that allowed me to survive as an artist. Every year, I go back to Vancouver for three or four months and work in that same studio to make the lithographs, even though most of my subject material is Indonesian.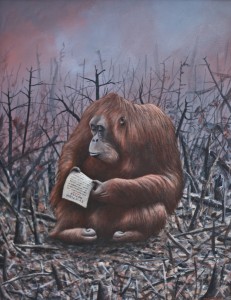 What exactly is stone lithography? 
It started in the 1700s in Germany and is the method of planographic printing from a stone surface in which the image and non-image areas are on the same plane and not physically separated. The separation of the image and non-image areas is achieved primarily through the principle that oil and water repel each other, together with a chemical reaction resulting when a solution called an 'etch' is applied to the stone. 
Is it hard to make a living being an artist? Were you supported by your parents?
For everyone who has a hit play, movie, book or painting, there are tens of thousands struggling to do it. Going to school in the 50s and 60s, it wasn't something that most responsible parents were going to encourage because it meant a life of debauchery and poverty. I think my parents appreciated it, I'm sure my mother does, but I wasn't encouraged to go anywhere with it.   
Why have you focused so much on scenes of kampung in Indonesia?
There was a real boom here in the early 90s and during these years I would innocently walk through kampungs, taking pictures of things that interested me. It might be six months or a year later that I would go back to the site to look at the subject matter more closely. Sometimes I'd go back to a site and the thing that had interested me was gone, left with a construction site of a big building.
Just behind the police headquarters in Semanggi, Jakarta, was a huge, well-established kampung, which was demolished for the central business district.
I wanted to show the difference between old and new, rich and poor, symbolically very much black and white. These places with no historical or architectural value had social value, so I started recording what I thought was a social heritage.  
Is there a message you're trying to convey?
I guess it's to appreciate the heritage and traditions that define a place. You could say I'm a little anti-globalization because I don't want to see the same things in every city of the world. Change happens and you can't deny people progress, but hopefully old ways won't be discarded for something that looks nice and shiny and new.
Your poster titled 'Eviction Notice' is a stark reminder of our effects on the rainforests and your series on the Marina Bay Sands complex in Singapore was quite controversial. What were you trying to achieve with these works?
In our lifetime, we may see that orangutan are not going to have any natural habitat left because of illegal logging and the palm oil industry. We are sacrificing so much of what has taken so long to make this world the place it is for the sake of materialism. All proceeds from the sale of this poster go to Jakarta Animal Aid Network, a charity that protects animals in Indonesia.   
I did the Marina Bay Sands complex as a satire. The whole complex is dedicated to consumption and gambling, which is very foreign to me. I lampooned it. I've received a very mixed reaction, but I think a lot of people don't understand the puns and double meanings.
Do you have any words of wisdom for aspiring artists out there?
You have to do what your heart says. If you find something that you love, it would be really remiss not to follow that. Talent is nice, but the biggest single factor in making success is luck, coupled with discipline. 
Is Indonesia your home for good? 
Eventually I think we will move back to Canada. Any year now!
Ken Pattern's lithographs are available to purchase at Galeri Hadiprana on Jl. Kemang Raya no. 30, Jakarta. Visit www.kenpattern.or.id for more information.