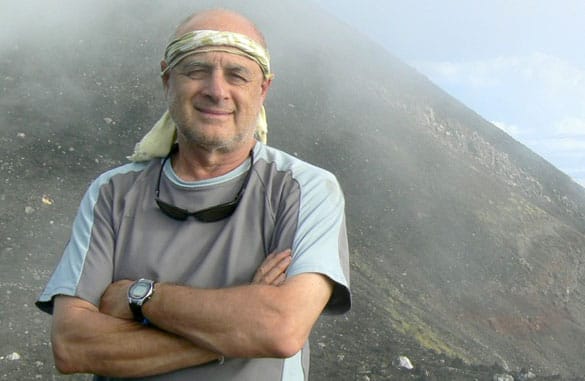 Paul Spencer Sochaczewski was born in 1947 in Brooklyn and grew up in suburban New Jersey. His earliest memory is climbing on to the kitchen counter, then the stove and then atop the refrigerator, pretending it was Mount Everest. As a child he liked baseball, writing and making his mother worry. Paul spent years developing international campaigns for ad agencies and NGOs like WWF and International Osteoporosis Foundation, while simultaneously pursuing his writing career, publishing Soul of the Tiger (1995), Redheads (2000), Sultan and the Mermaid Queen (2009) and An Inordinate Fondness for Beetles (2012). Paul now runs writing workshops in more than 20 countries.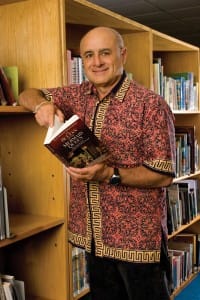 When did you first know that you had writing talent?
I wrote my first play at age eight about flying bears, aliens and buried treasure. The first book I ever read without pictures was The Wonderful Flight to the Mushroom Planet by Eleanor Cameron. I guess I inherited the science fiction gene from my father, who introduced me to the greats – Frederick Pohl, Theodore Sturgeon, Isaac Asimov and Robert Sheckley.
Did you have an epiphany in your youth that foretold your life as a writer?
I realized I wasn't good enough to play pro baseball and would need an alternative job, preferably one where I could wear jeans and t-shirts. My early preparation for a life of writing was everything I experienced while living in the suburbs in the 1950s. One formative experience I remember was how in primary school we had drills crouching under our desks in the event of a Russian nuclear attack. It wasn't until much later that I started to question the value of such an exercise. One of my main motivations spurring me to write in later years was the environmental destruction I was seeing around me.
What are your hobbies/interests?
Collecting unusual Ganesha images, cooking, gardening (especially tomatoes), Italian opera.
What's your educational background?
I have a PhD in life experiences. I hold a BA in Psychology from George Washington University, whose famous alumni include Alex Baldwin, L. Ron Hubbard, Jackie O.
If you had to name your favourite writers, who would they be?
Tom Wolfe. Carl Hiaasen. Joseph Heller. Simon Schama. Tom Robbins. Bill Bryson. Paul Theroux (fiction only), Graham Greene. John Updike. Malcolm Gladwell. Wolfe's Bonfire of the Vanities and Heller's Catch-22 are black and funny and real.
How did you initially get interested in writing about Indonesia?
It was a natural evolution of interests. Funny thing about writers, lots of them are (at least at the beginning) rather shy and introspective, and writing is a way of going public while still semi-hiding. But it takes courage to put your stuff out there, particularly personal stuff, since it's very easy for critics (and everyone who buys a newspaper is a critic) to turn the page, or worse, say "that's rubbish".
When was your first visit to Indonesia?
In 1971 while living in Singapore and working as Creative Director of an ad agency. They sent me for a short time assignment in Indonesia. Since then I have visited many dozens of the country's islands, including many obscure eastern Indonesian islands. Ever been to Aru, Bacan, Kei, Misool, Wakatobi and Halmahera?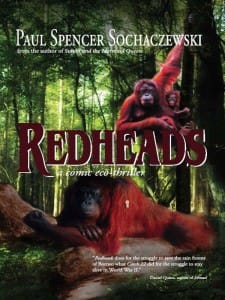 What inspired you to write Redheads?
I left Washington, D.C., where I went to college to go to Sarawak to work with the U.S. Peace Corps. I lived with tribal communities. I'm perhaps the only international conservationist to have hands-on experience in slashing and burning the rainforest. That's how I got interested in tribal rights, rainforest destruction, and greedy politicians.
Is there any other book like it?
Catch-22, but in a different context. One reviewer wrote, "Redheads does for the struggle to save the rainforests of Borneo what Catch-22 did for the struggle to stay alive in WWII."
Is the book only about orangutans?
All the characters have red or reddish (or henna-tinged) hair. It's about tribal rights. Rainforest destruction. Fraudulent scientists. Big-ego but naïve international conservation efforts. Orangutan's similarities (and dissimilarities) with humans. Sex. Greed. I hope it's funny.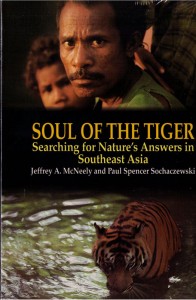 What did you go through researching the book?
The usual rainforest experiences – wonder, boredom, lousy food, too much mixed alcohol (rice wine, Guinness, moonshine, brandy), discomfort, athlete's foot, leeches, snakes, rain, more rain. I learned that some things are so serious and depressing that you have to laugh. Also, that sometimes fiction is a better way of alerting and influencing people to problems than often boring and self-serving non-fiction. Just tell a good story!
What revelations about people did you come away with?
People are people, some good, some evil, most somewhere in between, just trying to get by and hoping for a lucky break when they can find one. There does seem to be a law of inverse generosity. The less people have in life the more willing they are to share it with you.
Is there a thread running through all your books?
That ego and greed are dangerous. They are inevitable. We have to deal with it. Also, there just might be a way to develop, let's say, a "deep ecology" relationship with nature.
Which field of research do you prefer?
The get-your-hands-dirty kind. Recently I went on a trip in northern Thailand with a bunch of Thai palaeontologists looking for coprolites – fossilized dung of freshwater sharks that lived 200 million years ago.
What are you reading at the moment?
A bunch of adventure novels. I really admire any writer who can just tell a good story. But the best book I've read so far this year was Tom Wolfe's Back to Blood.
What writing project are you working on now?
Ah, another Big Book. Sharing the Journey, a writer's guide book on how to tell their personal story based on my writing workshops. I've also been working for 30 years on a new novel, but won't jinx it by discussing it publically.
Any words you want to leave us with?
Be very careful of the big international NGOs. They don't need your cash and will waste much of it. Give money and emotional support instead to the small local NGOs in whatever domain you are interested in: battered women, literacy, the arts, animal welfare, conservation, child labour, peace. The small guys have passion and get things done.
Where can people learn more about your work?
My website: www.sochaczewski.com