After a long career working for major corporations around the world, Frank Findlow, as many successful businessmen do, came to the point in his life when he thought he'd achieved all he needed to and the time was right to retire. But it only took a few months of retirement for Findlow to realize his work was not finished yet.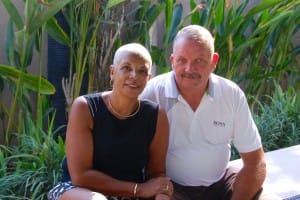 While living and working in Jakarta for logistics giant Linfox, Findlow began spending holidays in Bali with his wife, Elana. They soon realized how much they loved the island and decided to plan their retirement and build a house in Bali.
"Bali is a beautiful place," says Findlow, "with idyllic landscapes and interesting people. I guess most people would sit back and soak up the sun with a drink in their hand in such a relaxing atmosphere."
But Frank Findlow is not most people. He had enjoyed his time climbing the ranks at companies like ICI, H. J. Heinz, and Linfox, and spent much of his career honing his skills and learning to recognize what he regularly refers to as 'what good looks like' in the world of international logistics.
But it only took a few months of retirement for him to realize his work-life ambitions hadn't been fulfilled yet.
"I spent the first few months thinking I'd died and gone to heaven! But something was missing. I felt as though I hadn't quite achieved everything I wanted to in my business career.
"It took me a while, but it dawned on me. Firstly, I'd never had the satisfaction of working for myself, and secondly, after years of working in Indonesia I just knew that I could make a difference in the evolution of the burgeoning logistics industry in the region."
The pace and excitement of the changing economic landscape in Indonesia is one of the reasons Findlow feels drawn back to the world of business, and he says, "New opportunities in Indonesia mean that more businesses are looking at starting up or expanding their operations, and that makes it an exciting place to be.
"I've worked in a lot of countries all over the world, and I can say that the people in Indonesia are some of the best I've worked with. But the quality of the logistics 'offer' in the region needs developing. That's what makes it so exciting for me and why I've decided to get off my lounger and back into the business.
"Now I'm feeling really fired up to get out there again. Setting up my company Triple EFF Consulting allows me to work for myself and help build the logistics industry in Indonesia up to the same standard as its competitors in the region, particularly Vietnam and Singapore.
In the '60s, Findlow started out as an apprentice at chemical giant ICI in his hometown of Runcorn, in the north west of England, before deciding that he needed to broaden his career horizons. He and Elana decided to emigrate.
After a spell working in Libya's oil industry, they settled in Canada and Frank was soon moving up through the ranks to become the supply chain director for H. J. Heinz in Asia Pacific.
His oversaw 8,500 employees, and among his achievements were negotiating a US$3.8M cost savings and efficiency, streamlining the manufacturing footprint in Australasia, and winning the Chairman's Imperative Award.
His tenure at Heinz sent him from Canada to New Zealand and Australia, to Singapore and across South East Asia, to China, Thailand and the Philippines. Once he had moved on from Heinz, Findlow's work at Linfox Logistics further cemented his reputation as an expert in the field of supply chain management.
Findlow focused on implementing the largest warehouse in Asia, and improving efficiencies for clients in a number of countries, including Vietnam, China, India, and more recently, Indonesia.
"I've worked all over the world, and in a lot of these places I've seen what good looks like in the logistics industry: warehouses that run like well-oiled machines; supply chains that go from manufacturing to the consumer without a hitch; fleets of transport trucks getting to their destinations on time. And I think that there is an opportunity to elevate many supply chains in Indonesia to reach this same standard.
"I want to show companies here what good looks like and tell them how they can achieve the same results as their main competitors."
Findlow's vision is that Triple EFF Consulting will provide assistance to both Indonesian local companies starting out and multinational firms hoping to expand into Indonesia. "I know my experience living and working in Indonesia gives me an advantage over many other firms offering consulting services," he says.
Findlow has extensive leadership experience in a variety of industries, including mining, petrochemical, food, and logistics. He believes the breadth of his experience will be particularly helpful as he embarks on his consultancy career.
Findlow's work in Indonesia has given him the chance to make many industry connections. Among them is Association of Logistics Indonesia (ALI) chairman Zaldy Ilham Masita, who recently urged the government to establish bonded logistics hubs connected to special economic zones (SEZs) in order to encourage more manufacturing investment in Indonesia.
Masita says, "Having worked with Frank over the past five years in many interesting countries on various projects, I can safely say we have learned together how to define what good looks like.
"Whether it's a start up in India or a major implementation in China, I've seen firsthand how he can overcome the challenges and, by improving their ways of working, he's definitely shown many enterprises 'what good looks like'!"
ALI is working on continuing to improve Indonesia's supply chains and logistics centres.
Findlow is blunt about the investment that's needed to improve the region's infrastructure, saying, "Logistics costs in Indonesia are some of the highest in the ASEAN, and things need to change if the region wants to attract more investors."
Findlow agrees with ALI's recommendations, and says he's looking forward to working with businesses to offer solutions to deal with these logistics costs and navigate the changing economic landscape in the region.
After so many years working for big corporations, Findlow says he can't wait to get started now that all the paperwork to set up Triple EFF is complete. "After having worked for so many large multinationals, starting up a business of my own is such a great feeling.
"I live and work in a place that I think is heaven on Earth and I'm my own boss doing what I do best. It doesn't get any better than this!"
To get in touch, visit: http://tripleeffconsulting.com