Servus Anna Rohm, the German Director of Rooms at the Mandarin Oriental.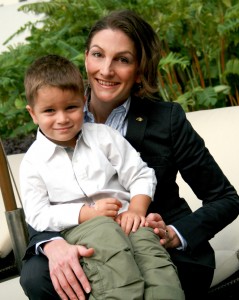 You've been living in Jakarta for 2 years now. Where were you living before and why did you take the plunge into Jakarta's hotelier industry?
I lived in the Middle East for almost 6 years in UAE, Egypt and Jordan. Having worked a good amount of time in the Middle East I wanted to try out Asia. Although I knew Jakarta was the capital of Indonesia, I did not know anything about Indonesia besides knowing about Bali. I came to Jakarta initially (besides the fact that it was Asia) because of the Mandarin Oriental Hotel chain. Known to be a prestigious luxury hotel chain I could not say "no" to the job.
What are the Director of Rooms' responsibilities? Does this vary from hotel to hotel?
The Director of Rooms is responsible for short and long term planning and day-to-day operations of the rooms and related areas.  Major areas of responsibility/management include: Front Office, Guest Services, Housekeeping, Uniform Services, and Concierge.  I also participate in total hotel management as a member of the hotel's Executive Committee. The structure of the management may change from hotel to hotel, for example some Director of Rooms have more areas such as Fitness and Wellness or Security. In other hotels they may not have a Director of Rooms, but work with a Front Office Manager/rooms division manager reporting to a Director of Operations who would be in charge of all operational functions such as Engineering/Food & Beverage/Housekeeping/Front Office/Security. So – yes! It does vary from hotel to hotel depending on the property and structure.
Have you had to build on any specific traits or qualities to be successful in this city? And if so, what are they?
Patience 😉
I hear you have an adorable son. What's his name and how old is he?
His name is Amir Laurent but his nick name is Lolo. He is now four years old.
Where do you take him to have fun?
SHOPPING MALLS!!! YEAY!!! (joke) My Son and I vary with our activities. One of my favourite activities is when he asks me to go out and have a pizza with him. I have gone a couple of times to Rangunan Zoo. We enjoy being outdoors and that is one area that I feel free to let him run about without worrying about traffic. I went to Ancol with him to the Seaworld more than once. On lazy days him and I will be at the pool in MO sharing a Mango Fitness (his favourite drink). But his favourite is when I take him on vacations. He loved Bali being at the beach and playing with the waves. He also enjoyed going to Jogyakarta and visiting Borobudur and Prambanan.
Is it hard to be a single mum in Jakarta?
Personally, I think that Asia/Middle East are the easiest places to be a single working mum. In Europe and North America the household help and nannies are simply unaffordable. Having the possibility to have a nanny while I work has been making my life a lot easier. My experiences with the Indonesian nannies have been very good. The way they love and adore children and care for them has made my job of leaving my child in someone else's care while I work a lot more bearable.
Since living in Jakarta, have you noticed any improvements that have made living here easier for you?
I can't complain about anything in particular (not even the traffic as I luckily do not have to do much commuting around Jakarta).
As you answer this interview, what object do you have to the right of your computer screen that stands out the most? What traits does this object share with you?
Besides mentioning a rather classic answer of a picture of my family and son along with his paintings, I have pictures from my top performing front desk staff. They are probably the most personal items I have in the office. I am really lucky that I have such a good team. My staff are happy, energised, outgoing and caring people  that I have a enormous amount of respect for.
What are 3 things you couldn't live without in Jakarta?
Laptop (connection with friends and family abroad).
Beer (but that I couldn't live without in general being a true German at heart).
Going out with my friends.
What's been your most memorable New Year's Eve memory?
In Venice when I had friends and family visit me in my home. I cooked a lavish feast of Italian food, accompanied by good wine. Walking the streets of Venice by night going to San Marco Square and watching the fireworks from Rialto bridge. Once all of us came home, my brother and I went out to the only disco of Venice at the time which was very amusing.
How will you be celebrating New Year's Eve this year?
I will be at the Mandarin Oriental Jakarta this year. My sister is currently visiting me from Austria. I will enjoy a sumptuous but relaxing dinner at Lyon and then watch the action of the New Year's bustle right on my very own doorstep in front of Mandarin Oriental. Actually I will watch the fireworks with my sister from our Club Lounge on the 21st floor, we are so lucky to have such a great location!