Joel Bartlett's journey through the global hospitality landscape has led him across five diverse countries.
Today, he stands at the helm of the MAMAKA by Ovolo resort, infusing it with his characteristic vibrant and optimistic approach. With over 12 years of invaluable experience in the hotel industry, Joel has honed his expertise while working with prestigious hotel and corporate brands, including the likes of Kerzner International, ANZ, Shangri-La, Radisson Blu, Dukes, and Grand Mercure. His proven track record in creating memorable guest experiences, coupled with an educational foundation in hotel management, places him firmly in the role of a seasoned hotel executive, poised to shape the future of experiential hospitality.
Indonesia Expat embarks on a journey to unravel the story of Joel's remarkable career, exploring the man behind the vibrant spirit that propels MAMAKA by Ovolo into the realm of unforgettable guest encounters.
Hello, Joel. Let's get started with an introduction of yourself.
Hi, my name is Joel Bartlett and I am the General Manager of MAMAKA by Ovolo, the first Ovolo Group property in Indonesia.
What prompted you to build a career in hospitality?
I was initially drawn to the hospitality industry due to its unique blend of creativity, business acumen, and the opportunity to create memorable experiences for guests. My passion for exceeding customer expectations led me to pursue a career in this dynamic field. Over time, I discovered that the industry's fast-paced nature and ever-evolving challenges perfectly aligned with my strengths in adaptability and problem-solving. Additionally, witnessing the positive impact a well-run establishment can have on individuals and communities solidified my commitment to this profession.
Throughout my journey, I've honed my leadership skills and gained a deep understanding of operations, from front-of-house excellence to behind-the-scenes logistics. This experience has equipped me to effectively manage teams, streamline processes, and drive profitability. As a general manager, I'm eager to leverage this knowledge to create environments that not only meet the needs of guests but also foster a culture of teamwork and continuous improvement. I'm excited to contribute my expertise to further elevate the reputation and success of your esteemed establishment.
What led to the decision to relocate to Indonesia?
The decision to relocate to Indonesia was driven by a combination of personal and professional factors. Personally, I've always been fascinated by the rich culture, breathtaking landscapes, and warm hospitality of Indonesia. This move presents an invaluable opportunity for personal growth and cultural immersion. Professionally, I recognise the immense potential and burgeoning market within the Indonesian hospitality industry. I am eager to apply my expertise in a new environment, leveraging my skills to contribute to the growth and success of businesses in this vibrant market. This transition aligns perfectly with my career aspirations and offers a chance to make a meaningful impact in a dynamic and diverse setting.
You have been living in Bali for over six years now. How would you describe life as an expat on the island?
Living as an expat in Bali for over six years has been a truly enriching experience. The island's unique blend of natural beauty, vibrant culture, and warm community has made it feel like a second home. It's a place where work-life balance seamlessly intertwines, providing a serene backdrop for personal and professional growth. Engaging with the local community has deepened my understanding of Indonesian culture, and I've had the privilege of forming lasting connections. This enriching environment has not only enhanced my personal life but also broadened my perspective, influencing my management style with a more inclusive approach.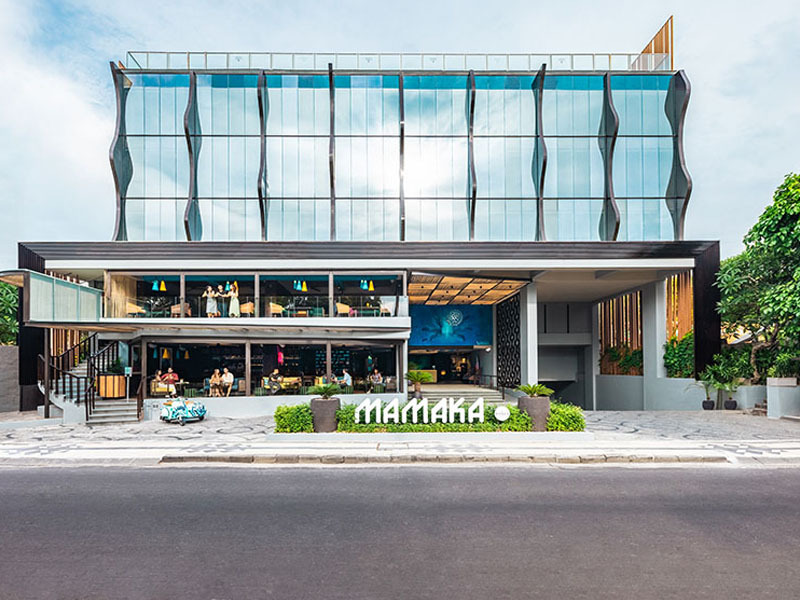 Can you give us a description of MAMAKA by Ovolo, through your eyes?
MAMAKA by Ovolo is a vibrant tapestry of experiences in the heart of Kuta Beach. Nestled in this thriving neighbourhood, it stands as an urban resort, offering a fusion of leisure and adventure. With the Rip Curl School of Surf at Mamaka, a skate park, and the sun-kissed beach right at our doorstep, it's a haven for enthusiasts.
Our 24-hour wellness zone is a sanctuary for rejuvenation, providing guests with a holistic approach to well-being. Street32 restaurant is a culinary journey, celebrating both Asian and Western flavours. Meanwhile, the Kuta Social Club reigns as the pinnacle of rooftop leisure, offering an infinity view, Mediterranean-style cuisine, and masterfully crafted cocktails.
The recent addition of Kupu-Kupu Blow Bar, Salon & Spa completes the experience, pampering guests with comprehensive beauty treatments from head to toe. MAMAKA by Ovolo isn't just a hotel; it's a lifestyle, where every element is meticulously designed to create unforgettable memories for our guests.
Can you share some of your insights on the current state of the hospitality businesses in the Legian area?
Certainly. The hospitality landscape in the Legian area is undeniably diverse and bustling with activity. However, what sets Mamaka apart is its exceptional commitment to offering a truly immersive experience. With a unique blend of urban resort amenities, the Rip Curl School of Surf, a skate park, and immediate beach access, we've created a dynamic haven for guests. Our 24-hour wellness zone, Street32 restaurant, and the Kuta Social Club further elevate the experience. This distinctive combination positions Mamaka as a standout player in the vibrant hospitality scene, where we not only meet but exceed the expectations of our discerning guests.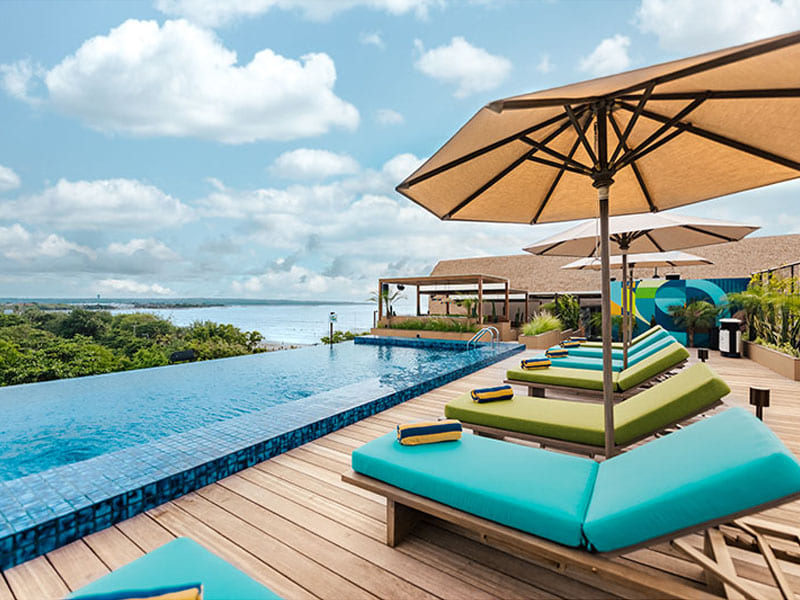 Congratulations on Kuta Social Club's first anniversary! Are there any future plans in place for KSC?
Thank you! We're thrilled to mark Kuta Social Club's inaugural year. While I can't reveal all the details just yet, I assure you that our future plans for KSC are nothing short of extraordinary. We have a surprise in store that promises to be truly legendary. Our team is dedicated to elevating the KSC experience to new heights, ensuring it continues to be a destination of choice for those seeking exceptional leisure and entertainment. Stay tuned for an announcement that will undoubtedly leave a lasting impression on our valued guests.
Can you tell us more about MAMAKA's collaboration with Rip Curl School of Surf? What was the motivation behind it?
Partnering with Rip Curl School of Surf was a strategic move to amplify the guest experience at MAMAKA. Rip Curl is renowned for being a professional and edgy surf brand, making it a perfect match for our dynamic, trendsetting atmosphere. The collaboration enriches our offerings with a range of programs and classes that cater to all skill levels. Whether guests are seasoned surfers or new to the sport, they have the opportunity to engage with experts and take their skills to the next level. This partnership embodies our commitment to providing unparalleled experiences and aligns perfectly with MAMAKA's ethos of adventure and excitement.
What are your hobbies or passions outside of work?
Outside of work, I'm passionate about staying active and embracing the outdoors. I find solace in working out, not only for the physical benefits but also for the mental clarity it brings. Surfing has been a longstanding love of mine, and there's nothing quite like riding the waves to unwind and connect with nature. Additionally, I cherish moments of tranquillity at the beach, where I can soak in the sun and simply enjoy the serenity it offers. These pursuits not only rejuvenate me but also contribute to a balanced and fulfilling lifestyle.
What is next for you and MAMAKA by Ovolo?
The future for both myself and MAMAKA by Ovolo is always an exciting journey into the unexpected. We thrive on delivering experiences that are both surprising and out of the box. Our commitment to innovation and guest satisfaction will continue to drive us forward. While I can't divulge specifics just yet, rest assured that we're dedicated to elevating every aspect of the MAMAKA experience. Whether it's through unique offerings, inventive collaborations, or immersive events, we're poised to set new standards in hospitality that will leave a lasting impression on our valued guests. Stay tuned for what promises to be an exhilarating ride ahead!
How can our readers get in touch?
You can reach me by sending an email to [email protected]. For more information about MAMAKA by Ovolo Hotels, you can pay a visit to our website at mamakabyovolo.com