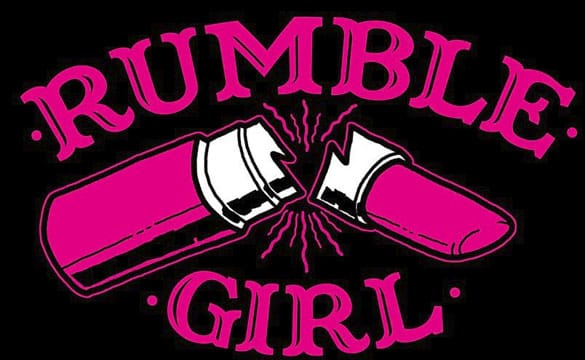 The one thing that strikes me when you walk along the sidewalk of anywhere in Bali that sells clothes is the relative similarities of contents of every store. 'Same same but different' really takes on a new dimension here. Even the Seminyak boutiques are all basically doing renditions of 80's and 90's throwbacks and I am struggling to see any real originality with any 'wow' factor, with the exception of a couple of designers which I hope to review in later issues.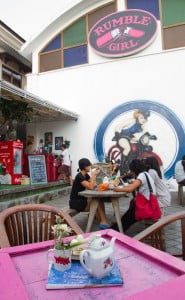 It was refreshing to see that there is now Rumble Girl – a Bali Rock n' Roll/Rockabilly/Punk Rock and Urban streetwear concept store. This store has seen a gap in the market for the more down-to-earth female who would probably have a skateboard tucked under her arm rather than a Gucci clutch. You'll find anything from hoodies to t-shirts, from brands such as Rumble, Dickies, Electrohell, Surfer Girl and many more. I was lucky enough to score a styley trucker cap with the Rumble Girl branding displaying a lipstick that has been snapped in half. Their other logo displays a pair of boxing gloves with XO (kiss and hug) on the gloves, which I would perhaps interpret to mean "Fight for Love".
Rumble Girl is for girls with a bit of attitude for sure. It is a store I have immense respect for as it has come from a place of vision with heart by the owners, husband and wife, Liz Oprandi and Leo Sinatra who opened the store three months ago. It serves as four ventures rolled into one; clothing and jewellery store, café and music venue. Leo, a well known musician with his band Suicidal Sinatra, designs and sells his jewellery in the store with his label St. Lukas, named after their one-year-old son. There are unisex pieces that will definitely appeal to the tattoo piercing culture that is hugely popular with locals and expats alike. I particularly appreciated his range of silver rings, especially the lucky horse shoe design. Nice work Leo.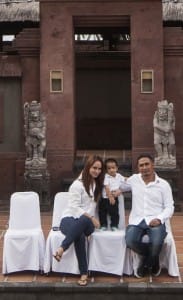 This spot is located right next door to Hardy's on Jl. Raya Batu Bulan and you can't miss it with its impressive graffiti wall piece showing a 1940s pin up girl on an old school motorcycle. St Lukas café is the perfect place to stop and grab a coffee after your shopping stint or on your way to or from Ubud. With cappuccinos being a surprisingly cheap 10k each, you'll really want to get your caffeine fix here.
The last detail, and probably one of the most important, is that Rumble Girl provides a platform to showcase local talent and be a hangout for young people in the area at night. As Liz states, "I hope that Rumble Girl can be a source of inspiration for young people, especially young local girls to start their own bands and express themselves through music."
Bands and solo artists perform on Thursdays through to Sundays in the evenings. In the short time of operation they have hosted charity events raising money and awareness for underprivileged children and orphanages with big Indonesian bands such as Bali's own Superman is Dead supporting them. Growing up with a father who worked for a charitable organization, Liz was raised with a very strong awareness of social issues and continues to show a commitment to making a difference which is wonderful to see. Rumble Girl is not just a commercial venture, but a place where young locals can safely hang out and perform music and raise money for charities at the same time.
You can catch up on what bands are playing by visiting their Facebook and Twitter pages listed below.
Facebook : Rumble Girl / St. Lukas Company
Twitter : @Rumble_Girl / @stlukascompany