Our resident style guru Victoria Bannerman dishes out top tips for crafting fashionable interiors for your dream home, from creative ideas to shop recommendations.
It is simply not enough for others to know you're a sartorial polymath in the wardrobe department. In my opinion, you must extend your fabulous style to your dwelling-place, whether it's a crash pad, condominium, crib, flophouse or mansion.
I do not claim to be an authority on interior design, but I do have an eye for all things famously fabulous and quintessentially quirky. So, here are a few tips to make your home cosy-funky, and the talk of your social tribe.
No boring hanging curtains please, vamp it up a bit: go for boho-chic and buy yards of sari material, turning this into your drapes. When entertaining at dusk the sparkle of the saris will ricochet off the lights in your living area, cocooning you and your guests in a glow. In the morning their shimmer, colour and shine will greet you like an epic dance scene in a Bollywood movie – you won't be able to resist starting your day with a smile.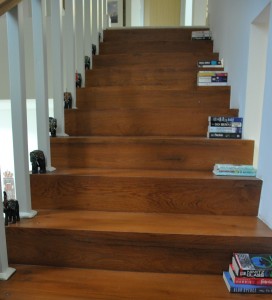 Visit Jl. Surabaya in Jakarta, a mishmash of outré ingredients, from chandeliers, gramophones and vinyl to "Ming" vases as tall as you like. There, you can buy a scarily charming fetish-carving and hang it on your wall. Or delve into some glamour and history; purchase a chandelier or two for your pad and make-believe it once hung in Alexander Palace, glimmering as Emperor Nicholas II entertained his guests with song, dance and culinary delights of unimaginable opulence.
Old gramophones or typewriters nonchalantly placed around your home will give off an antique feel. Make your walls sing a tune by decorating them with vinyl records, or hang vintage dresses and jewellery around as a feature. Add evocative images, framed in reclaimed wood, from eras gone by.
Use bookcases as crockery cupboards and make your stairs look studious by stacking books on them. As you hop up the steps, be reminded of the prose you have yet to read!
Packed to the rafters with beautifully vibrant pots, lamps and decorated reclaimed wood, Galeri Pot in Jl. Kemang Timur, South Jakarta, is enchanting. A pair of mosaic lamps beckoned on my last visit but alas – they had already been sold and were waiting to be picked up.
Across the road is the Kam Gallery, a quaint studio that manipulates wood in a sharp-witted way: an unassuming seat at a flip becomes a table and bench for a summer's day soiree. Be amazed.
Le Souq in Jl. Kemang Raya is the kind of emporium that can stir covetousness in anyone. It has so many extraordinary pieces, it will turn you into a shopaholic. A rather bold, kooky tree-branch chandelier with exposed bulbs caught my eye, and I took it home. There is a siren-red cabinet standing amongst all the yummy pieces I've my eye on for next time – so do not go and buy it!
If your tastes are beyond ostentatious and you fancy yourself as a latter-day Marie Antoinette, then HER in Kemang, the Liberace of homeware stores, is your home-from-home. Every piece is outlandishly over-the-top, like the deliciously camp red velvet throne chair. The leviathan rose mirror will unashamedly bring out your inner narcissist – you will love it! Pick up the Louis XIV inspired chest of drawers, sit it in your passageway and clash it with a contemporary chair from Ikea. Yes people, sometimes when it's wrong it's beautifully right!
If you want to feel like the Princess and the Pea and sleep until your heart's content, Newtons do amazing beds – they're lavishly sumptuous. Their French Rococo collection is, in a word, stunning. Visit them online to get ideas, then challenge a carpenter to make your very own version. Add a Tempur mattress and pillows, along with Egyptian cotton sheets, and forevermore sleep on a cloud!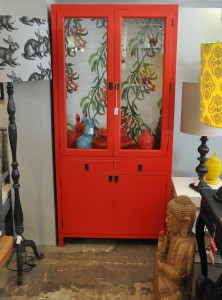 Moie is a plush furniture store in Pacific Place – the kind that services clientele who own homes all over the world from Marrakesh to Mumbai, travel by private jet and make Richard Branson look positively poor. One imagines that on any given day, though the boutique seems quiet, silent auctions of phone purchases is how the stock shifts. The Kevin Reilly lighting altar, a tray of bulbs housed in wax columns (so they look like lit candles) that can be hung over a dining table is gothically exquisite. Gasp as it blows you away, Promemoria's Mondu TV mirror stands at a whopping eight feet tall. It is a mirror of epic Narnia proportions, with a 'pouch' for your TV at the back, so the images from the TV project on to the mirror. Surprise and amaze your guests, as your colossal mirror becomes a TV! At $20,000, it is well worth selling your soul.
Our very own go-to resort-wear brand Biasa has made a foray into homewares. The founder Susanna Perini has sourced incredible pieces from her travels around the world. Luxurious bedding, lovingly handmade in India; vintage antique teapots; cushions; carpets and more, they will also soon have commissioned lamps and silver table accessories. For now, it's only in their BIASA+ store in Bali, with a catalogue and mail order to follow soon.
With these tips, may your happy home shelter you from life's storms and be full of love, laughter, peace and understanding.
—
Biasa
BIASA+, Jl. Raya Seminyak 34, Bali 80361
Newtons Beds
Kam Gallery
Jl. Kemang Timur Raya No.17, Jakarta Selatan
Tel: 021 7198 651
Le Souq
Jl. Kemang Raya No. 27, Lot K, Jakarta Selatan
Tel: 021 7295 672
www.lesouqinteriordecorating.com
HER
Jl. Kemang Raya No. 24, Jakarta Selatan
Tel: 021 7192
Galeri Pot
Jl. Kemang Timur No.58-R, Jakarta Selatan 12730
Tel: 021 7180 209
Moie
Pacific Place Mall ,Suite 01-38 & 42
Tel: 021 5140 0559