For whatever reason, people have been forming clubs since time immemorial and it is no different here in Indonesia. Early colonials, for example, had the Harmoni Club. Today, the junction on which the venerable institution once stood is still called Harmoni, but it is perhaps best known for a major intersection for the busway, as well as traffic jams.
The club traced its roots, at a different location, back to 1776 but it was demolished in 1985 to widen the road. As an indication of the type of punter that frequented the establishment, directly opposite stood Oger Frerers, a purveyor of the latest, finest gentleman's fashions.
Images from the 19th century show an idyllic scene; horse and carriage convey the well-dressed, rich from overseas along a rutted track, much like the average street in Banten province today, but without the horse manure, while natives lounge around under parasols or attempt to sweep the road. As you can imagine, the great and the good of the Batavia social scene would gather at the club, dressed in their best clothes purchased no doubt over the road, for the latest tunes and gossip. It would have been a very hierarchal society with the nabobs of business rubbing shoulders with politicians and policy makers, hoping to have a say in how things were run and hoping to exert some influence.
Clubs still play an important part in the Indonesian expat experience and while there are chambers of commerce and pubs for serial networkers, there are also clubs and societies out there devoted to the pursuit of uninhibited fun and pleasure. And not just in Jakarta.
Take Bali, you know, that island between Java and Lombok. Frequently referred to as the Island of the Gods by lazy headline writers, it is also home to a large number of expats and, much like the expat of an earlier age, the Bali expats do what they can to recreate a little bit of home on their little piece of tropical paradise.
For example, they run. All those beaches, rice fields and volcanoes make for fertile ground for those who like to sweat the daily stresses out of their system. One running group in particular is known as the Hash, or the Hash House Harriers as they are more formally known (or the drinking club with a running problem as they see themselves). And there are quite a few of them!
The Bali Hash House Harriers were founded back in 1976 and they run twice a week, Tuesdays and Thursdays. I say run. The beauty of the hash is the irreverence hashers feel towards the club. If you want to walk, then walk. If you want to run, then run. If you want to cheat, then cheat. But be warned, eyes are watching!
Details of the Bali Hash can be found on their website www.bali-hash.com which has information of upcoming runs along with maps and photographs. Then there is the Bali HHH II and Bali Hash One for those who can't get enough. Links to those sites can be found at the aforementioned website.
While the Hash is a pretty genteel afternoon where one can enjoy picture postcard views and construction sites in equal measure, the Bali Geckos are a much more rough-and-tumble Bali experience. The Geckos are the local Australian Rules football team. You know, the game played in Australia by big men in tight shorts and sleeveless tops. Well, the Geckos, in a nod to their environment, have spurned the traditional tight shorts common throughout the game and wear boardshorts instead!
The club was formed in 1997, apparently after a visiting player from Jakarta was boasting the capital city had the finest players in the country. Bali responded with the Geckos and now they have a thriving setup, including a youth academy that will be sending some young players to Singapore in the near future for a friendly match.
You can learn more about the Geckos at their website, www.baligeckos.com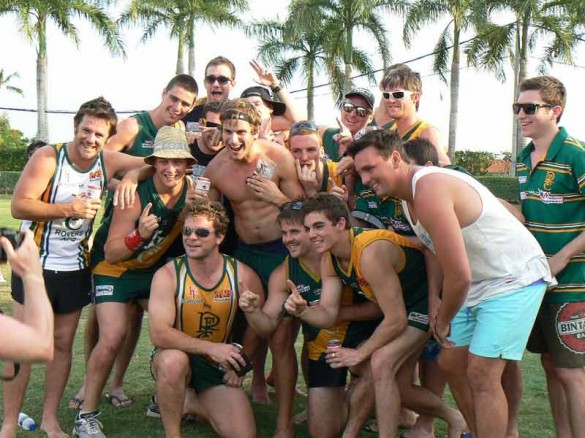 Bali is not just about hashing and AFL. There are plenty of places that offer yoga and spas for those 'wellness' aficionados out there. And there is the Bali International Women's Association (www.biwa-bali.org). Their website doesn't seem to have been updated for a while, so if anyone does have any news about the ladies and their activities please feel free to let us know and we will be happy to publicise their happenings.
Piston Broke describe themselves as a social motorcycle group. Based in Sanur, their website says they like to party hard and they have their own clubhouse, Barb's Sport Warung, also in Sanur. You can find more information on their website http://pistonbrokebali.com.
When it comes to golf, Raffles Golf Bali is a social club based at New Kuta Golf in Pecatu. They have a round together on Wednesdays, Fridays and Sundays, while they also play at other courses around the island at other times. Their website specifically states they welcome players of all abilities, so I may take them up on that next time I am on the island!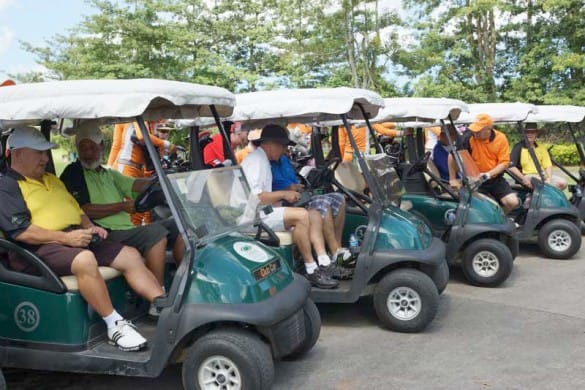 They can be found through their website www.rafflesgolfbali.com.
As this magazine spreads its wings around Indonesia, it would be great to hear about what sports and leisure activities are on offer in other parts of the archipelago. If you are involved with a club, it can be a women's group, a bridge group or a social football, cricket, or rugby club, then please drop us an email with a few details and we will be happy to add you to a future issue.