In celebrating this 30th edition, I have put together a list of my 30 favourite foods found in Bali, from gold foie gras to sate kambing. Some of them are legendary foods, while others are only popular among locals. Bon appétit!
1. Ibu Oka's Suckling Pig—Jalan Suweta, Ubud
Ibu Oka's suckling pig is the best babi guling of all. Unlike others that are quite tangy, this suckling pig is so rich, yet so fresh.
2. Foie Gras Gold—Ju Ma Na at Banyan Tree
This shimmering carat created by the kitchen team of Ju-Ma-Na restaurant at Banyan Tree is actually a bar of foie gras covered with edible gold dust.
3. Teatro's Snapper in Curry Sauce – Jalan Kayu Aya, Seminyak
Serving a beautiful blend of coconut sauce and smoky fern, balanced with corn fritters, this quirky curry is a perfect example of East meets France.
4. Mejekawi's Suckling Pig—Jalan Kayu Aya, Seminyak
Cooked using the French technique, sous-vide, this elegant babi guling is served in rendang jus and traditional urap with smoked potato puree; crisp at first, then tender.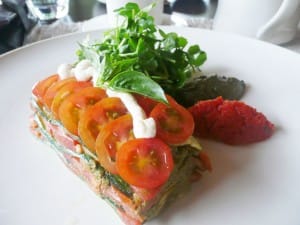 5. Glow's Raw Lasagna—Como Shambhala Estate, Ubud
Made with layers of raw tomato and zucchini with pesto sauce, this lasagna is not only beautiful, but is also very healthy. So far, this is the most delicious raw food I have ever had.
6. Soto Udang Pesmol—Sangkar Restaurant at Bulgari Resort Bali
This Javanese soup is a mixture of sweet and sour, with aromatic lemongrass, and has a rich character of coconut and the elegancy of the Bulgari brand. Very authentic.
7. Pork Ribs—Naughty Nuri's, Ubud
Despite its humble look, this Ubud legend is so tasty and succulent. No wonder it's always full of people, day and night!
8. Iga Penyet – Warung Omahan, Jalan Uluwatu II, Jimbaran
Not only is it delicious, this iga penyet is also cheap! At only Rp.25,000, this Jimbaran's favourite iga penyet comes with rice, iceberg lettuce and cucumber, and not-too-hot sambal.
9. Sirloin steak—Eatwell, Jalan Raya Seminyak
Served with blue cheese, spinach crème sauce and gratin potatoes, this 200gr sirloin steak really made my tongue dance! The best thing is the price, at only Rp.75,000.
10. Bebek Betutu—Murni's Warung, Ubud
This authentic Balinese cuisine is beautifully served with yellow cone rice, Balinese urap, and pretty garnishes. I can taste the complexity of the Balinese seasoning bumbu genep in this, one of Murni's most popular dishes.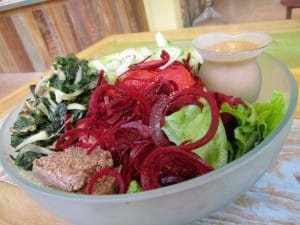 11. Salad Combination—Alchemy, Jalan Penestanan, Ubud
This salad is far from boring. They let you pick a combination of vegetables, toppings and different delicious dressings for only Rp.35,000!
12. Bakudapa Sop Buntut, Jalan Champlung Tanduk, Seminyak
Best to eat after clubbing, the beef is tender and the soup refreshing enough to cure a hangover.
13. Burrito—Sari Organik, Ubud
This burrito is made of organic ingredients, so fresh and delicious. And what makes it different to other burritos in Bali is the tranquil atmosphere of the surrounding rice fields.
14. Bibimbab—Hungry Go Go, Jalan Danau Poso, Sanur
Hungry Gogo serves an authentic version of this Korean nasi campur, mixing six vegetables, chicken and egg with a unique Korean sambal. Difficult to describe—you must try it yourself!
15. Babi Asap—Kamandhani, Renon, Denpasar
Smoked on coffee wood then grilled with BBQ sauce, this succulent babi asap is served with rice or potato wedges, and a small portion of salad.
16. Rendang Bakpao—Merah Putih Restaurant, Jalan Petitenget, Seminyak
Serving rendang in a soft bakpao bun is a very creative idea. I was so surprised with the authenticity of the rendang in this restaurant after learning that the chef is Australian.
17. Curry Mie—Warung Chili—Taman Griya
I am in love with this curry noodle and stop at this warung regularly for lunch. This noodle is served in a Japanese-style, thick curry sauce with carrot and minced chicken, and sprinkled with spring onion.
18. Gurami Pesmol—Pondok Tempoe Doeloe/IBC
I recently discovered this dish on my search of the best Indonesian foods in Bali. A perfect sweet and sour sauce of lemongrass, turmeric and tomato meet the crispy and tender gurami fish.
19. Nasi Ayam—Ibu Oki, Jalan Uluwatu II, Jimbaran
This super hot Balinese chicken rice comes with centrepiece rice, steam vegetables in coconut shreds (lawar), peanuts, ayam betutu and chicken cooked in many styles. Even the nonpedas version is still hot—don't try if you can't handle chilli!
20. Swedish Meatball—Alleycats, Poppies Lane II, Legian, Kuta
Known as a favourite spot for newlygrads, Alley Cat's popular Swedish mix of onion and minced beef balls comes in a very humble facade, served only with gravy and mashed potato, but in a generous portion, and very tasty.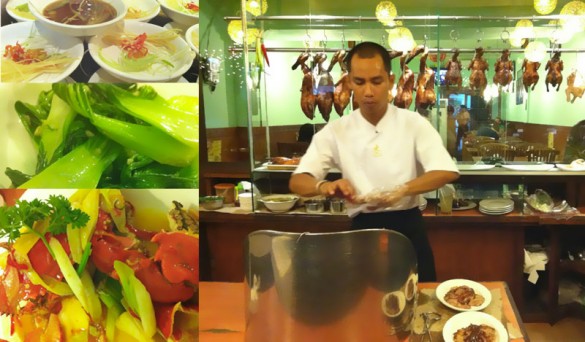 21. Roasted Duck—Laota, Jalan Raya Kuta, Kuta
Sliced to a mouthful, this super yummy and super soft duck meat is best to eat with their special rainbow porridge.
22. Hungary Goulash—BOW, Jalan Batu Belig, Kerobokan
At first I think it will taste like English beef stew, but it wasn't. The flavour is similar like rendang, deep and full of spices, but it's also crisp and fresh. Good for both lunch and dinner.
23. Okonomiyaki—Warung Omahan, Jalan Uluwatu II, Jimbaran
This is a Japanese-style pancake, filled with cabbage and minced beef, topped with fish meat and seaweed flakes, mayonnaise, and a special sauce. This is made in a perfect size for me.
24. Balinese Baby Pork—Sakala, Jalan Pratama, Tanjung Benoa
This chef's special is braised for 48 hours vacuum-style and then grilled and served with crispy skin, lentil, and bourguignon sauce.
25. Nasi Ayam Betutu—Warung Liku, Jalan Nakula, Kuta
Warung Liku allows diners to enjoy the outdoor breeze, and serves authentic nasi ayam betutu that is far less spicy compared to others, with a perfect combination of Balinese herbs and spices.
26. Thai Red Curry Seafood—Kat's Kitchen, Jalan Uluwatu II, Jimbaran
Kat's Kitchen offers fusion Thai foods, but this Red Curry tastes so authentic, refreshing and very creamy, with generous amounts of seafood. Their fish cake is the best I've ever tasted!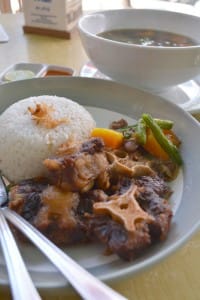 27. Sate and Gulai Kambing—bypass (near Taman Griya, Jimbaran)
Although it's a bit watery, this gulai kambing offers complex flavours of spices, and tastes much better when accompanied with their satay.
28. Sop Buntut—Dulang Café, Kuta Square
This heritage cuisine is cooked for a day, resulting in a thick and savoury soup. Pour the soup over the big oxtail and rice, and you've got a delicious homemade traditional food loved by most Indonesians.
29. Arugula Salad—Sundara at Four Seasons Resort at Jimbaran Bay
This salad reveals a beautiful mix of the peppery flavour of arugula mixed with pear, and a sweet and sour taste from preserved lemon, pecorino and crunchy almond.
30. Eggs Benedict—Anomali Coffee
Their salmon eggs Benedict is quite large, creamy and delicious. Match it with a cup of Mandailing coffee for a perfect brunch.