Festive Holiday Celebration and New Year's Eve Soiree
Discover the wonder and merriment of the festive season at Grand Hyatt Jakarta with a host of exciting experiences. From a Christmas feast, grand countdown, and festive gift ideas to amazing year-end event packages.
Celebrate the holiday season in style against a backdrop of dramatic experiences, splendid food and beverage offerings, along with thoughtfully curated festive treats for the best Christmas and New Year's Party in Jakarta.
GRAND CHRISTMAS
Santa's Visit
24th December from 6:00pm, 25th December from 1:00pm
Catch the jolly man in red, together with his merry elves, in our restaurants or visit him at the life-sized gingerbread house in the lobby.
Christmas Melodies
Soak in the lively atmosphere with all-time favourite Christmas songs playing in the Grand Lobby and in the restaurants at Grand Hyatt Jakarta.
Voice of Indonesia children's choir in the Grand Lobby
24th December from 6:45pm, 25th December from 1:00pm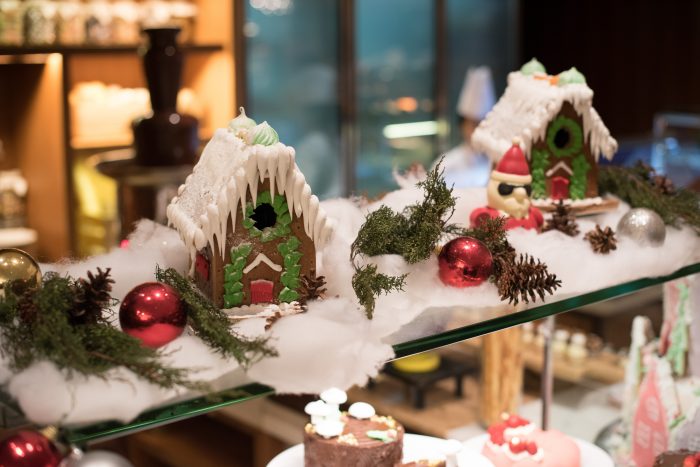 CHRISTMAS FEAST
Grand Café
Usher in the celebrations by feasting on our abundant spread of traditional Christmas favourites, with all the trimmings.
Christmas Eve Dinner
24th December from 6:00pm–11:00pm
Rp760,000++ per person
Rp380,000++ per child aged 6-12 years old
(Including juices and teas)
Christmas Day
25th December from Noon–3:00pm
Rp760,000++ per person
Rp380,000++ per child aged 6-12 years old
(Including juices and teas)
Fountain Lounge
Tuck into a leisurely Christmas ambience with a relaxed high tea buffet, featuring an array of seasonal treats that include an assortment of Christmas cookies, Gateau Saint Honore, passion Pavlova, eggnog ice cream, smoked cherry ice cream, a chocolate fountain, and much more.
Christmas Eve High Tea Buffet
24th December from 6:00pm – 10:00pm
Priced at Rp400,000++ per person
Christmas Take-away
Oven-roasted turkey with all the trimmings and more, available from 22nd November onwards.
GRAND COUNTDOWN
Bid adieu to the year gone by and ring in 2020 at Grand Hyatt Jakarta with the season's festivities and offerings filled with cheer. Dance the night away with an opening performance by Classi5, I Generation, followed by The Groove, as they round off the celebrations with their latest, energetic tunes.
Glorious Stay
Take advantage of our special room package that provides the comfort of space and convenience, with a breathtaking view from your room. Stay at Grand Hyatt Jakarta starting on 30-31st December.

Fountain Lounge
Enjoy a festive feast with exquisite views of Bundaran HI fireworks and sumptuous buffet favourites. The best seats in town are priced at Rp1,888,000++ per person or Rp1,999,000++ per person for premium tables.
Grand Café
Ring in 2020 at Grand Café with a splendid buffet spread, featuring international and local favourites.
Dinner buffet at Grand Café
Rp1,200,000++ per person
Rp598,000++ per child aged 6-12 years old
(Including free-flowing juices and iced tea)
C's Steak and Seafood Restaurant
Offering a multi-sensory dining experience, this award-winning restaurant offers cuisine from around the world, all prepared by a theatrical show kitchen. Feast on a lavish buffet spread featuring Asian delicacies, heavenly desserts, and more.
Dinner buffet at C's
Rp1,450,000++ per person
(Including a champagne toast)
Rp698,000++ per child younger than 12 years old
Sumire Japanese Restaurant
Enjoy an end-of-year celebration with a creative menu presented by Sumire's renowned chefs and join us for a night of music and dancing in the grand lobby for the countdown.
With a minimum spend of Rp500,000++ per person, or have a celebratory dinner in a private room for up to ten people for Rp3,000,000++.
Burgundy Bar
Take in the spectacular view of the city while enjoying the festive atmosphere. A table by the window at Burgundy is an excellent choice, with a minimum spend of Rp5,000,000++ and groove into 2020 in style.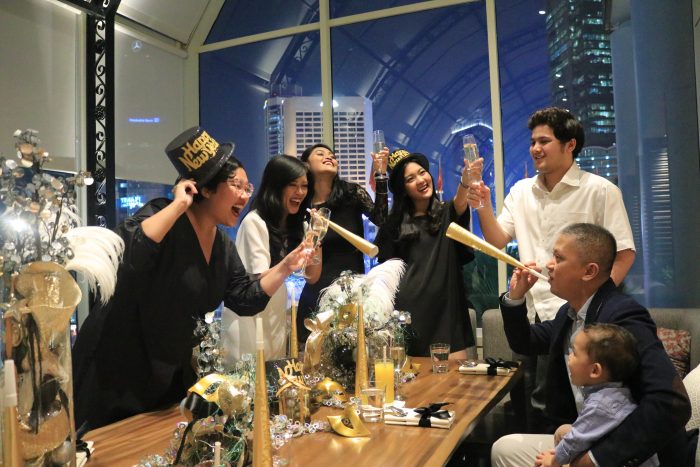 NEW YEAR'S DAY RECOVERY
Head to Grand Café and enjoy a rich selection of local dishes and international favourites. Satisfy your sweet tooth at the tempting dessert island while the kids are entertained with arts and crafts in the dedicated play area.
1st January 2020 from 11:00am–3:00pm
Rp600,000++ per person
Rp298,000++ per child aged 6-12 years old
(Including juices and tea)
FESTIVE GIFTS
Hampers
Personalise a gift set from a selection of goodies or choose from beautifully packaged baskets created by our culinary team.
Ultimate Hampers Rp4.000.000+
Elite Hampers Rp3.000.000+
Super Grand Deluxe Hampers Rp1.800.000+
Grand Hampers Rp1.550.000+
Supreme Hampers Rp1.350.000+
Ultra Hampers Rp850.000+
Premium Hampers Rp550.000+
Grand Hyatt Jakarta Gift Card
Give the gift of memorable moments
A great gift card to celebrate life's most wonderful moments, Grand Hyatt Jakarta gift cards are the perfect present for anyone and for every occasion. The gift cards offer unrivalled experiences, from fine dining to luxurious stays and much more.
For festive season reservations, please call the Festive Reservation Desk at +62 21 2992 1316/2992 1496, +62 815 913 1234 (WhatsApp or call), e-mail to: [email protected]. Follow us on Instagram or on our LINE account @grandhyattjakarta for latest updates.