N? H?o Chef Wai Loong! The down to earth Executive Chinese Chef at Hotel Indonesia Kempinski Jakarta.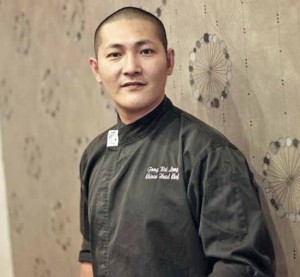 Chef Wai Loong isn't your typical Executive Chef. He's laid back, smiley, modest and simple. Before living in Jakarta, Foong Wai Loong worked in Batam (one of the largest islands in the Riau archipelago) for five years where besides cheffing, he learned the art of golfing, now one of his favourite past times (he has a 12 handicap). Prior to Batam, he worked in Malaysia, Singapore and Shanghai. Eventually ended up in Jakarta, Chef Loong initially worked for another international-chain 5-star hotel before joining Hotel Indonesia Kempinski Jakarta.  At this revived historical landmark 5-star hotel, Chef Loong is their first ever Executive Chinese Chef who has made his mark by creating a Chinese Fine Dining menu especially for banquet.
Why did you make the move to Hotel Indonesia Kempinski Jakarta?
"Quite several things: I wanted to improve my fine dining Chinese skills which was what Kempinski had to offer. Now I have great support here and a lot of staff working under me. Here, my focus is on banquet dining. Kempinski has beautiful ballrooms and I made a special Chinese Fine Dining menu especially designed for banquet events".
For those of us who don't know, what is Chinese fine dining cuisine?
"Normally Chinese food offers big portions and is fast to prepare. But for fine dining Chinese, I do slow cooking, steaming instead of frying and I also add a bit of art into it. Before tasting it, you always look at the food first right?"
Very true. So, do you have any specialties?
"My special dishes are Coffee Chicken or Mango Mayonnaise Prawn. Also Durian Prawn, which is an acquired taste as not everybody likes Durian because of the pungent smell and taste. My aim is to create fine dining food – banquet style. I even mix in foie gras and caviar, so it's really a fusion!"
What about your own personal favourite foods?
"I love Hong Kong style roast duck or pork and steamed fish. I also love French food. What I don't like is fast food. If you want something done fast, sorry, it's usually no good!"
You've been in Jakarta for over a year now. How does life treat you here?
"Life here is easy, but traffic is a big problem. Luckily, I just walk to work and I only go out at night, but I'm not going to tell you where!"
We won't judge you, Chef. After all, you are single…
To get in touch with Chef Foong Wai Loong, email him at
[email protected] Or [email protected]