Weekend brunch is picking up more steam. The convenience of people sleeping in and then gathering with friends and family over a variety of comfort foods for everyone to indulge in is a win-win scenario.
Bali probably has one of the trendiest brunch scenes in the country. Endless brunch offers in cafes, restaurants, and resorts can be overwhelming to a local resident, let alone a tourist who's only visiting for days. Rather than listing them, I'd like to turn the spotlight on a weekend Dim Sum Brunch. Some gastronomes suppose that dim sum inspired the whole notion of "brunch", the combination of breakfast and lunch as one massive midmorning meal.
Behind the honourable spotlight is Bai Yun Restaurant at The Apurva Kempinski Bali. What could possibly be exceptional about this Dim Sum Brunch? Bai Yun serves 31 varieties of dim sum, including vegan and gluten-free options that are served during the Dim Sum Brunch. Now that is a brunch affair.
The Apurva Kempinski Bali is the personification of the island's beachfront luxury, catering to business and leisure travellers. Let's start navigating from the majestic lobby. Make your way to the right part of the grand space, passing the reception table. Walk towards the open-air hallway where Nusa Dua's coastline is on your left and Bai Yun is on your right. There's no chance to miss it as a smiling attendee is in front of the heavy, dark door. "Good afternoon, welcome to Bai Yun Restaurant," she softly greeted me.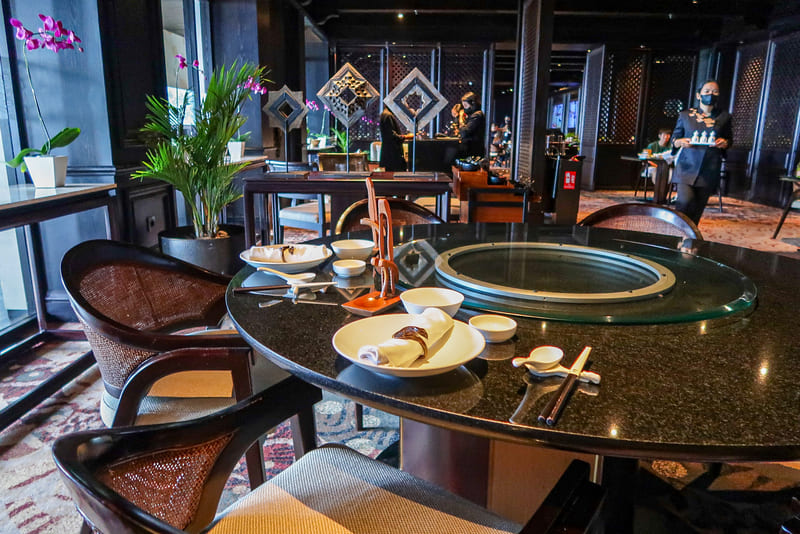 Bai Yun translates as "white cloud" in Chinese Mandarin. Hot pots generate heat, resulting in steam floating high which resembles white clouds. Unfortunately, the clouds were bleak outside this Sunday, but as soon as I entered, I saw luminescent "bai yuns".
I wasn't the only one hyped for this Dim Sum Brunch. Up to 130 seats can be filled here. Its look is well contrasted. The walls are black but are enlivened very subtly. Black carved wooden separators ping natural light that surrounds the restaurant. Then, there's the nude-coloured, patterned rug. Flowers in striking purple and red as well as glossy ornaments adorn several corners. Some tables are covered in satin black tablecloths, yet they still contrast with the pearly white plates and bowls atop.
Comfortably seated before a glossy black spinning round table, the waiter explained how this brunch works. There's only one menu and it's unlimited. Thank God I already instilled in my mind to be prepared for a feast!
My dietary restrictions were asked, to which I answered pork. Alternatives will be plated so no one misses out on anything. I spoiled my dim sum escapade with a classic pairing of hot Chinese tea. According to some scholars, dim sum is intrinsically related to the Chinese ritual of yum cha, or sipping tea. Teahouses sprung up to serve weary travellers across the renowned Silk Road. Yet, the culinary art of dim sum took a few more decades to establish.
Cabbage vermicelli sesame dressing, bitter melon black bean sauce, pickled cucumber Szechuan style, and braised cashew nuts composed the entree. While waiting for the chef's signature selections of steamed and deep-fried dim sums, you can customise your sauce the way you like it – spicy or mellow.
Everybody at the table gets a piece of the chef's specialities, which come in gradually. First were the Chinese congee and the ginger herbal chicken soup. Chef Ho Weng Kit, the award-winning chef behind the restaurant's delectable cuisine, shared, "Side dishes such as congee, crab meat soup, and vegetables will complete the Cantonese experience. It is truly important for us to constantly elevate the dining experience offered at our restaurants."
Soon after, the stars of my day were meticulously placed. Under steamed ones were the prawn har gow, chicken feet, chicken roll with oyster sauce, beef meatballs, lor mai gai, and beef substitutes for pork bites. The second round of chef specialities rolled in, such as roasted duck and kailan in garlic sauce.
Take your time, there's no need to rush! Brunch is after all the act of assembling for a mouthwatering meal together, and this signifies importance in many cultures. This is especially true with a dim sum brunch; the act of sharing favoured dishes that were meant for sharing.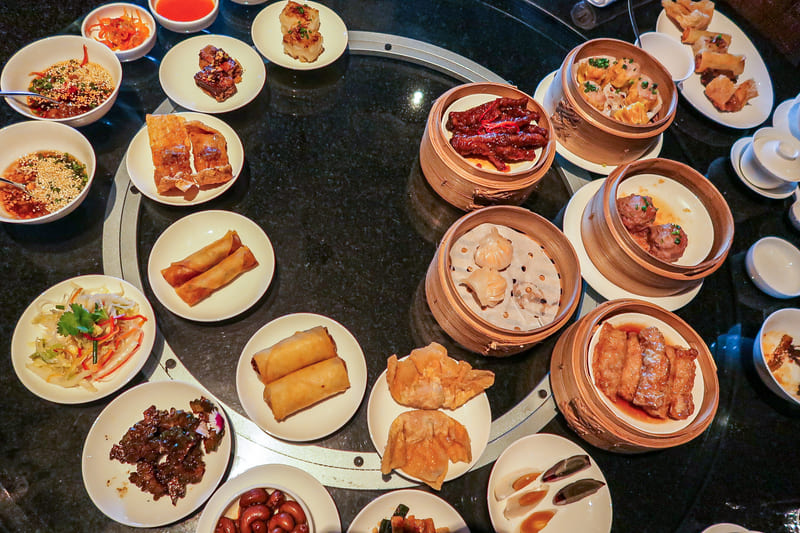 The deep-fried ones made their way to cover the table entirely. There were chicken dumplings, garoupa spring rolls, XO chicken tofu skin, vegetable spring rolls, fried tofu Szechuan style, and lo bak go. Order a second round – and if you dare a third one and so forth.
Just when I thought dessert was approaching, the waitress informed me, "We will be serving seafood fried noodles, soft shell crab with salted egg, and black pepper wagyu beef momentarily." More? I thought. I could barely go on at this point!
Compliment your plate with mushroom shumai, fish cake Thai style, chicken mushroom shumai, and spicy tofu skin crab stick. You can opt for sweets such as custard buns, mantau, and chocolate buns. But I was ready for dessert. There's the silky almond pudding, the authentic Chinese chrysanthemum jelly, guiling gao, and ice cream. The waitress recommended the jelly to close off my authentic Chinese escapade.
Everything I'd consumed had authentic Cantonese flavours. If you're unsure of what that is, Bai Yun is set to be your blueprint. Steam floated up from every plate which immensely depicts white clouds, thus it's not merely the hotpots. The soft dim sum melted each flavour easily in my mouth, while nothing was too oily from the deep-fried selections.
Bai Yun Hotpot is the perfect place for casual dining and social gatherings. This restaurant serves an authentic Chinese hotpot, dim sum, an array of refreshing creative mocktails and cocktails crafted using Bai Ju – the finest Chinese liquor – as well as other specialities that are suitable to celebrate all occasions with family, friends, and colleagues.
Anyone who yearns for an authentic Chinese dining experience is embraced. The Dim Sum brunch is available every weekend from noon to 3:30pm, starting from Rp468,000++ per person. Stop by again to relish in their signature hotpot soup bases of herbal chicken, pork ribs, and vegetarian dishes complemented with high-quality meat and seafood selections ranging from Rp588,000-999,000++. Bai Yun celebrates Southeast Asia's culinary identity in light of the Powerful Indonesia campaign this year, which highlights the taste of Peranakan cuisine every three months. Furthermore, the younglings get specialised dishes with prices starting from Rp188,000++.
Having experienced Bai Yun's culinary flair and style, it was indeed tantalising for my tastebuds. Glory in the rest of the day at the resort's family pool, fun water slides, and beach facilities. I was one of the many flocking to the beach once the sky turned clear and blue. I'll absolutely make my return soon for the other form of bai yun, the hotpots.
Bai Yun Restaurant, The Apurva Kempinski Bali
Address: Jl. Raya Nusa Dua Selatan, Sawangan, Nusa Dua, Bali.
Tel: Culinary Concierge by WhatsApp +62 081138807788
Email: [email protected]
Instagram: @baiyunbali