Though Bali has literally hundreds of different venues to hold a wedding, this embarrassment of choices need not be overwhelming. Couples have different preferences, so it stands to reason that some regions in Bali may be better suited to their priorities. The main regions where the majority of destination weddings are held will be explained below.
The selection of venues in each region is plentiful and the types of wedding venues are quite different from each other. There are naturally pros and cons to each, so the information provided will enable you to make well-informed decisions. At first it might seem counterintuitive, but actually your wedding plans should not start by selecting a region. The first decision you need to make is whether to hold your wedding in a resort, private villa, wedding chapel or on the beach.
Once you decide what type of venue is best for you, narrow it down to a potential region. If you decide that you want to get married in a wedding chapel, search for a specific chapel in each region where chapels are located. If you want to get married in a private villa, explore the villas available in each region. If you want a cliff-top villa, for example, then the Bukit region is your only choice.
Many brides and couples make proximity of their guest's accommodation a high priority. While this is to be expected, it's actually not as important as one may think. Travelling between the various regions in Bali is affordable and easy. Transport service providers abound and renting a car can cost as little as USD20 a day. Transporting your guests to and from your wedding venue will also not be a problem. Even if you choose to have your wedding in a remote area, your wedding planner can handily arrange cars, minibuses or busses. Don't let your hotel take care of this, as they will charge you much more than the going rates.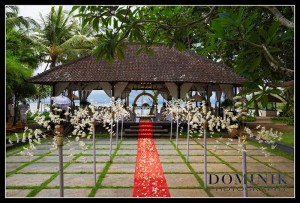 Bali's Most Popular Wedding Venues
The guidelines below should not be solely relied upon to make your decision. Additional research on the Internet and detailed discussions with your wedding planner about your various options are recommended. When evaluating which region is best for your Bali wedding, there is no 'one-size-fits-all'. The area of Bali that is ideal depends on your individual requirements.
Kuta/Legian: Only 3km west of the airport, this stretch of beach on Bali's southern coast is a well-known stop on the international tourist circuit, offering surfing and sunbathing, unparalleled shopping and non-stop nightlife. However, few hotels are suitable for weddings, and there are no villa wedding options or dedicated wedding chapels. Open-air beach ceremonies are not advisable and few beach photo opportunities present themselves. But if you accept these coastal areas for what they are – honky-tonk, noisy, traffic-clogged, hyper-touristy and crowded – Kuta and adjoining Legian can be fun for couples and guests who prefer to stay in an all-inclusive beach resort.
Seminyak/Canggu: A bit north of Legian, this 'hip capital' of Bali is a stylish business and villa district, a magnet for spas, health clubs, smart luxury brand shopping, gourmet delis and classy international restaurants where couples may choose a more casual venue than the traditional mould of the big splashy wedding. Wedding guests are often seen gathering for cocktails at sunset. The superb stretch of beach is relatively uncrowded. In Canggu, further up the coast and quieter than Seminyak, occasional rice fields can still be glimpsed in between stunning villa properties catering to upmarket wedding clients. With sweeping seaside panoramas, there are wonderful opportunities for photo sessions while the evenings offer enchanting strolls along clean grey sand under stars.
Nusa Dua/Tanjung Benoa: These adjoining tourist enclaves have Bali's highest density of 5-star resorts. Conveniently close to the airport, Nusa Dua's serene and gloriously landscaped environment and facilities are perfect for those couples who want all the comforts, accompanied by friendly and attentive service. Virtually every hotel offers wedding packages and caters for wedding guests. Because this full-scale tourist area is self-contained with its own shopping malls, there's limited choice of shopping, photo opportunities and few restaurants outside the resorts. With its convenient location and all-encompassing amenities, Nusa Dua is often the preference for those who want fancier, grandiose and more formal weddings and when the focus is also on high-end guest experience.
Sanur: Bali's first tourist area, Sanur is very popular for weddings. Although there are no wedding chapels, the coastal strip's beautiful hotels and resorts offer nuptial packages. Villa locations give ample opportunities for photography in luxurious poolside gardens, well-tended lawns and traditional thatched-roofed pavilions. It's easy to arrange intimate dinners, after-wedding breakfasts or large personalized parties for family and friends. North of Sanur are several quiet and secluded beach villas that cater to wedding receptions, outdoor seafood barbecues for exchange of vows ceremonies. Wading, snorkelling, surfing, fishing and sailing are just a few of the marine sports available for guests. Sanur faces east, so no opportunities exist for sunset photos. The airport is a 40-minute drive to the south, minimizing travel for guests.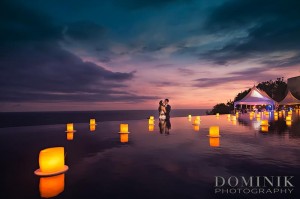 Bukit/Jimbaran: On the southernmost tip of Bali, Jimbaran Beach and the Bukit Peninsula create an atmosphere both of romantic sophistication and wild natural beauty. The Bukit has a high concentration of impressive villas and several magnificent cliff-side chapel venues with stunning backdrops and dramatic sunsets, though the beach is difficult to access with few photo opportunities. Nearby, Jimbaran's watersports include sailing, surfing and windsurfing. Just 20 minutes from the airport and conveniently close to both Kuta and Nusa Dua, Jimbaran is ideal for guests wanting to share in the joy of a loved one's wedding while basking in all the comforts of an international resort property.
Ubud: Though only an hour's drive away from Bali's coast, the dynamic inland cultural centre of Ubud in the island's heartland is for those who prefer a greener, cooler and more natural environment. No longer the quiet artists' village as described in tourist literature, the downtown area is crowded with hordes of visitors, congested traffic and has poor road infrastructure. A variety of custom-designed venues are available in the surrounding villages in hotels and villas, ranging from an open-air riverside plaza with jungle vistas to a large-scale reception in the catering hall of an all-inclusive luxury hotel offering wedding packages. Ubud is a gastronomic centre with variety of restaurants serving the best of Asian and Western cuisines catering to all tastes and budgets.
For comprehensive, wide-ranging information on every aspect of planning a wedding on Bali, check out: http://baliweddingblog.com