A bustling corner cafe with plenty of style, TOGO is a very welcome addition to the World Trade Centre office area! At last, we have a café serving great coffee and all sorts of yummy sandwiches, salads and burgers.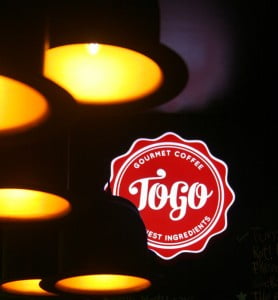 Those familiar with the World Trade Centre/Wisma Metropolitan office park will know there's a plethora of Asian restaurants here, some of which are pretty good, but we were seriously lacking a café with a decent range of food. It's no wonder TOGO already has a well-established, regular clientele after just a few months of opening its doors.
What started as a small sandwich bar concept has turned into a full service café, offering everything from a range of breakfasts, light lunches, and hearty meals. The menu is chocka full of choice and is constantly evolving. The TOGO team likes to keep it interesting (good news for the regulars) and will add specials on a whim depending on the best and freshest ingredients available. For example, at the time of writing the additional specials included Roasted Half Chicken.
TOGO has a casual and welcomingly retro vibe. Black and white tiled floors, blackboard menus and bright art on the walls. It bustles with the hum of friends enjoying lunch together and colleagues catching up for a quick coffee.
I have tried quite a few of the lunch options so I'll give you a rundown on my picks.
The Greek Tomato Salad is delicious. Made with some of the freshest tomatoes I've tasted in a while, black olives, marinated feta cheese crumbled through and dressed in balsamic. It's healthy and very reasonably priced at just Rp.23k. I would also suggest it as a nice sharing or side dish with a slice of quiche. My favourite is the Vietnamese Chicken Sandwich. A soft, fresh baguette filled with tender seared chicken, pickles, carrot, chilli and loads of coriander. Lunch time perfection!
As well as sandwiches and paninis there's a great range of wraps to choose from. I've had the Rendang Wrap, slow cooked shredded beef rendang, gravy and yellow rice wrapped up in naan. Comfort food on a rainy day.
Now for the not so healthy, but oh so good… TOGO's Beef Burger tastes even better than a homemade one, so no surprises that this is one of the most popular meals on the menu (and it's a steal at just Rp.38k). A juicy beef patty grilled with cheese, lettuce, tomatoes and caramelised onions, in a warm sesame seed bun. For those with extra large appetites, there's also the Monster Munch Burger, weighing in at half a kilo!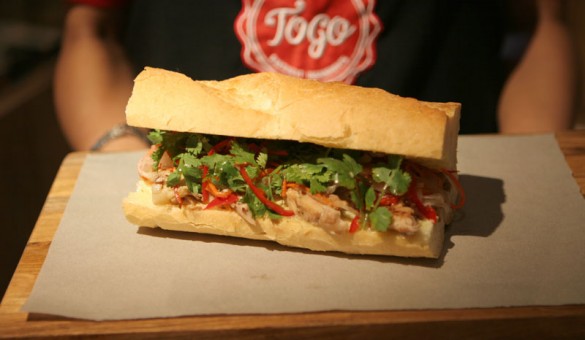 The iconic French toasty is also available in both its forms. I recently had the Croque Madame, basically a Croque Monsieur topped with an egg sunny side up. Soft toasted country style bread grilled and filled with salty smoked beef and melted cheese. It's delicious and not surprisingly a firm favourite with the French customers.
The burgers, wraps and sandwiches are all served on wooden boards with a small dish of potato salad – a welcome change from the usual side of fries (although you can also order fries, even of the curly variety). The wraps and sammys are mostly priced at around Rp.30-40k, and you'll pay Rp.62k for a steak sandwich. All prices are nett.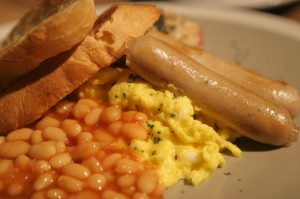 There's also five pasta dishes to choose from. I've had the Chicken Ratatouille Pasta – a generous dish of fine angel hair pasta, eggplant ratatouille and topped with crispy fried chicken. I personally thought this sounded a bit unusual at first, but it is very good. Nice soft veggies, the right amount of chilli heat and perfectly cooked chicken, not oily and not dry.
The all day breakfast menu includes the usual faves, as well as two big breakfast style meals – The Englishman and the Boss Breakfast. The Full Monte Cristo, a fried eggy brioche sandwich "will make your daddy dance" according to the quirky menu descriptions! I haven't eaten breakfast here yet, but if the lunch is anything to go by, it's got to be good. I might try it out tomorrow…
If the menu wasn't comprehensive enough, there's even a crepe stand to one side of the café. I've had a crepe filled with banana and chocolate, a decadent 3pm treat to boost the sugar levels. I also need to try the churros with chocolate. Dangerously good stuff!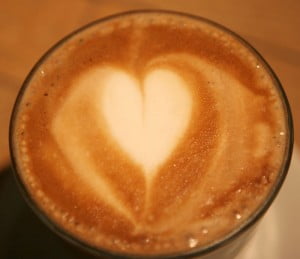 TOGO can get very busy around midday, but the service is super friendly, quick and effective so it won't take long to get a table, or you can just order "to-go". Drop by the counter to pick up a fresh sandwich or a piece of cake and a coffee.
TOGO will also deliver to offices in the area – a fabulous service for busy/ lazy office workers! Just phone through your order and voila, the best lunch in the area is served at your desk. Delivery is free within the World Trade Centre/Metropolitan offices, and if you're in a neighbouring building you can still make a delivery order for a small charge of Rp.10k.
Drinks wise, they have everything from fruity lassi's to Albens cider. The iced tea is served in a jar – shaken with real fruit and then strained, served ice cold. The coffee is also excellent. TOGO's coffee beans are sourced from a local Javanese grower, a roasted blend unique to TOGO. I hear that café management settled on the right blend after tasting literally hundreds of cups of coffee!
TOGO is a godsend to us office workers in the area and is definitely worth a visit if you're looking for an enticing range of food at a trendy little cafe in the city.