On the heels of a month-long eating expedition through Northern Spain, wine tastings through Southern France and a cured meats expedition through Central Italy; this Critic is in a state of pure satiated bliss. I was inclined to hang up my hat altogether and retire to the seaside towns in Basque country, gorging myself on pintxos (tapas) and txacoli (an effervescent white wine found mainly in the region) until that inevitable day.
However, duty calls. Ever vigilant of my contemporaries in the business of restaurant critiques during my time in Europe, I read with interest Jay Rayner's take down of Le Cinq –  one of the few remaining grand dames of Parisian fine dining. To be completely honest, I was more interested in the reaction and subsequent fallout from that review. Although Rayner's review addresses valid concerns over his restaurant experience, I do believe the delivery was incredibly harsh and unhelpful.
I would argue that most critics should not set out to mock, advertise or even to entertain. That we do, at times, is collateral. We seek to inform the public, and subsequently, the businesses upon which our gaze is placed. That is our primary goal, and one that I abide by all genuine effort.
So imagine my dilemma as I sit in a mostly empty dining room at La Posta one mid-week evening. The ambience can be described as jovial: not stuffy for a steakhouse, but not too casual for those looking to stride in with nary a shirt or shoe. There is a nice view of the parrilla in the kitchen, which is the type of grill Argentinians like to use to cook their meats.
Wood burning is key – anyone who has watched the episode of Chef's Table on the famed Argentinian chef Francis Mallmann can attest – they certainly love to showcase this at La Posta. However, an empty dining room is usually a sign that something is off.
However, I found the local staff who serviced the front of house were well-versed in the cuisine and they provided some excellent recommendations. The timing to our meals were good, and servers were never intrusive or too far away to assist. This kind of service is a hard find in Jakarta as most people are well aware. Their attitude lent to the atmosphere and overall good experience. So it's not the service.
The restaurant location is something of a challenge, and one that unfortunately, will be a constant issue for this business should it choose to remain there. It is neither here nor there, sandwiched between a large apartment complex, street food vendors and a large mall dedicated to fast and cheap midday meals. Perhaps this might be the cause of the empty dining room?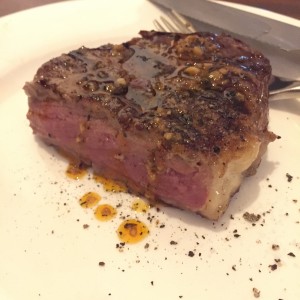 The night we first dined at La Posta, we had to send our top loin steak back as I had asked for medium rare and it came to us blue. Now, there is nothing wrong with a blue steak; this type of cut can be quite chewy if left rare. I enjoyed trying the Matambre Arrollado, a type of beef roll using a very cheap and tough cut of meat. It was interesting and certainly anyone excited about trying authentic Argentinian food should give it a go. It reminded me of how the Europeans made roulade, but served cold. Certainly, Argentine cuisine is heavily influenced by European cuisine.
I shared an excellent spicy pork sausage with my companions. It was one of the highlights of the meal, albeit quite dear for the price per sausage and a small portion of French fries.
It was everything a grilled sausage should be: juicy, tender and well-spiced with a nice snap to the skin. My only complaint was that there wasn't more of it. The humita, a basic corn and cheese tamale, was interesting if not a little too sweet for my liking.
On a separate occasion, we were given a complimentary pickled veal tongue to taste. It was tender and divine, served with sweet onions and parsley marinating in a light vinaigrette that countered the headiness of the tongue perfectly. It is an acquired taste as with all offal, but for those brave enough to take a chance it is well worth it.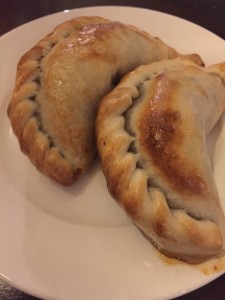 I found over the course of two visits inconsistencies from the kitchen. On our first visit, we had to send our steak back for more time on the grill and on the second one everything was done to our taste and had a mark of an old hand. Order the cheese empanada over the minced beef one, and try the vacio (flank steak) over the beef ribs. A tomato and onion salad was heaven; it takes finesse to make a simple onion and ripe tomato combination taste so good. The chicken milanesa with ham was nothing to write home about.
In any case, the menu is a good representation of Argentine cuisine. I quite enjoyed the chimichurri sauce presented with the flatbread. It served as a great sauce for much of the menu. Perhaps after a little time has passed; and once La Posta irons out the inconsistencies in the kitchen and plumps up their wine and drinks list, I think it could be quite a pleasant experience.
Three stars
La Posta
Jalan Karet Pasar Baru Timur 5, No. 25
(Daily Foodhall Pavilion 2nd floor)
Jakarta Pusat 10250
Telephone: 0812 8587 2935
Email: [email protected]
Website: www.laposta.id
Dinner for 2
Meal: Rp. 800,000
Drinks: Rp. 365,000
Service Charge (8%): Rp. 93,200
Taxes (10%): Rp. 125,820
Total: Rp. 1,384,000