Under ground in Jakarta's Mega Kuningan lies a modern take on the 1920s speak-easy bar, where dangerous cocktails and a vintage charm await.
Between 1920-1933, America encountered the prohibition era, a time when the manufacture, sale and transportation of alcohol was illegal. During this period, bootleg bars existed, often run by organized criminals, where the sale of alcohol took place – and these were known as 'speak-easies'. The term was born through the practise of speaking softly in such establishments, so as not to alert the authorities of the illegal activities taking place within. The allure of outlawed liquor inspired waves of colourful concoctions in the form of cocktails that offered glamour and, above all, good taste.
Speak-easy themed establishments that glorify the prohibition days are elusive in Indonesia, but in Jakarta's business hub of Mega Kuningan, such a place does exist, and it goes by the name of Bau Haus 1933.
Bau Haus 1933's location is pretty covert; its nondescript wrought iron entrance is the only thing that gives it away. The stairs lead you down into an underground lair only about 140 metres squared in size, where a vintage and European-feeling speak-easy bar awaits, to while away your evening hours.
The prohibition-styled bar is owned and operated by Syah Establishments, a group who owns various other food and beverage and entertainment outlets including SCBD's Lucy in the Sky and Fukuro. Above Bau Haus 1933, and also in the East Building in Mega Kuningan, is Ling Ling, a casual contemporary Chinese restaurant, too with a vintage twist.
Opened in 2014, Bau Haus is German for 'construction house'. One of the owners is a Germanophile and, fond of the clubbing culture of Berlin, decorated this gem of a bar with antique and vintage trinkets from Germany. Original church pews create a more private dining-cum-meeting corner; wrought iron stools lined up at the bar create a perfect spot for people-watching; worn brown leather sofas dot the floor for the laid-back types; and all is lit by gold art-deco styled chandeliers from Berlin. Home-grown is the teak wood bar from Jepara, decorated with European-style engravings. The entire place is dimly lit, and if we were ever to encounter a local prohibition era, Bau Haus 1933 would certainly be the least conspicuous place to drink in Jakarta.
Although the speak-easy bar may feel quite masculine, behind the bar lives a feminine touch.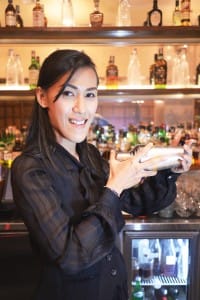 Trisna Albona, also known as Miss Bona, is the resident mixologist, and is responsible for the establishment's cocktail creations. Having worked as a bartender since 2006, Miss Bona's flair is certainly apparent in her passion and dedication towards her craft.
Haus No. 1 is the most sought-after cocktail at Bau Haus 1933. A concoction of ume choya, chocolate bitters and cherry brandy, this simple yet unique drink certainly caught our attention. The colour represents Bau Haus 1933 itself – brown, woody, earthy, manly – however, the sweetness adds a feminine touch, as Miss Bona does behind the bar. Served with a large square ice cube and an orange rind sitting on top, this understated drink is a must-try, especially if you have a sweet tooth.
Another delectable creation of Miss Bona's is the Moscow Mule. This vodka-based cocktail is a mix of homemade ginger beer, a lime twist, and toasted rosemary leaves. Served in an iced metal mug, this drink is certainly worth coming back for, and is guaranteed to keep you warm during this dreary rainy season we're in the midst of.
A stronger drink is the Gibson, a classic gin cocktail similar to a dry martini, but garnished with pickled onions instead. A blend of dry vermouth and gin served in a martini glass, any work worries you may have are sure to disappear when sipping on this bad boy.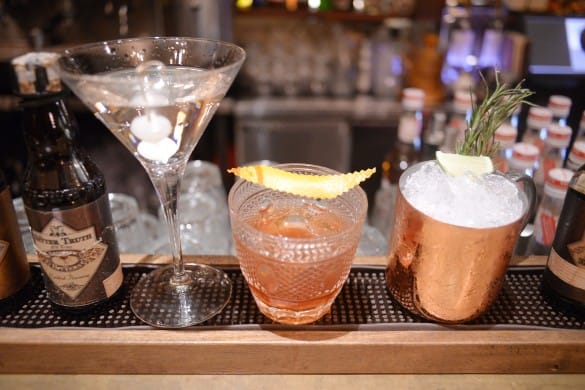 If you're not into cocktails, Bau Haus 1933 serves a vast array of spirits, and Heineken on tap – not to mention Corona, Stella Artois and Erdinger in bottles. If you consider yourself a Scotch whiskey aficionado, their list boasts an array of single malts from Scotland's high and lowlands. Japanese single malts, Yamazaki, Hakushu and Hakashi are also on the menu.
Above ground, at Ling Ling, the drinks list was also created by Miss Mona. The most creative of the cocktails are Cha Cha Moon and Le Ping Pong Club. Cha Cha Moon takes the biscuit. This vodka-based cocktail takes on a form of its own, made of green tea liquor, lemon juice and matcha green tea syrup, topped with gingerbread foam.
Food back down below at Bau Haus 1933 is mainly aimed at snacking, however they do serve some Asian mains: duck confit bee-hoon, nasi Bau Haus (nasi campur), laksa, and bulgogi fried rice. Western mains include macaroni and cheese, tacos, fillet mignon, and salmon – all of which are small portions. Bar snacks include grilled cheese on toast, chips and dips, calamari and crab cakes.
If Mondays get you down, swing by Bau Haus 1933 for 'F My Monday' every week. Live soul and R n' B music performed by Teddy Adhitya and a few cocktails are sure to give you a different outlook on life. Weekends see a younger crowd at Bau Haus 1933. On Friday nights, patrons can enjoy the sounds of deep house music, while on Saturdays, female DJ CNM spins hip hop and r n' b.
If you work in the Kuningan area, come by after hours and de-stress while soaking up the speak-easy vibe. If you happen to live in Kuningan or Menteng, you're entitled to a neighbour discount, which is also applicable at Ling Ling's for lunch. Exchange your name card for a further 10 percent discount, Monday to Fridays from 5-10pm.
East Building
Jl. Jl. Dr. Ide Anak Agung Gde Agung
Mega Kuningan
Jakarta
Opening times: 4pm 'til late Monday to Saturday (Sundays closed).
Tel: +62 (021) 2952 7173
East Building Ground Floor
Jl. Jl. Dr. Ide Anak Agung Gde Agung
Mega Kuningan
Jakarta
Opening times: 11am – 1am (weekdays), 11am – 2am (weekends)
Tel: +62 (021) 2554 2707