Not your average Italian restaurant, Sri Lankan owned and inspired, Balboni's point of difference is its unique and predominant South Asian fusion, serving upintriguing dishes such as Green Curry Chicken Tagliatelle, Asian Mushroom Risotto with Tempura and Mango Tiramisu.
Balboni opened its doors in May and this casual, modern restaurant is already a favourite with the local crowd. An open kitchen shows off an abundance of fresh produce and the hustle and bustle makes for a lively atmosphere in the dining area. The restaurant has dark hardwood floors, low lighting, and shelves full of market-kitchen product, wine and oils. The large marble bar at the front of the restaurant seemed to be a popular spot for after work drinks. It's a buzzing and inviting space.
We decided to start with a cocktail, and I ordered the "LTB" which stands for Lemon Tequila Beer. Hold on, what? Unusual but also their most popular cocktail, this lemony concoction with a creamy head and a tequila kick was the perfect way to start the weekend! My date had an excellent mojito fully loaded with mint and sugar cane. As far as other drinks go, there's a varied wine list encompassing the usual international regions, and a good range of juices and smoothies for healthier or younger guests.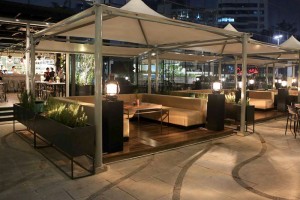 We chose to sit outside in the courtyard area which has comfortable u-shaped couch settings, a relaxed place for groups of friends or family to settle in and share a meal together. There's an interesting water feature which lights up the back of the courtyard, with palm trees as well as rows of rosemary planters, it's symbolic of the Balboni fusion concept.
The service was friendly and we simply followed their recommendations for food, all of which were also highlighted as recommended by a key in the menu. We also met the Sri Lankan chef who came out to our table and spoke passionately to us about his cooking style and methodology.
We started with the 12 Month Cured Prosciutto Parma Ham (Rp 60k) served with thin focaccia croutons and olive oil. Well presented on a wooden board, the ham was lovely, perfectly complimented by the crunchy croutons and well dressed greens. Very yummy.
We also had the Panzanella Salad (Rp 35k) as an appetiser which was an exceptionally fresh salad of tomato, cucumber, black olives, onion and soft bread dressed in Balboni's own balsamic vinegar and olive oil. A very nice dish, but I would suggest it as more suitable as a side with pizza, rather than a starter.
For the main event we were served their most popular pizza, the Devilled Chicken, which we thoroughly enjoyed. Homemade pizza dough, spicy chicken marinated in Sri Lankan spices and twice cooked, topped with onions and peppers. We both agreed we would order this pizza again. Nicely priced, too, at Rp 70k.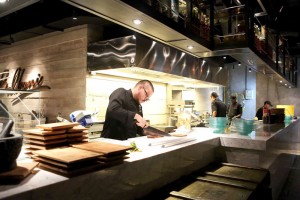 We also had the Grilled Jumbo Prawns (Rp. 130k) which were well cooked with interesting flavours coming through in the teriyaki rosemary sauce. The meals from the grill all come served with a small side dish of roasted baby potatoes. Whilst the prawns were reasonably sized, the serving of three was not really enough for the hubby as a main course.
To finish, we shared the Balboni signature dessert, Durian Panna Cotta (Rp 45k). I did warn the staff that we didn't like durian and perhaps they thought they could convert us… Didn't happen! An acquired taste to say the least, we found the durian too overpowering. I can say though that I appreciated the texture of the panna cotta and the cinnamon crumble. But next time I would definitely stick to the tiramisu!
Overall, it was an enjoyable evening. Balboni is a relaxed, informal dining experience for those looking to try cuisine that's a bit different, or for casual cocktails and pizzas with a group of friends. The menu also has a sharing option for a three-person serve of the salads and pastas, which I thought was a great concept.
Balboni management are planning to host monthly events, but it won't be a late night destination out of respect to the apartment dwellers living above, who form a large part of the clientele.
Balboni
Jalan Casablanca 88, Jakarta 12870.
Balboni is located at Kota Kasablanca in the Tower A Lobby, not in the mall.
Bookings are recommended especially if you want to reserve the couches outside.
You can book online at their website www.balboniresto.com or phone 02129568712.