Where in Jakarta can you find the best value for a good selection of Western and Asian food in a fun, family-focused atmosphere? The Sperta Restaurant located at the Grand Kemang Jakarta, that's where.
Having made the rounds at most of the Sunday brunches offered in Jakarta, there are very few places I am comfortable taking my young child for a few hours on Sunday, knowing that I would have to spend most of the time watching over the kid like a hawk. Although there are some hotels that allocate small play areas or offer activities for families, not many hotels and brunches are proudly family-centric and they still abide by the policy that kids should be seen and not heard at the restaurant.
This is not so at the Grand Kemang. Families with children are celebrated on Sundays with ample goods for both big people and little ones. Adults enjoy a delicious spread of Western and Asian cuisines, with various special treats that are rarely offered elsewhere.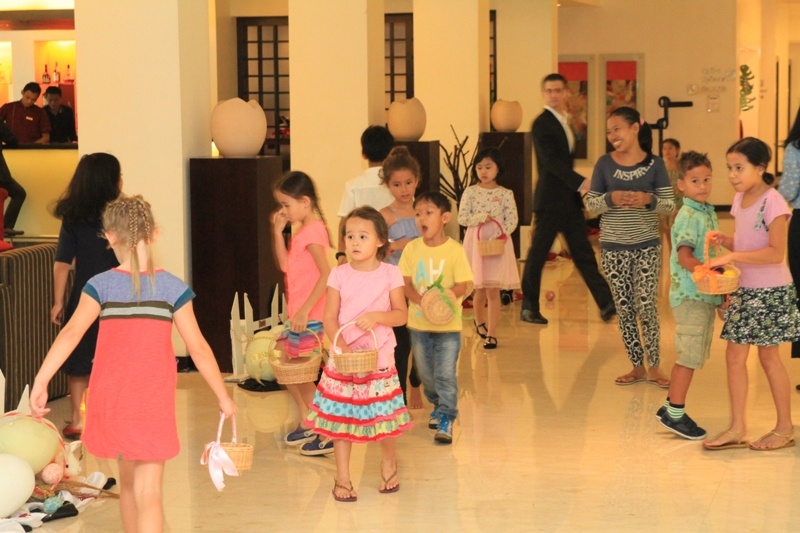 The Raclette station was one of my favourites with unctuous Raclette cheese warmed and poured oozing atop your pick of some small boiled potatoes, slices of salty ham or even some hearty slices of European bread. Extra pickles, onions and capers are a must to break the richness of this classic Swiss treat. I kept going back for more as I hardly have the opportunity to enjoy Raclette here in Jakarta.
There are also two pasta stations. One features different types of Italian pasta with sauces. There are various vegetarian and meat options that you can ask the cook to toss in along with your pasta. Then, there is the Asian noodle soup with noodles and vermicelli. Pick your Asian accompaniment and have it warm with a spicy tom yum soup or savoury chicken broth.
The Indonesian section offers a good selection of classic hits, and the carving station had an excellent rendition of a roast chicken with herbs and boneless prime rib served medium rare. I ladled some mushroom gravy atop of my chicken and mashed sweet potatoes, and it was divine. Seafood offerings were also abundant from the sushi corner to the steamed mussels, crab and prawns. There wasn't much we couldn't find to satisfy every desire or appetite.
One of the standouts was a vegetarian terrine with a brilliant display.
The sliced terrine looked like postmodern art on a plate. Chinese dim sum was also available in little steamers as well as BBQ pork spareribs, which had a finger-licking delicious sweet soy base to the sauce. Children enjoyed a section for themselves with tater tots, chicken nuggets, pizza and other age-appropriate finger food.
Finally, to finish off your brunch there is the plentiful display of desserts and fine European cheese. From churros to mud pies to opera cakes, there is no dessert left behind here. Waffles and crepes are made to order with loads of toppings. Ice cream is a popular dessert in my household so we were able to satisfy our child's craving with a generous strawberry flavoured scoop.
Sperta restaurant is located next to the hotel pool. During Sunday brunch, clients have access to the swimming facilities as well as the lounge for family activities. Most children's activities take place at the Giggles Klub and on the day we went, ballerinas danced in full regalia and a complimentary dance class was offered to little ones after the show. Most tables by the window of the restaurant have full line of sight to the pool as big kids can work off the brunch with a swim and the adults can relax with their free flow beverages indoors all the while keeping a steady gaze at the goings on of their children. There is also a baby and toddler playroom fitted with toys and equipment to keep the very little ones active and happy.
All in all, it was a very enjoyable Sunday Brunch for my family and me. I got to gorge myself on Raclette and my child was mesmerized by the ballerinas jumping and spinning in their tutus. Each week, a different activity is presented for children. On Easter Sunday this year, bring the entire family along for a special brunch accompanied by a traditional egg hunt and celebratory activities at a special Easter rate.
Sperta Sunday Brunch
Grand Kemang Hotel
Jalan Kemang Raya 2H, Kebayoran Baru, Jakarta 12730
Telephone: 021 719 4121 ext. 8012
Email: [email protected]
Rp.275.000 ++/person* with free flow juice, ice lemon tea, coffee or tea
Additional Rp.250,000 ++/person for free flow of red wine, white wine, sparkling wine & beer
Children below 110 cm height dine for free
Children 110 – 140 cm pay 50% off the above price
Children 141 cm and above pay the adult price
* Terms & Conditions Apply
* Prices are subject to 21% Government Tax & Service charge