London Blues, released on the IndoJazzia Musik label in May, is an extraordinary collection of solo pieces by Bali's own Erik Sondhy, recorded in one take at the famous Abbey Road Studios in London.
When I received a note a few weeks back asking if I would be interested in reviewing Erik Sondhy's first solo album, my interest was piqued. At a time when Indonesia's premier jazz pianists are finding their place on the international stage (think veteran player Dwiki Dharmawan, and child protegé Joey Alexander), how could I not be interested in the next big name?
Born in 1975 in Denpasar, Andrean Eury Sondhy Mangempis Johan Emmanuel is a Bali-based jazz pianist. Known affectionately as 'Mister Fingers', Sondhy was keyboardist with the Jiwa Band and is now leader of the Erik Sondhy Project and keyboardist with the Rio Sidik Quartet. During his 20-something-year career, Sondhy has played with many of Indonesia's well-known jazz artists and performed across the country and in jazz festivals around the region. More recently he has played in some of London's jazz venues, including the famed Ronnie Scott's.
The album is a delight. For Sondhy it represents a new phase in his career; his first solo release and a chance to spread his musical wings.
For the listener, London Blues is a wild romp across a diverse range of musical styles, mostly upbeat, uplifting, at times lyrical and reflective, always a pleasure to listen to, always solid playing.
The album is a first for IndoJazzia, too: a record label with worldwide distribution, a blog, and an online community of Indonesian jazz lovers. Established by Terry Collins and Arlo Henning, two foreign jazz lovers resident in Indonesia, IndoJazzia aims to support the development of emerging Indonesian artists, giving them access to a wider audience, both local and international.
"IndoJazzia started out as a Facebook page," explained Terry Collins, "but the two administrators, Arlo and I, felt that there was a need to provide a more permanent site for articles, videos, interviews, downloads and so on. We also thought that combining my experience as a lifelong jazz fan, writer and educationalist with Arlo's 40 years in the music business could benefit the Indonesian jazz community."
Hence IndoJazzia.net, and now the natural progression of a record label for worldwide distribution of world class Indonesian jazz. A project of PT UJ Kreatif, Collins and Henning hope that in time Indojazzia will be owned and managed by the community it serves. The aim is to create a seed bed to nurture and promote emerging talents, such as Erik Sondhy.
I asked Sondhy about his musical influences. "Keith Jarrett!" he responded without hesitation. In fact the new album was inspired by Jarrett. Wanting to emulate his idol, Sondhy recorded the entire album in one sitting, one take. Much of the music is improvised, composed on the spot.
Apart from Keith Jarrett, who are his other musical idols? "Bach," he said with a chuckle. "Johann Sebastian Bach had an incredible independent finger. I still have a dream to make a recording just playing the fugue!"
"One contemporary pianist that I follow is Idang Rasjidi," Sondhy continued, "he was my first mentor – and then there is Indra Lesmana. He is my mentor now."
In fact Indra Lesmana has mentored many of the current crop of top Indonesian jazz musicians; Dewa Budjana, Tohpati, Sri 'Aga' Hanuraga, Joey Alexander, and the list goes on. What does Indra Lesmana bring to Sondhy's music and muse?
Sondhy is generous in praise of his mentor: "For me, he is not just a great jazz pianist or even a great musician. In my opinion Indra Lesmana is more than this. He is the most prolific musician in Indonesia, he has played on 70 albums – can you imagine that?" Sondhy exclaims. "I have never seen another musician like this in Indonesia, even in the world this kind of musicianship is very scarce. Lesmana is very inspiring, he is more than a genius."
But when asked about his early influences, the answer is a surprise: "The Beatles, The Beatles, The Beatles!" he laughs.
That formative influence is strongly present in the album. The project was "a dream come true" for Sondhy, who recorded it on a beautiful Steinway grand piano at Abbey Road Studios in London, the Beatles former recording studio. And not only was it recorded in London, Sondhy included his own playful treatment of the group's song 'I Will' on the album. In fact Sondhy recorded over four albums worth of music in that one session. We are talking about a prodigious talent and a prolific player.
The album consists of six extended pieces. All are original, except for Sondhy's jazzification of the old Beatles standard. The opening track, London Blues, sets the tone with its walking bass, followed by Lennon and McCartney's, 'I Will', and the wistful, 'Song for my Mother'. 'Sofia's Rag', is a lively piece dedicated to Sondhy's six-month-old daughter, Sofia-Rose. Then follows 'Hope', a slow-tempo, reflective jazz piece, and the album closes with the upbeat 'Echo Beach Calypso'.
Ragtime, stride, classic 12-bar blues, calypso, cool jazz, rock, pop, minimalism and light classics, Sondhy seems to acknowledge no musical boundaries. The tracks range across these traditional forms, referencing the pianist's musical influences and yet all flavoured with Sondhy's distinctive jazz style. A strong left hand creates the drive and builds a solid foundation, leaving the right hand free to wander, improvising and toying with the themes of each piece.
The performance is at once confident and understated. This is a player who knows where he is at musically. One forms the impression of a man who is happy to play his music, unconstrained by convention or the expectations of others, confident in his own ability, yet humble enough to acknowledge his mentors and influences.
So, what is next for Erik Sondhy? The musician's answer is typical. "I am just doing my thing, in the moment…playing." he says. "I don't feel it's my place to describe my music with words. I'll leave that to the critics. However, when I listen to this album I feel very happy with it."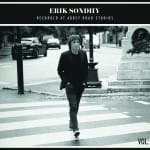 The Abbey Road Sessions, Vol.1' by Erik Sondhy is out on the IndoJazzia Musik label and available from http://musik.indojazzia.net