BAM! That's a bit what it feels like to eat at this new Jakarta restaurant. You're not quite sure whether you've been hit by a bullet train to Tokyo or by the running bulls of Pamplona, but you're pretty sure it tastes good up in there somewhere.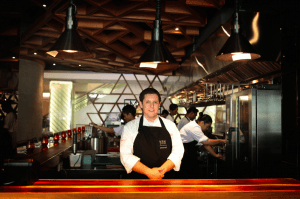 Spanish-Japanese is what it's all about – and it's certainly a combination I haven't come across before. Here, the idea is to share some small plates of Spanish-inspired food, and pair it with a choice from the extensive sake list. Chef Arturo Godó from Barcelona doesn't claim to be an expert in all things Japanese – just in good quality food. It is the restaurant's owners who suspected this Singaporean concept would work well in the middle of Jakarta, in one of its fanciest malls, opening up in June this year.
As it turns out, BAM!'s location is key. It must owe a big slice of its success so far to its third-floor position in Plaza Indonesia; Jakarta's original rich-kid playground. This is evident with one look at the wine list: big-hitting bottles, mostly classic French reds from Margaux to Pauillac, all with hefty price tags. This, however, is nothing compared to the sake list, which is huge, and actually quite reasonable by bottle or carafe. The staff can advise on dryness, sweetness and temperature to fit your food – quite impressive.
Going with the flow – when in Rome, after all – we started with some dry, cold sake, and at the chef's recommendation, the kampung egg with baby sotong (cumi-cumi in Bahasa – squid) and chorizo. Only the sausage here sounds Spanish, so you'd be forgiven for thinking you were about to taste an Asian sensation. But the dish turned out to be reminiscent of txiperones on the beach in Catalonia, lightly deep-fried and very soft on the inside. This was served rather innovatively at the table by the chef, who broke the yolk of a poached egg, and mixed it with an onion puree, the fried squid, and the pieces of chorizo. It really worked.
Next up was a plate of the good stuff. Tapas is not tapas without pata negra, and you cannot go wrong with top-quality ingredients, simply prepared and presented, as it was with the plate of Jamón Ibérico de Bellota (cured ham from acorn-eating pigs) and Pan Con Tomat (bread and tomato) we were presented with. Of course, Chef Arturo must import the ham from Spain, where its production is tightly controlled. It tasted nutty and fatty and wonderful. Apart from here, wherever possible, Chef Arturo uses local ingredients, such as seafood from Lombok and Medan.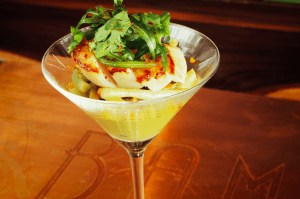 A real cross-cultural creation came next: a plate of stir-fried Asian veggies, adorned with a porcini mushroom foam, and some Spanish pancetta. Mushroom and bacon-y flavours always work well together, so that part was a success, and it was an interesting mix of local veggies. I can see this appealing to a local audience, as would the Hokkaido scallop, which came presented in a cocktail glass atop an avocado puree, green beans and crusted with some bottarga (a type of cured fish roe).
Chef Arturo took great care over the preparation of our next dish, a special Spanish-Japanese paella. Paella is one of those national dishes – like biryani, gumbo and risotto – that has many variations, from region to region. This one was in an authentic paella pan, with the right texture and consistency of rice. There was baby squid, and the stand-out ingredient was the special Spanish sausage Chef Arturo gets from Bali – this was very authentic; chunky, meaty and spicy. On top there was a riot of Japanese mushrooms (enoki, shiitake and shimeji) with fried garlic, rocket, and thin red onion slices. Overall, this was filling, spicy, and more than a little different from your usual Spanish rice dish.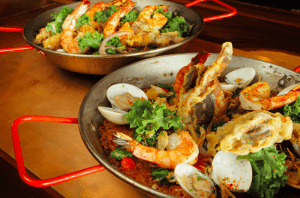 Not to be outdone, next up was a lovely small dish of imported Spanish prawns, chargrilled. The chef came over to mix the prawns together with the meat and juices squeezed from out of the heads (every Catalonian knows that's the best part), and for a zingy local touch, chilli sambal and a squeeze of limau topped things off. Like the kampung egg, this fusion fared well.
Saving the best for last, the star dish was probably the Charcoal Grilled Spanish Pork. Chef Arturo estimates almost every table that comes in orders one of these – and so should you. Thinly sliced and very soft, yet crispy on the top, this flavoursome shoulder was served with a Japanese-influenced mustard mayonnaise, chunks of fennel braised with thyme and a Spanish paprika-spiced balsamic sauce. Muy bueno, arigoto.
We would have loved to try the Spanish cheese platter, but with just a little room for something sweet, Chef Arturo offered us a caramelised banana with banana ice cream, chocolate crumbs, and a crème anglaise made with rum. I've had banana-based desserts in Java before and recognise them as popular in Asia in general. It wasn't too sickly or rich, so makes a good option for a light dessert.
All in all, BAM! is certainly an interesting new concept for Jakarta's diners, and one that looks set to be popular. All you need is a pair of castanets and a kimono and you're good to go.
—
BAM! Tapas and Sake Bar
Lantai 3, Plaza Indonesia, Jl. MH Thamrin, Jakarta Pusat
+62 (0) 21 29924222